IN THE MILITARY
Reserve chief urges readiness
The general tells isle troops that war duty rides on world events
DON'T COUNT ON a new Army training policy to keep Reserve soldiers out of deployment, the chief of the Army Reserve has advised soldiers in the 100th Battalion/442nd Infantry who just returned after 10 months of combat in Iraq.
"They have to be ready to mobilize and deploy," says Lt. Gen. James Helmly, who has headed the Army Reserve for the past four years and was in Hawaii this weekend on his fourth inspection visit.
"The message I give to Army Reserve soldiers," Helmly said during an hour-long interview at the Army Reserve's 9th Regional Support Command headquarters, is "the premium is on readiness and responsiveness."
Helmly said, "The thing that bothers me is that people look for guarantees. They look for certainty in a very uncertain world."
The three star-general, who commands 209,000 citizen soldiers, said reservists, their families and others hear only part of the training message. A similar message was delivered last week by Brig. Gen. Joe Chaves, commander of the 29th Brigade Combat Team, whose soldiers are on a six-year training cycle, compared to the Army Reserve's five.
Helmly said the five-year training policy is "to recognize that we plan to routinely call on RC (reserve component) forces to deploy. ... I don't know if they will be mobilized every five years. If peace comes over the world, then they won't. That will be a good thing. But if all hell breaks loose around the world, they may deploy. ... "
Take the case of the 800 soldiers of the Pacific Army Reserve's 100th Battalion/442nd Infantry who just returned from Iraq as a combat unit of the Hawaii Army National Guard's 29th Brigade Combat Team, Helmly added.
These soldiers could be placed on federal active duty at any time when Hawaii Army National Guard soldiers aren't available to respond to a state emergency, Helmly added.
"What happens if Kim Jong II (head of North Korea) decides he had enough of talking and decides to come south?" added Helmly, a Vietnam War veteran. "World events don't operate on a time line."
He pointed out that there is no way to plan for natural disasters like the 2004 Indian Ocean tsunami and the earthquake in Pakistan.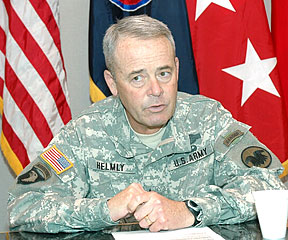 "The thing that bothers me is that people look for guarantees.
They look for certainty in a very uncertain world."
Lt. Gen. James Helmly
Head of the Army Reserve for the past four years
---
"We had an Army Reserve Chinook helicopter company," said Helmly, "at Fort Sill that was on a prescribed time line to stay there in Oklahoma, training up to deploy to Afghanistan in early February '06. There had been at Fort Sill for five days ... when we said you are leaving in five days for Pakistan. That broke the time line."
Since taking the helm four years ago, the general said, he has tried "to set realistic expectations. Frankly, it proves to be very frustrating because I am worrying more about the soldier, but then senior officials in Washington come back and say: 'What do you mean? Who do you think you are, saying reservists have to be ready all the time?'
"But they do have to be ready all the time. It's nuts not to tell Reserve soldiers to be ready all the time."
In early 2005, Helmly upset Pentagon officials by describing the Army Reserve as a "broken force." He still doesn't believe the issue is resolved, although there has been progress.
He said the task is complicated because even as the Army Reserve tries to institute changes and reforms it is still sending troops into battle.
"We can't put a sign outside the Army Reserve command headquarters," Helmly said, "and say, 'Closed for remodeling.'"
There are nearly 39,000 Army Reserve soldiers serving on active duty, with another 34,000 getting ready to mobilize. Up to 20,000 of them are serving in Kuwait, Afghanistan and Iraq. At one point the Army National Guard and the Army Reserve made up 40 percent of the 130,000 soldiers fighting in Iraq.
Helmly said the Army and the Army Reserve are "stressed, stretched."
"Right here we are sitting just a couple short miles," said Helmly from a Fort Shafter office with a view of Pearl Harbor Naval Base, "from the payment you make when you are not ready and responsive like on the morning of Dec. 7, 1941. None of us want to see Sept. 11, '01, occur again."
Describing his force of citizen soldiers before the Sept. 11, 2001, terrorists attacks, Helmly said "the Army Reserve was like a couch potato -- one weekend a month, two weeks in the summer. We did nothing to change our institutional processes such as training and readiness. Like the couch potato who is very comfortable laying there on the couch, watching the football game, drinking beer and eating potato chips.
"Suddenly, without any warning, someone jerks you off the couch and says you're running 10 miles this morning. It hasn't been pretty ... but we are still running and we're not going to stop."