Kalani High grad finds her calling with Hollywood awards
Drama onstage is one thing (Halle Berry and Adrien Brody smooching at the 75th Annual Academy Awards, anyone?). Drama behind the scenes, quite another.
"I've had to find a dog bowl at the last minute for someone arriving in her car with her animal. That's where (assigning) production assistants comes in."
78th Academy Awards
Hosted by "The Daily Show's" Jon Stewart.
On TV: 7 to 10 p.m. today on ABC/KITV (pre-show at 6 p.m.)
Also: Coverage on E! begins at 9 a.m., with red-carpet arrivals at 2:30 p.m.
Stars' gifts include Halekulani package
Among items that will be going home with tonight's Academy Awards presenters and performers will be a certificate for a vacation package at the Halekulani resort.

Worth more than $25,000, the package includes four nights in the Vera Wang Suite, a SpaHalekulani treatment and dinner for two at La Mer.
It's the kind of drama that Honolulu native Julie Kaneko Hall has grown accustomed to in 11 years as talent coordinator on Oscar night: helping other people get their bearings before they make an appearance on national TV. People you might have heard of -- Jennifer Aniston, Jon Stewart, Morgan Freeman ...
It's her job to remind high-profile presenters of the time, and see that all requests are met, no matter how specialized or outlandish (in addition to the dog bowl, past requests have included fielding a DVD player, couches and food from California Pizza Kitchen).
Locater of delayed or downright missing presenters? Her department.
Hall's team, armed with walkie-talkies, will be assigned two to three at a time to the presenters -- the likes of Aniston, Freeman, Jessica Alba, Reese Witherspoon, Luke and Owen Wilson, Tom Hanks, Queen Latifah, Chris "Ludacris" Bridges, Sandra Bullock, George Clooney and the winners of last year's best actor and actress awards, Jamie Foxx and Hilary Swank.
Hall will be in the wings, more mindful of the presenters and host Stewart than what's happening onstage at the Kodak Theatre. Her job includes making sure that Hollywood's finest are relaxed and comfortable in the green room and that sudden mishaps -- a ripped dress, a missing ticket -- are taken care of immediately.
---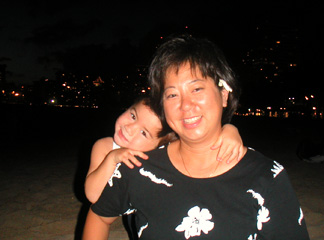 "It's amazing. I still get chicken skin," she said. "It's lots of hard work, but it's cool to see these same people every year. ... (During the show) the dragon is alive. The next day, I'm Jell-O."
Julie Kaneko Hall
Talent coordinator, Academy Awards,
with her son Noa
---
The job begins long before Oscars night and continues until the last well-coiffed presenter or host is ushered into a limo and sent safely along to an after-party.
"I'm just one link in a chain. It's not as glamorous as people would think," Hall said. "But it's a privilege to be asked back every year. You never know when it could be the last show (you work on)."
The Ventura, Calif., resident is a 1979 graduate of Kalani High School, and the daughter of Ed and Kay Kaneko, owners of a 3-acre coffee farm in Holualoa, Kona. Though born in Honolulu, Hall spent much of her childhood traveling -- to Guam, Virginia, Wisconsin and back to Hawaii -- because of her father's position with the Federal Aviation Administration. The family returned to Oahu in time for Hall to begin sixth grade -- she went to five different schools that year alone.
Hall credits her ease in working with people to the experience of growing up in many places. Hall's father is a native of Hawaii, while her mother was born in Los Angeles and spent time in a Japanese-American internment camp in California.
"I'm a blend of mainland and local. I think it's related to my ability to get along with everybody," she said.
This will be Hall's 11th consecutive Oscar show. Every year, the morning of the show begins the same way for her: She'll pause to look at the red carpet when she arrives in her jeans and T-shirt, before it's time to "dress black" and the flurry of activity begins. It's the calm before the storm, as she sees it.
"It's amazing. I still get chicken skin," she said. "It's lots of hard work, but it's cool to see these same people every year. ... (During the show) the dragon is alive. The next day, I'm Jell-O.
"Ninety-five percent of the time, the talent is gracious and honored. All are normal people with normal needs. But because it's a live show, we work very hard, months in advance. There's no time for emergencies."
Hall also passes out gift bags stocked with extravagant goodies. "As the value of the gift baskets increased, the gift bags got bigger -- trips, TVs -- the bags got heavier and clunkier."
They are still extravagant, but not as unwieldy. "Now it's gift certificates."
But not much fazes Hall, a positive sort who sees the stressful moments as inconsequential, and attends to her tasks -- and the surprise or two -- with intentional aloha spirit.
"I meet and greet the talent while the stars are having fun and partying -- and we make sure they've found their wife, their wardrobe, their dressing room and their relatives."
tonight, Hall has been assigned specifically to attend to first-time host Stewart of "The Daily Show," just as she has watched over past hosts Billy Crystal ("family man, focused"), Chris Rock ("funny, a little nervous at first") and David Letterman ("he's the same in person as he seems on TV").
Not everyone's famous, though. "I've been assigned to little kids, the elderly, animals. When one host (Letterman) did stupid pet tricks, ASAP, I had to find dressing rooms for pets and their hosts. ...
"If an artist wants red M&M's -- it goes on lists. It's finding out what are the special needs. Say someone is flying in from another country -- get them a couch."
It all comes down to lists, said Hall. "I get lists from publicists, management, agents, and make sure the times are accurate and the rehearsal went well. It's check, check and double-check. You don't want to get into a situation of 'Where's the talent?' When you look down that red carpet for that limo, there's a sea of black limos."
All the better to avoid that unforeseen hurdle.
In 2000, when Hall was pregnant with her son, Noa, so were a number of women in the star-filled audience. "There was Annette Bening and about four or five women pregnant at the same time. I had to make sure there was a trailer with a potty for so-and-so, a wet nurse (and so on)."
Once a full-time talent coordinator, Hall now works on two shows a year: the Emmys and the Oscars. Now 44, she started in the award-show business when she was 35, as a production assistant, working her way up to production coordinator in just four months. She has been a talent coordinator since 1998.
Her previous experience was in Hawaii, in hotel and restaurant management and marketing. Hall moved to California in 1994 with her husband, Denny, after filming work in Hawaii ceased with the ending of "Magnum P.I." and "Jake and the Fatman." Denny is now a director of photography with the Fox-TV show "Bones."
"When I first moved to California, I thought, 'I'll just go get another job in a hotel,'" said Hall. "Then I thought, 'But I'm in Hollywood! I'll do something with that.'
"I came from an environment in Hawaii where I was in pantyhose, high heels and a suit. Then I came to Hollywood and everyone was wearing shorts. I went from a management position to gopher. It was cool working from the bottom up."
What she finds most rewarding on Oscar night, Hall says, is seeing a winner go from virtual unknown to a seasoned success story in front of her eyes -- Hilary Swank, for example, when she won her first Academy award in 1999 for "Boys Don't Cry."
"Those are the kinds of moments that are so special. There's security, press, stage hands, just tons of people around, and yet you're seeing this new winner, on the side, realizing their life has just changed.
"Some people are deer in headlights; others are fully aware that their lives have just changed."