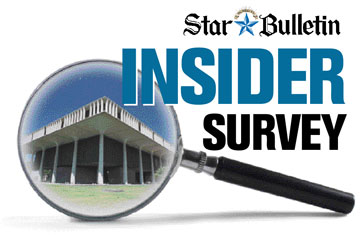 The Honolulu Star-Bulletin Insider Survey is a new way of looking at local politics. It is an attempt to help explain how judgments are made on local political issues.
To do that, we patterned a survey similar to the Insiders Poll conducted in the Washington-based National Journal. The Journal's survey uses members of Congress and political consultants.
Hawaii doesn't have a large number of professional political consultants, but many island lobbyists get involved in local campaigns. So we substituted lobbyists from labor, business and social organizations. We also asked veteran members of Hawaii's Legislature and Neighborhood Board presidents to help with our survey.
Forty people responded to the questions. Respondents were told that we wouldn't attach their names to their opinions, but we would list the names of all those who responded. See the Insiders list below.
The survey, which we hope to continue every month during the campaign season, is not a scientific poll, but it should give readers a new view on what makes up Hawaii's "conventional political wisdom."
---
Q: After the 2010 elections who will be Hawaii's governor and Honolulu's mayor, and who will represent Hawaii in the U.S. Senate and Congress?
---
GOVERNOR
The prediction among insiders is that Honolulu Mayor
Mufi Hannemann
will be Hawaii's governor in 2010.
Insider comments:
» "In 2010, Mufi Hannemann will be 56 years old and about to enter the prime of his life. He can be governor unit he is 64. No one has ever been both mayor of Honolulu and governor of Hawaii. He could go down in history as the most important political administrator in Hawaii since Kamehameha the Great."
» "Mufi Hannemann. I am assuming he will find a way to avoid being buried by the major issues he faces. If so, I don't see anyone else being able to challenge him for governor."
» "(State Sen.) Colleen Hanabusa -- most knowledgeable, articulate and direct."
» "(Former state Sen.) Mike McCartney will win a hard fought Democratic election. Democrats will rally around McCartney and help him defeat (Lt. Gov.) Duke Aiona for the governorship."
---
MAYOR
The insiders predict that Honolulu City Councilman
Charles Djou
will be the mayor of Honolulu in 2010.
Insider comments:
» "Charles Djou, the next generation Republican."
» "The Republican golden boys are Charles Djou and Micah Kane. I see Charles fixating on mayor and Micah on governor."
---
FIRST CONGRESSIONAL DISTRICT
Insiders predict that in 2010 Congressman
Neil Abercrombie
will still be representing urban Oahu residents in the U.S. House.
Insider comments:
» "Neil will stay where he is and I don't think he is beatable."
» "Abercrombie stays as long as he wants in the House but will likely retire around 2010."
» "Schatz will lose to Gary Hooser in the 2nd House District race in 2006, but will win back his state House seat (Makiki) in 2008. Schatz will have a better chance of winning the 1st U.S. House (urban Honolulu) race in 2010 since his current state house seat is in the 1st district."
---
SECOND CONGRESSIONAL
With current Rep. Ed Case giving up his seat to run for Senate this year, there soon will be a new face standing up for rural Oahu and the neighbor islands in the U.S. House; most insiders say it will be state Sen.
Colleen Hanabusa
.
Insider comments:
» "There is a good chance the seat will change hands once and maybe even twice. (State Rep. Brian) Schatz is a wild card and I base this guess on the thought that the voters might like to see someone who is young."
» "Schatz will win the 2nd Congressional in 2006 and Case will run against him in 2008 and lose in a close race."
» "(State Sen.) Hooser will win the U.S. House seat in 2006, 2008 and also in 2010. Hooser is the only neighbor island candidate and will attract the same type of voters who supported Case in his past congressional win."
» "(Former Lt. Gov.) Mazie Hirono will make her mark as the next Patsy Mink. After winning the crowded 2006 election, she will use her national and international connections to make an immediate impact in Washington."
---
U.S. SENATE
The insiders predict there's still a lot of life in Hawaii's senior senators. Most of them think
Sens. Daniel Inouye and Daniel Akaka
, both 81, will still occupy their seats in the U.S. Senate in 2010.
Insider comments:
» "U.S. Sen. Dan Inouye will not run for re-election in 2010 and will support (Rep. Neil) Abercrombie for his Senate seat. Abercrombie will defeat (Gov. Linda) Lingle in the general election."
» "Dan Akaka's strong re-election in 2006 will dispel any notion that age is a criterion for job performance."
» "(Rep. Ed) Case for U.S. Senate this year. (Gov. Linda) Lingle for junior senator in 2010 or whenever Inouye vacates. If there is an opening in 2008, that would be a mid-term free ride for the governor -- Mufi would not want to go head to head against Lingle any time."
» "Case will lose to Akaka, but it won't be a shutout at all."
THE INSIDERS
LEGISLATORS: (12 ) Sen. Colleen Hanabusa (D), Sen. Fred Hemmings (R), Sen. Will Espero (D), Sen. Russell Kokubun (D), Sen. Donna Mercado Kim (D), Sen. Robert Bunda (D), Rep. Joe Souki (D), Rep. K. Mark Takai (D), Rep. Brian Schatz (D), Rep. Josh Green (D), Rep. Cynthia Thielen (R), Rep. Robert Herkes (D)

NEIGHBORHOOD BOARD MEMBERS: (8) Lester Fukuda, Nadine Nishioka, John Breinich, DeeDee Letts, Bill Woods-Bateman, Bob Chuck, Albert Fukushima, Grant Tanimoto

LOBBYISTS: (20) Kat Brady, Linda Rosehill, Kelly Rosati, Frank Chong, Bob Toyofuku, Laure Dillon, Rick Tsujimura, Russell Okata, John Radcliffe, Dave Rae, James Kuroda, Gary Slovin, Annelle Amaral, Roger Takabayashi, Amy Hirano, Garen Deweese, Donna Ikeda, Jennifer Diesman, Charlie Toguchi, Randy Perreira