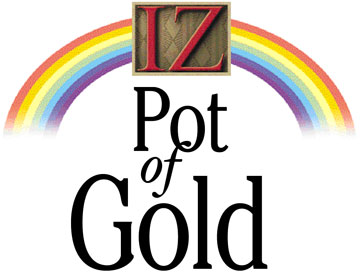 Nine years after Israel Kamakawiwoole's death, advertisers across the globe are lining up for his song "Over the Rainbow"
LEAH BERNSTEIN, president of Honolulu's Mountain Apple Co., received an unsolicited e-mail last week from a firm in Dubai, United Arab Emirates.
The missive had nothing to do with contracts to manage U.S. ports, but instead focused on a more light-hearted topic that continually draws inquiries from around the globe: Israel Kamakawiwoole's recording of "Over the Rainbow."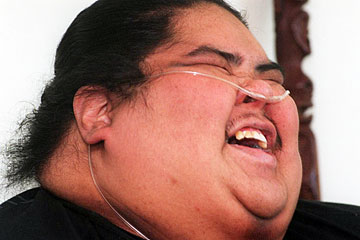 CRAIG T. KOJIMA /
CKOJIMA@STARBULLETIN.COM
Israel Kamakawiwoole's "Over The Rainbow" continues to appeal to listeners worldwide.
"Every day is a new part of the world," Bernstein said. "We had Iceland on Monday. And Romania just renewed."
More than a decade after Iz recorded his poignant version of Harold Arlen and E.Y. Harburg's classic song from "The Wizard of Oz," and nine years after the singer died in May 1997, the recording continues a seemingly implacable march across the globe, inducing chicken skin in far-flung lands where advertisers view the haunting song as the perfect vehicle to sell their products. The song has been used to sell cars in Italy, deodorant in the United Kingdom, toys in Spain, paint in Australia, sugar in Austria and lotto tickets in Norway.
And would-be licensees keep clamoring for it. Just last week, the company entered a deal with Heather Mills McCartney, the wife of Paul McCartney, to use the song in a DVD highlighting the plight of cats and dogs that are skinned alive for their fur. Bernstein said she gets new inquiries almost every day.
The benefits for Mountain Apple and Iz's estate have been immense. One licensing deal can be worth anywhere from thousands to hundreds of thousands of dollars, Bernstein said. And Mountain Apple has entered more than 60 deals for the song to date. While many big deals, including feature film and television licensing agreements, were done years ago, deals continue to flow in from around the world, as more people are exposed to the song, Bernstein said.
The deals mean more than licensing revenue. In an age when a handful of radio station owners control the airwaves and tend to play it safe with play lists composed of just a few dozen songs, television has become a key medium for introducing people to new music.
"If you read Billboard magazine, it will tell you that TV is the new radio for music," said Shelley Coscina, vice president of marketing for Mountain Apple. "That's where people are breaking records. As the (radio) play lists get shorter and shorter, a lot of records are breaking on TV."
And it's not just big TV shows like "ER" -- which used the song in a 2002 tear-jerker episode in which Dr. Mark Greene died of cancer -- that drive sales of CDs, although Bernstein acknowledged that "anytime we can get tears, sales goes nuts."
Commercials can be such powerful vehicles, Coscina said, that Mountain Apple alerts overseas distributors and retailers so they can get the CD onto shelves before a new commercial airs.
"We generally know well in advance when we're going to have a licensing deal, and we start (marketing) even if it's not inked yet," Coscina said. Dealers, she said, are increasingly willing to stock up on Iz CDs because of his track record.
"They're not worried about bringing in extra product on Iz because they know they're going to sell it," Coscina said.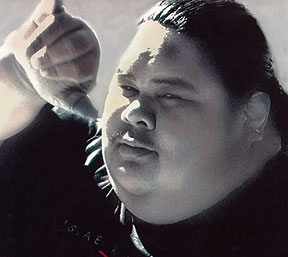 COURTESY MOUNTAIN APPLE CO.
"They're not worried about bringing in extra product on Iz because they know they're going to sell it."
Shelley Coscina
Vice president of marketing for Mountain Apple Co.
---
Mountain Apple won't say exactly how much money the recording has made for the company and Iz's estate, but it's safe to say that well over a million people have bought the song. "Facing Future," the first album on which the song appeared in a medley with "What a Wonderful World," has gone platinum, which means it has sold more than 1 million units in the United States alone. A second version, on the album "Alone in Iz World," has gone gold and is approaching platinum status, which means it has sold more than 500,000.
The song regularly occupies lofty positions on music Internet sites. Last week, "Facing Future" was No. 61 on Amazon.com's list of best-selling albums and "Over the Rainbow" was No. 1 on the iTunes list of most popular singles.
Sitting in her office with producer Jon de Mello, whose father founded Mountain Apple's predecessor, Music of Polynesia Inc. in 1947, it's evident that they view the recordings with a special reverence.
Bernstein shows some examples of the ways in which the song has been used. The British deodorant commercial is poignantly romantic and funny; it shows a nude couple getting out of bed and donning their clothes, which are strewn in a trail leading from their apartment all the way back to the grocery store where they apparently encountered each other while shopping. Their baskets are still full of food in the dairy isle.
The Norwegian lottery ad features an old woman who secretly gives her winning lottery ticket to the domineering nurse -- so the nurse will quit her job and leave the old folks alone.
Stories abound of calls Mountain Apple has received from people who have heard the song. In one instance, a family from Kirkuk, Iraq, which had been introduced to the song by U.S. soldiers, wrote a letter to say how it inspired them during trying times.
"It was snail mail, and it looked like it had been in the war, too," Leah said of the letter.
The company even has a term for the occasions when Iz or the song pop up unexpectedly in the new media, or in some faraway place after a movie featuring the song is broadcast on television.
"Iz sightings is what we call them," de Mello said.
"They're like Elvis sightings," Bernstein added.
De Mello said that when he recorded the song with Iz, he knew it was good, or "in the grooves," as he put it.
"It was instant," de Mello said.
But he said he did not expect it to become a phenomenon.
Mountain Apple's library has hundreds of songs dating back 50 years, which Jon and his father, Jack, recorded over the years. But nothing has come close to "Over the Rainbow" in terms of exposing the world to music from Hawaii.
Bernstein said that her marketing team continually promotes other artists, and that the popularity of Iz has opened the door for other artists. Iz is hardly the only artist whose music the company has licensed, Bernstein said.
And the company has been active promoting musicians through emerging media, such as ringtones and ring-back tones for wireless phones. But, Bernstein said, Iz and "Over the Rainbow" seem to be true evergreens.
"They keep coming back to this song," she said. "We keep sending them everything that is world class, and they keep coming back to 'Over the Rainbow.'"
COUNTRIES LIST
Television commercial licensing deals
for "Over the Rainbow."
COUNTRY
PRODUCT
YEAR
Italy
Fiat automobiles
2006
Austria
Agrana sugar
2003-2006
Norway
Norway Lotto
2005-2006
The Netherlands
Mensia Non-Profit
Health Insurance Co.
2005-2006
Spain
Imaginarium Toys
2005-2006
United Kingdom
Lynx Axe 24/7 deodorant
2005
Romania
Roua Muntilor mineral water
2005
Australia/
New Zealand
DULUX Paint
2004
Sources: Mountain Apple Co.