---
FAST FACTS HAWAII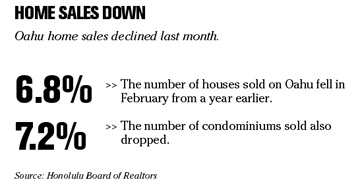 ---
HAWAII
A&B completes sale of Wailuku building
Alexander & Baldwin Inc.
yesterday completed the sale of One Main Plaza, an office building in Wailuku, Maui, to the John Saunders Trust of Newport Beach, Calif., for an undisclosed amount.
The building, which contains 82,000 square feet of leasable space and more than 200 parking stalls in a multilevel garage, was 83 percent occupied as of February, A&B said. Tenants include the Maui County government agencies, Morgan Stanley and State Farm Insurance.*
Hotels win Green Business Awards
Gov. Linda Lingle honored two Hawaii hotels and a visitor industry lobbying organization yesterday for their commitment to improving the environment and conserving energy and resources.
Annual Green Business Awards were presented to the Hawaii Prince Hotel, the Hilton Waikoloa Village and the Hawaii Hotel and Lodging Association.
The awards are part of the Hawaii Green Business Program, a partnership between the Department of Health, the Department of Business, Economic Development & Tourism and the Chamber of Commerce of Hawaii.
The Hawaii Green Business program has focused on working with resorts because of the visitor industry's impact on the environment.
NATION
Northwest pilots agree to pay cut
CHICAGO » Pilots at
Northwest Airlines
agreed yesterday to a $358 million annual pay cut, averting the threat of a strike and positioning the carrier for a potentially rapid exit from bankruptcy.
All the major employee groups have now reached agreements with Northwest, though some remain to be ratified by workers.
The carrier, based in Eagan, Minn., still needs to reduce its debt by billions of dollars, rework its relationships with regional airlines and possibly raise fresh capital. But it has made signifiant progress since filing for bankruptcy protection on Sept. 14.
Required drug studies left pending
WASHINGTON » Drug companies sometimes are allowed to hurry medicines to market in exchange for a promise to continue studying their safety and effectiveness. Those studies haven't begun in two-thirds of cases, the government reported yesterday.
The Food and Drug Administration said Friday that drug companies had pledged to conduct 1,231 drug studies. But as of Sept. 30, 797 -- or 65 percent -- were still pending.
"That doesn't mean they will never be started," said Dr. John Jenkins, director of the FDA's Office of New Drugs.
Dr. Alastair Wood, associate dean of Vanderbilt Medical School, said if the FDA doesn't require the studies to be done, it shouldn't ask for them in the first place.
"It's astonishing, really. Their job is to get the studies done and not be an apologist for their not getting done," Wood said.
Oil prices lift to $63.67 a barrel
NEW YORK » Oil prices rose yesterday on lingering fears of supply disruptions out of Nigeria and Iran. Light, sweet crude for April delivery rose 31 cents to settle at $63.67 on the New York Mercantile Exchange -- its highest settlement price since Feb. 6.
Prices had slipped earlier in the day, as traders took profits from crude's recent rise -- more than $2 from Monday's settlement price of $61 a barrel. On London's ICE futures exchange, Brent crude edged 11 cents lower to settle at $64.18 a barrel.
But in New York, traders returned to buying later in the day, and crude extended its climb.
In key reversal, Wal-Mart will sell morning-after pill
Relenting to pressure from state government officials,
Wal-Mart Stores
said yesterday that it would begin carrying Plan B, an emergency contraception pill, in all of its U.S. pharmacies by the end of the month.
But in a move that rankled some women's groups, Wal-Mart said that it would allow pharmacists who object to filling a Plan B prescription to refer customers to another pharmacist and, in some cases, to another pharmacy.
Wal-Mart, which has 3,700 pharmacies, had been the only major chain that refused to sell the so-called morning-after pill, which can prevent pregnancy when taken within 72 hours of intercourse.
The retailer's policy provoked criticism from groups like Naral Pro-Choice America and Planned Parenthood Federation of America, which argued that because Wal-Mart was the only pharmacy in some areas, its failure to carry the pill deprived women of access to a federally approved emergency contraceptive.
Sotheby's sues Black over sales commission
Conrad Black, the former
Hollinger International Inc.
chairman accused of looting his own company, was sued by
Sotheby's International Realty Inc.
over an unpaid $557,000 sales commission on his Manhattan apartment.
Black, a Canadian who surrendered his citizenship to become a British lord in 2001, sold his apartment at 635 Park Ave. for $10.5 million through Sotheby's, according to a complaint filed yesterday in federal court in New York. In October, Black's lawyers at Sullivan & Cromwell issued a check to Sotheby's for $557,000, or a 5.5 percent commission, which was later stopped and returned, the filing said.
Black's lawyer, Edward L. Greenspan, said the suit failed to point out that the FBI seized the $9 million Black was paid for the apartment immediately after the commission check was written. That's a "glaring omission" in the complaint, Greenspan said in an interview. The payment was stopped because Black didn't receive payment for the sale, he said.
Yahoo! raises capital spending 67 percent
Yahoo! Inc.
, owner of the most-visited Web site, increased capital spending 67 percent to $408.9 million in 2005, half the level of
Google Inc.
's investment, as the companies fight for a greater share of the online advertising market.
Yahoo expects to boost spending again this year as the Internet company adds new products and services, according to a filing yesterday with the Securities and Exchange Commission. Google's spending in 2005 almost tripled to $838 million.
Both companies are investing in new offices and computers in an effort to offer more services that attract Web users and the advertisers seeking to reach them. Sunnyvale, Calif.-based Yahoo, which lags behind Google in Internet searches, said it expects capital spending to continue to increase in the future.
Yahoo shares, down 20 percent this year, fell 25 cents to $31.45 in Nasdaq Stock Market composite trading. Shares of Mountain View, Calif.-based Google rose $1.73 to $378.18 and have declined 9 percent this year.
CORRECTION
Wednesday, March 8, 2006
» One Main Plaza, an office building recently sold by Alexander & Baldwin, is in Wailuku. A headline on Page C1 Saturday gave the wrong location.