| | |
| --- | --- |
| | Newswatch |
---
WARD SEWER WORK BEGINS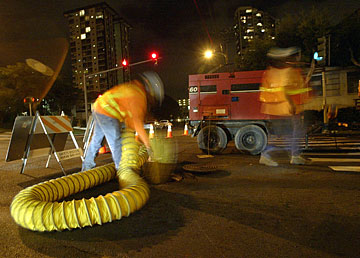 Big Isle Council votes for waste facility
HILO » A committee of the Hawaii County Council voted yesterday to authorize $40 million for a much needed waste reduction facility for East Hawaii, possibly similar to Oahu's HPOWER facility.
But two Finance Committee members who voted for the money said they may change their mind in the full Council, reversing yesterday's 5-3 vote. County consultant Kyle Rhorer said failure to authorize the money would send a negative signal to potential bidders.
County Finance Director Bill Takaba said authorizing the money wouldn't mean spending it. A separate bond authorization would be needed, he said. Several committee members said they hoped the project would be privately financed.
The project is needed because the Hilo landfill was supposed to close a decade ago. "It will not be closed," said county environmental director Barbara Bell.
'Green' burial plan workshop offered
A workshop about "green" burial practices will be offered tomorrow by the Sierra Club, Hawaii Chapter, as part of its Sustainable Living Workshop Series.
Sarah Robinson, local board member for the Funeral Consumers Alliance, will show the documentary, "The Family Undertaking." The workshop will be 6:30-8:30 p.m. at The Green House, 224 Pakohana St. in Pauoa Valley. Contact Betty Gearen at 524-8427 or bettygearen@verizon.net for more information or to reserve a space.
| | |
| --- | --- |
| | Police, Fire, Courts |
---
WINDWARD OAHU
Police search for teenager missing with her baby
Police are looking for a 16-year-old girl who ran away with her 3-month-old baby, possibly to join the child's father.
Police said the baby's mother and grandmother have a temporary restraining order against the father, who is homeless.
Mercedez Estocado left her mother's Kaneohe home with her infant daughter, Skyylee Estocado-Salis, 9:30 p.m. Saturday, police said.
Estocado drove in her mother's teal-colored 1997 two-door Dodge GEO, license plate GVJ-348, without permission.
Estocado is 5 feet 7 inches tall, weighs 140 pounds, with brown eyes and a tan complexion.
Police notified the Missing Child Center-Hawaii.
Anyone with information is asked to call CrimeStoppers at 955-8300 or by dialing *CRIME on a cellular phone.
Girls' allegations lead to fondling charges
A 39-year-old man was charged yesterday with allegedly inappropriately touching his girlfriend's 17-year-old daughter and her 16-year-old friend.
Wendell Gaui was charged yesterday with two counts of fourth-degree sexual assault.
Gaui was asked to pick up the friend in Honolulu, police said. While he was driving her to Kaneohe, he allegedly talked about having sex with her and allegedly touched her inappropriately, police said.
During the investigation, police talked to the 17-year-old girl, who told police the suspect also touched her inappropriately in a separate incident earlier in February, police said.
He was released on $100 bail yesterday.
WAIKIKI
Missing Japanese woman, 22, described
Police have released more information about a missing Japanese woman and the man she is believed to have been with.
Kanako Hibino, 22, was last seen at the Hyatt Regency Hotel and Spa about 10 a.m. Feb. 10. Police said she was scheduled to return to Japan a few days after the 10th but failed to do so.
Police said Hibino may be in the company of Eldon Cox, who police now say is wanted on four outstanding warrants, one for parole revocation.
State records also show Cox has 10 convictions, including theft, forgery and drug offenses.
The last vehicle Hibino was known to be driving has been identified as a silver Jeep Wrangler, license plate NXW 818, last seen in Windward Oahu.
She is described as 5 foot 2 inches tall, weighing about 112 pounds and with brown eyes.
Cox, 45, also known as James Fox and James Anderson, is described as 5 foot 8 inches tall, about 155 pounds, with brown hair and brown eyes.
Anyone with information about either person is asked to call CrimeStoppers at 955-8300 or by dialing *CRIME on a cellular phone.