---
Meet a champion
Figure-skating champion Kristi Yamaguchi will sign autographs and pose for photographs in free appearances at Oahu supermarkets next week.
Yamaguchi, the 1992 Olympic gold medalist, will appear as the celebrity face of Aloha Shoyu and also to represent her own Always Dream Foundation, established in 1996 to provide programs for underprivileged children. Her appearances:
Tuesday: 10 a.m. to noon, Daiei Kaheka; 4 to 6 p.m. at Times Beretania
Next Wednesday: 10 a.m. to noon, Foodland Market City; 2 to 4 p.m., Star Market Moiilili.
Celebration of words
Bamboo Ridge Press celebrates 27 years in publishing with a storytelling session Monday at Manoa Valley Theatre.
Nyla Fujii-Babb, Eric Mita and Janice Terukina will share stories and poems from Bamboo Ridge publications.
The event begins at 7 p.m. with a pupu reception; performances to follow at 7:30 p.m. Admission is free for Bamboo Ridge Press Members; others may make a donation at the door.
To become a member, visit www.bambooridge.com. Call 626-1481.
Discover a discoverer
Frederik L. Schodt will talk about adventurer Ranald MacDonald during the Honolulu Festival on March 11.
The seminar, "Who is Ranald MacDonald?" will focus on MacDonald's contributions to Japan-United States relations. MacDonald was the first American to visit Japan during a time when the country was not allowing foreigners.
Panelists include Schodt, Yumiko Kawamoto, Dwight Damon and moderator Robert Huey. A documentary introducing the life of MacDonald will also be shown.
The event will take place at 10:30 a.m. at the Hawaii Convention Center, third-floor amphitheater.
For information visit www.honolulufestival.com.
Recycling affair
Do your part both for recyling and to support a worthy cause at the Waianae Boat Harbor next weekend.
Bring scrap metal, appliances, auto parts, beams, bicycles, newspaper, cardboard, beverage containers (plastic, glass, aluminum), old tires, green waste and vehicle batteries to the harbor from 8 a.m. to 2 p.m. March 11.
Local businesses will provide free collection services and make a donation to the Wai'anae Maritime Academy and Nani 'O Wai'anae. They include Schnitzer Steel Hawaii Corp., Refrigerant Recycling, Honolulu Recovery Systems, Hawaiian Earth Products, Unitek Solvent Services and Interstate Battery Systems.
For information or to volunteer during the event 527-5815 or 306-1876. Vans and pick-up trucks are also needed to help deliver material.
QUIET TIME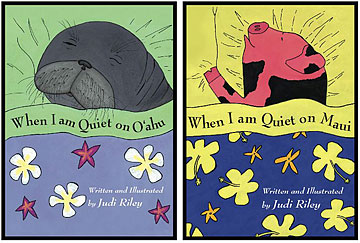 ---
[ MORSELS ]
Winners' showcase
The finalists in the 2005 Tom & Warren Matsuda Scholarship Culinary Competition will host a cooking demonstration Saturday at the Sub-Zero/Wolf showroom.
The menu: Chilled Ewa Sweet Corn with Basil Sorbet by Robin Abad, first place winner; Nalo Greens with Lilikoi Vinaigrette and Coconut-Crusted Kampachi by Sonny Acosta Jr., second place; and North Shore Cattle Beef Tenderloin with Madeira Demi-Glaze and Taro-Wrapped Kahuku Sweet Shrimp, by James M. Murray, third place.
The finalists will host the cooking sessions and offer dishes for tasting. Chef Roy Yamaguchi, whose restaurants underwrite the scholarship competition, will also attend.
Seatings are at 9 a.m., noon and 3 p.m. Cost is $25, with proceeds going to the finalists' scholarship funds.
The showroom is at 938 Piikoi St. Call 597-1647.
A beer-lovers affair
The 11th annual Kona Brewers Festival takes as its theme "Brews for the Big Rock," featuring 30 craft breweries and chefs from 25 restaurants.
The event will be held from 2:30 to 6:30 p.m. March 11 at King Kamehameha's Kona Beach Hotel in Kailua-Kona.
All eight of Hawaii's craft breweries will attend, joined by breweries from California, the Pacific Northwest and across the country.
Entertainment will be by Fusion Brown, Lawakua and Ono Gumbo. Also part of the day is the annual Trash Fashion Show, featuring attire made from bottle caps, cardboard, tires and other recycled material.
Tickets are $40 and are available in advance only. For ticket locations visit www.konabrewersfestival.com or call (808) 331-3033.
Preceding the festival will be a Big Island Beer Dinner, at 6 p.m. March 9 at Kahalu'u Lanai at the Outrigger Keauhou Beach Resort. The menu will pair five Kona Brewing Co. ales and lagers with five courses, each one using beer as an ingredient. Cost is $85, available at Kona Brewing Company, Kona Wine Market and Outrigger Keauhou Beach Resort.
The event raises funds for environmental, educational and cultural organizations.
Dragons roar
Honokaa High School Dragons are Iron Chef champions, having taken both first and second place in last month's Keauhou Iron Chef Competition.
In the competition amateur cooks and students put their culinary creations up for judging by resort chefs.
The Honokaa Dragons team of Rosemary Vallente, Jonathan Speetjens and Felisha Chari won first place for their "Beef at the Beach" appetizer.
A second Dragons team took second for a "Paniolo Beef" appetizer, the Kealakehe Riders team won third for "Balsamic Pesto-Sirloin al Dente" and the Kealakehe First Wave team came in fourth with "Birds Nest Sate Tips."