---
FAST FACTS HAWAII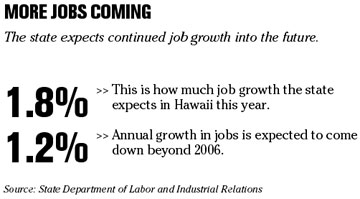 ---
HAWAII
Partnership aims to fill surfboard void
Surflight Hawaii
said yesterday it is teaming with
Marko Foam Products
, a Southern California company, to produce new surfboard blanks for surfboard makers.
Waialua-based Surflight Hawaii, formed in 1996 by Jim Richardson, hopes to help fill the void in the urethane foam market left by the December closure of Clark Foam in Laguna Niguel, Calif. Clark Foam had supplied about 80 percent of the world's foam blanks for surfboards.
The new pressure-molded, expanded polystyrene blanks show great potential to create lighter and stronger surfboards with better performance, Surflight Hawaii said. It said the polystyrene materials in its blanks are more environmentally friendly and 100 percent recyclable.
[HAWAII INC.]
NEW JOBS
» The Hyatt Regency Waikiki has made three executive appointments.
Kalani Nakoa
has been appointed sales and marketing director. He will be responsible for marketing, training, forecasting, budgeting and yield management.
Fawaz Gharaibeh
has been appointed executive assistant manager - food and beverage. He will be responsible for overseeing all food and beverage operations at the four restaurants operated by the resort.
Robin Desha
has been appointed Na Hoola Spa director. She will be responsible for overseeing all operations at the hotel spa.
» Mental Health Kokua has hired Summer B. Such as finance director. She has previously served as a KPMG auditor.
» Architects Hawaii Ltd. has hired Ronald J. Dean and Lawrence K. Ueki as project directors and Florencio A. Suela Jr. as a project architect. Dean has over 30 years of experience in the hospitality, commercial office, residential, health care, institutional and industrial facilities architectural market. Ueki has returned to the company after having previously worked for the firm from 1975 to 1992. Suela has 26 years of experience in the hospitality, residential, healthcare and institutional architectural market.
» Atlas Insurance Agency Inc. has appointed Lance Kawano personal lines division vice president. He will be responsible for the strategic planning and profitability of the company's personal lines accounts. He has over 15 years of experience in the finance industry.
» Star Markets has appointed James Payne marketing senior director. He will be responsible for all purchasing and merchandising in the company's chain throughout the Hawaiian Islands. He previously served as HFM Foodservice's procurement director.
» Servco Marine Claims has hired Evie Black as marine claims director. She will be responsible for overseeing and handling of marine losses for boat owners and insurers. She most recently served as a partner at the Goodsill Anderson Quinn & Stifel law firm.
NATION
Google comments spook investors
SAN FRANCISCO >>
Google Inc.
's shares plummeted by as much as 13 percent yesterday after the company's chief financial officer raised the specter of slower earnings growth -- a remark that soured recent investor enthusiasm that had been building for the Internet's leading search engine.
The latest in a series of abrupt downturns in Google's stock followed CFO George Reyes' answer to a question during an investor conference hosted by Merrill Lynch in New York.
After hailing the results of an 18-month effort to boost advertising revenue, Reyes predicted it will become increasingly difficult for Mountain View, Calif.-based Google to maintain its rapid growth pace.
"Most of what's left is just organic growth, which means you have to find ways to grow your traffic," Reyes said. "Clearly, our growth rates are slowing, and you see that each and every quarter."
Reyes later put a more positive spin on his remarks. "I am not turning bearish at all," he said near the end of a 45-minute session that was Webcast. "I think we have a lot of growth ahead of us. I think it's just a question of at what rate."
Airlines, pilots are in crunch time
Pilots at
Northwest
and
Delta
airlines have until today to make pay cut deals before they risk losing some of their control over the matter.
A bankruptcy judge is set to rule on Northwest's request for permission to impose its own pay cuts and work rules on pilots and flight attendants. And Delta's request to reject its pilot contract will go to arbitrators if a second long-term concessions deal isn't reached. Both unions are threatening strikes if the airlines impose pay cuts unilaterally. Both airlines have said strikes could kill them.
As talks continued yesterday in New York, Northwest pilots appeared closest to the edge of a strike. Two pay cuts have already sliced 39 percent from their wages. More than 92 percent of pilots voted to authorize a strike, the union said yesterday.
SEC subpoenas TheStreet.com
WASHINGTON » A second financial news organization was subpoenaed for records in an investigation by the Securities and Exchange Commission, whose chairman has now put the subpoenas on hold amid controversy.
Financial news Web site TheStreet.com and its co-founder and major shareholder, James Cramer, were served subpoenas by the SEC about two weeks ago in connection with an inquiry into allegations of stock manipulation. Two columnists for Dow Jones online publications, Herb Greenberg of MarketWatch and Carol Remond of Dow Jones Newswires, also received subpoenas in the SEC investigation related to online retailer Overstock.com.
Apple unveils new iPod stereo system
CUPERTINO, Calif. »
Apple Computer
furthered its push into home entertainment yesterday with the introduction of a high-fidelity stereo system for the iPod music player, as well as a new version of the Mac Mini computer with features for managing digital music and video.
The announcements, which come as Microsoft pushes its own approach to digital home entertainment based on its Windows Media Center technology, shows Apple's increasing focus on consumer electronics.
Judge dismisses part of whistle-blower case
WICHITA, Kan. » A federal court has dismissed much of a whistle-blower lawsuit claiming commercial and military planes built by
Boeing Co.
contain "bogus parts" and should be grounded, but kept the lawsuit alive on allegations that the company retaliated against the employees.
In an order made public yesterday, U.S. District Judge Wesley Brown said he was dismissing parts of the case -- filed under the False Claims Act -- because the plaintiffs were not specific enough in their allegations that Boeing defrauded the U.S. government. But the judge allowed them to amend and refile the complaint within 15 days.
JAL to announce top-level changes
Shares of
Japan Airlines Corp.
had their biggest gain in two years on speculation Asia's largest carrier will replace President Toshiyuki Shinmachi to end a boardroom feud and stem losses.
Directors are meeting today to decide who should head the Tokyo-based company, said spokesman Yoshiteru Suzuki. He declined to comment on reports in several Japanese newspapers that Finance Director Haruka Nishimatsu will replace Shinmachi.
The new management must resolve safety lapses that prompted passengers to switch to All Nippon Airways Co., contributing to losses that Japan Airlines predicts will total $406 million this fiscal year. Executives may also need to win labor union support for plans to cut as many as 5,900 jobs over six years to help return to profit.