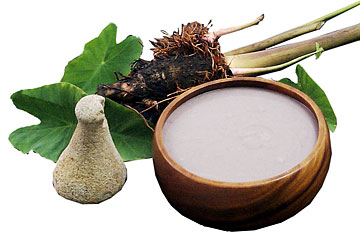 STAR-BULLETIN 1998
Torrential rains and pests have diminished taro crops on Kauai's North Shore.
Rain damage to Kauai taro could cut poi supply
HANALEI, Kauai » Torrential rains -- more than 8 inches in a 24-hour period last week -- as well as pests have pounded taro crops on Kauai's North Shore, a source of a third to a half of the state's poi.
Bino Fitzgerald, head of Hanalei Poi Co., predicts a shortage of poi throughout the state.
But Eric Enomoto, treasurer for poi distributor HPC Foods Ltd., said it is too early to tell what last week's rains will do to the crop three months from now.
What that means as graduation and wedding season quickly approaches has yet to be seen, Enomoto said.
"It's like any other vegetable crop," Enomoto said. "Long periods of continuous rainy conditions are going to affect the crop more" than a one-time event.
A rainy season in Hanalei has a large impact on poi in Honolulu, as state figures put 72 percent of Hawaii's taro coming from Kauai. And Hanalei Valley is the site of half and two-thirds of the crop grown on Kauai, Fitzgerald estimates.
Fitzgerald's Hanalei Poi has already stopped selling poi over the Internet, once the source of 10 percent of the company's sales. And it has also refused to fill individual orders to ensure it has a steady supply of poi for Big Save, Wal-Mart and other major local retailers, Fitzgerald said.
HPC Foods, meanwhile, which manufactures and distributes the Taro brand poi from taro grown across the state, is also starting to see the effect of the rains on crops bought from Kauai growers, in the quality of taro being picked, Enomoto said.
But don't count the taro out. The resilient plant could make a comeback with a little help from Mother Nature.
"What is important now is what kind of weather we have from here on," Enomoto said.
While frequent rain could damage poi sales and distribution for more than a year, he said, dry, sunny weather will help the taro fields recover quickly, perhaps in time for peak poi season.
Taro has a 12- to 14-month growing cycle, but it takes only one to two days for a picked taro plant to become poi and to make it to a supermarket's shelves.
The entire crop, from newly planted to nearly full-grown plants, has been damaged by the rain, which also helped spread a variety of pests, including pocket rot (a disease that forms pockets of rotting tissue in the corm), leaf blight and apple snails.
So tourists are not the only ones looking for some sunshine.
"We're hoping for a period of good weather ... where the taro can recover," Enomoto said, adding, "Periodic floods are part of the process."
Fitzgerald says that what makes this year different from previous flooding winters is the lack of people actually farming taro.
While poi has become more popular, taro farmers are growing older, and younger generations of potential farmers are finding work in higher-paying industries.
And it is becoming more expensive to stay in business.
Important tools including fuel, fertilizer, plastics and other materials are rising in price, while property taxes increase across the state.
"We're driving out farmers from agriculture," Fitzgerald said.
To survive, Fitzgerald said he is not taking on any new big accounts. Instead, he plans to market poi as a niche, gourmet product, where the focus is on quality rather than quantity.
"We've got to take care of our local people and local markets," he said.
---
Star-Bulletin reporter Tom Finnegan and the Associated Press contributed to this report.