---
FAST FACTS HAWAII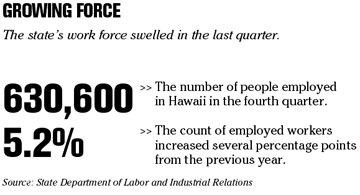 ---
HAWAII
Hoku Scientific's stock falls after downgrade
Hoku Scientific Inc.
's stock dropped 3.4 percent yesterday after one of its initial public offering underwriters downgraded the company's shares to "peer perform" from "outperform."
The rating change by analyst Kevin Monroe of Thomas Weisel Partners followed a similar downgrade to "market perform" from "outperform" by another one of Hoku's IPO underwriters, Piper Jaffray & Co.
Hoku, which went public on Aug. 5 at $6, fell 27 cents to $7.70.
In mid-September, both Thomas Weisel Partners and Piper Jaffray initiated coverage of the stock with "outperform" ratings with the shares just above the IPO price, at $6.12. The stock more than doubled to $12.80 in the next three trading days before eventually falling back.
NATION
NYSE, Archipelago merger OK'd
WASHINGTON » Federal regulators approved yesterday the merger of the New York Stock Exchange with electronic rival
Archipelago Holdings Inc.
, a market-shaping deal that will transform the 213-year-old Big Board into a for-profit company.
The Securities and Exchange Commission announced its approval of the $9 billion transaction, which will give the NYSE -- already the world's biggest stock exchange -- new, high-tech trading capabilities and an estimated 49 percent of the market in stock trading.
It was the final hurdle for the deal, which won approval late last year from the Justice Department, NYSE seat owners and Archipelago shareholders. The merger is scheduled to close on March 7.
Comcast to distribute films on day of release
PHILADELPHIA »
Comcast Corp.
, the nation's largest cable operator, has reached a deal with
IFC Entertainment
to show selected independent movies at the same time the releases hit theaters.
Philadelphia-based Comcast said indie films from "IFC in Theaters" will be shown through its "On Demand" service, which stores movies, TV shows and other video for subscribers with digital set-top boxes to watch at any time.
The offerings, priced at $5.99 each, will be launched nationwide on March 22.
Quiksilver reduces chief exec's bonus
WASHINGTON » Surf-apparel maker
Quiksilver Inc.
cut its top executive's annual bonus by 28 percent to $1.66 million last year, according to a regulatory filing.
Chief Executive and Chairman Robert B. McKnight Jr.'s 2005 salary increased to $880,000 in the year ended Oct. 31, from $800,000 a year before, the proxy statement said.
McKnight had received a bonus of $2.3 million in fiscal 2004.
ATA poised to leave Chapter 11
INDIANAPOLIS » ATA Airlines, once the nation's 10th-largest carrier, will emerge from bankruptcy today as a leaner airline that hopes to lure back passengers -- and a profit -- by focusing on vacation travel.
The Indianapolis-based airline and parent company ATA Holdings Corp. have scaled back their fleet of jets, slashed destinations and cut by half their labor force since filing for Chapter 11 bankruptcy protection in October 2004.
Northwest Air backs off demand
MINNEAPOLIS »
Northwest Airlines Corp.
has backed away from a demand to staff its overseas flights with mostly non-U.S. flight attendants, the union that has been fighting the idea at the bargaining table said yesterday.
It's one more sign that Northwest and its flight attendants and pilots are closing in on a pay-cut deal in advance of a deadline tomorrow set by New York Bankruptcy Judge Allan Gropper. Last week, Northwest said it had the outlines of an agreement with pilots on who would fly regional jets. Those two issues had been at the heart of the strike threats by the two unions, although several other contentious issues remain.
WORLD
Intel to open $300M Vietnam plant
HO CHI MINH CITY, Vietnam »
Intel Corp.
, the world's largest chipmaker, announced plans today to build a $300 million chip assembly and testing factory in southern Vietnam, giving a huge boost to the country's efforts to raise its high tech profile.
The facility, which will be built in Ho Chi Minh City's Saigon Hi-Tech Park, marks the single largest U.S. investment so far in its former wartime adversary. The deal is considered a significant one for Vietnam in its campaign to attract more foreign investors.