---
FAST FACTS HAWAII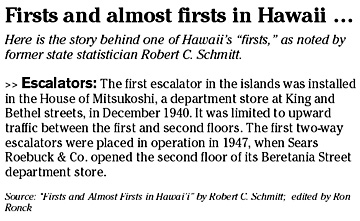 ---
NATION
Picked a penny up off the ground lately?
Consider the penny, that copper-colored, Lincoln-mugged coin that graces clerkside change cups nationwide.
Are they a fiscal nuisance? Do we like them? Let the debate rage.
However, a company in the coin business polled more than 1,000 U.S. adults last year for views on the penny. We are, it seems, a people of mixed thoughts about this smallest of our currencies.
More than ... um ... a quarter, 27 percent, said they find little value in pennies and don't plan to use them.
But two-thirds, 66 percent, said they prefer the government keep pennies circulating as legal tender.
And most of us -- 84 percent of the polled women and 74 percent of men -- said they still stop to pick up errant pennies spied on the ground.
The data are from Coinstar Inc., the Bellevue, Wash.-based company that makes coin-counting machines.
Tips on entry into the 'real world'
It will soon be spring, the season of college graduations. Perhaps you or your offspring will embark on that frightening voyage into the working world, with all its demands and rewards.
It's not an easy place, especially for rookies with scant experience.
Peter C. Wallace, a professor of business administration at Stonehill College in Easton, Mass., offers a few tips in his book, "Life 101: Real World Skills for Graduating College Seniors."
» Borrow wisely. In these days of student debt and meager first incomes, it's easy to rely on credit cards, but many students have no idea about financing's true costs.
» Rest and prepare. The white-collar world really is a brutal place, far more intense and competitive than most of us ever see from the academy.
Graduates who return to speak with students "always say the biggest shock is how physically and mentally demanding a white-collar job is," Wallace said.
» Be unsure. Less than 15 percent of new grads have a passion for some occupation, with most of us having chosen the liberal arts in college to hone our social and intellectual skills en route to a bachelor's.
"These are the students who should start out by doing something they really enjoy," Wallace said.
» Embrace budgets. If you can avoid having a car at first, and split housing costs with a roommate, all the better, as your starting income is likely to be a puny number.
"By the time you pay rent and utilities, there's little left, and there's no cafeteria card in the real world," he said.
Bad weather not worst wedding fear
What's the worst risk associated with weddings? (Yes, assuming we avoid divorce.)
Believe it or not, a runaway bride or groom scenario, cited by 39 percent of 1,118 U.S. adults queried on the matter.
Nearly a third, 30 percent, said the risk of the guests and relatives not getting on well.
About a quarter, 23 percent, said their worst fear would be running out of food and drink, and 4 percent said wedding crashers.
The survey was commissioned by weather.com, the Internet site of the Atlanta-based Weather Channel.