BOOKS
Gripping ghost tale does not quite reach finish line
A decade ago, I sat in the living room of Lois-Ann Yamanaka's Kalihi Valley home, interviewing the author upon the release of her book "Wild Meat and the Bully Burgers." That's when she told me about the ghosts that occupied the home when she moved in.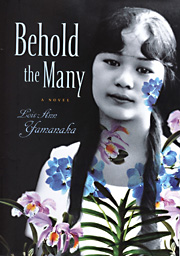 "Behold the Many"
By Lois-Ann Yamanaka
(Farrar, Straus and Giroux)
Hardcover, 342 pages, $24
Never having seen a ghost, I'm always interested in others' tales, and she seemed to know some of the individual entities and tragic details of their lives.
"So where were they?" I asked.
"Oh, right there," she replied. "Where you're sitting now."
"Uh, are they here now?" I asked with some alarm, looking right and left.
In person, as on the page, Yamanaka knows how to grab an audience.
If not in her living room in spirit, the ghosts certainly remained as memories, and although authoring "Blu's Hanging," "Heads by Harry," "Father of the Four Passages," the young adult novel "Name Me Nobody" and children's book "The Heart's Language" took precedence, Yamanaka has finally committed her ghost story to paper in "Behold the Many."
Like many of her other books, "Behold the Many" is a coming-of-age tale, though this time delivered in the format of a historical novel set in Honolulu of the early 1900s through 1940, when families were moving off plantations in search of better lives.
The story begins at the end (so I'm not giving anything away), with the death of Anah's daughter, and from there recounts the path to her demise.
Readings
With author Lois-Ann Yamanaka
» Native Books, Ware Warehouse: 7 p.m. Thursday
» Borders Books, Maui: 1 p.m. Saturday
» Motonaga Gallery, Wailea Village, Maui: 7 p.m. March 18
» Basically Books, Hilo: 2 p.m. March 19
» University of Hawaii at Hilo: noon March 20
» Borders, Ward Centre: 2 p.m. March 26
In Yamanaka's book world, childhood is never a carefree, safe experience, and "Behold the Many" is no exception. Anah is the eldest daughter in the Japanese-Portuguese Medeiros clan. After contracting tuberculosis, she and her two younger sisters, Aki and Leah, are sent one by one to St. Joseph's orphanage in Kalihi Valley, run by Catholic nuns. Two Medeiros sons are spared from the disease.
Leah is the first to arrive at the orphanage, and her fears are eased by an entity she calls "Jesus," who actually turns out to be the ghost of 9-year-old Seth Soares. After Leah dies, Seth turns his attentions to Aki and, after her death, Anah.
Anah survives her bout with tuberculosis but cannot shake the demands of the trio of ghosts who are fearful of being left behind and increasingly envious of the life she is able to lead, eventually placing a very adult curse on her.
Racial conflicts and malcontents, or those who "talk stink," are a staple of Yamanaka's novels, and here, they abound in Anah's mixed-race family. There is an aspect of women's empowerment in the tale's battle of wills as Anah resists pressure to sublimate her own needs for those of her family, both dead and alive. In trying to seek her own happiness, Anah is battered physically by the ghosts and psychologically by tart-tongued Portuguese relatives who harp on her status as a "half-breed orphan" and bearer of useless girls.
Yamanaka continues to write with cinematic detail and a clear view of Hawaii as being something less than the paradise that the HVCB would like to present to the rest of the world. Underneath the sunny facade are racial tension, poverty, drug use and all their attendant evils.
The ghostly visitations she writes about are genuinely eerie, and Leah's fright and Aki's hostility are palpable. I was alternately sad and scared throughout the first half of the book. Yamanaka's short chapters and tight prose make for quick reading in racing toward the inevitable conclusion.
It's near the end where the book goes awry. What starts like a poignant motion picture ends like a hammy made-for-TV drama. It's as if the weight of the ghost story released its grip on Yamanaka's imagination, and the rest of the story is dispatched all too quickly in the last 50 pages with contrived characters and circumstances.
Casual readers who can suspend disbelief long enough to be enraptured by a ghost story might also buy into an improbable, though expedient murder that's no more riveting than a stock episode of "Law and Order," but those who read critically will expect more from one of Hawaii's best novelists.
The bond between Anah and her brother Charles is so strong in the beginning of the book that more is expected from their reunion than the brief iteration of his fate in the 18 years the siblings were separated.
Read "Behold the Many" for the beginning; make up your own ending if you have to. The book will give hope to any writer with three-quarters of a novel stuffed in a desk drawer.
---
BACK TO TOP
|
An excerpt from 'Behold the Many'
"Who Leah was talking to?" Anah whispered to Aki after Sister Bernadine turned around to whip the girl whose bag of clothespins spilled over the lawn.
"She talking to the dead boy," Aki reported, "making like he still alive."
"The dead boy?"
"Seth," Aki answered, "but she call him Jesus. Pa-ke Doh Nee told me he fell from that big tree over there. But this was before Leah came here."
"And Leah talk to him?" Anah asked. "But she never know him."
"I know," Aki said, shaking her head with a grimace. "But she talk to him all the time."
"And how he wen' die?" Anah asked.
"He went ko-tonk, right on those rocks." She pointed, her side of the tub falling onto the grass. "Blood and brains and bones all over. Pa-ke Doh Nee told me." Aki laughed, mean, because, "Seth was haole."
"What else you know?" Anah asked Aki.
"She said every time she scared, she tell his name and he come," Aki said, mildly irritated.
"You think she can see him?"
"She said he hold her hand," Aki said. "And tell her all the time, 'I here for you.' "
"I here for you?"
Leah ran up behind them, laughing as though being chased, dodging some invisible hand trying to tag her while she held the chunk of laundry bar above her head.
"Who chasing you?" Anah asked.
"Nobody," she replied, coming to a giddy halt.
"Who, Leah? Tell me who," Anah commanded, grabbing her by both shoulders.
"I said nobody," she said, lowering her head and clutching the bar of soap to her chest.
"Tell Anah," Aki yelled at her. Leah snubbed her. "Tell your stupid secret, incapaz," Aki said. "Everybody know. And everybody think you crazy. Just wait 'til Sister Bernadine find out and put you in the closet for talking to the devil, you little piggie, just like the one in the Bible story, the one who went over the cliff."
"Shut up," Leah whined. "I not the devil. And he not the devil. You the devil." She hurled the heavy bar of soap at Aki's face, then rushed at her. The bar broke into pieces, chunks of hardened soap rolling on the mud, little flakes and ripped paper rising in the wind. Anah tried to pull Leah away from Aki, who managed to get around her. She shoved and punched Leah's face, the two of them fistfighting, rolling on the lawn, their white day dresses, their arms and legs, their faces, their hair, muddied messes.