Coqui frog eradication to close park on Big Island
MANUKA, Hawaii » The state's largest nature reserve will be closed for five days next month for a coqui frog eradication effort, state officials announced yesterday.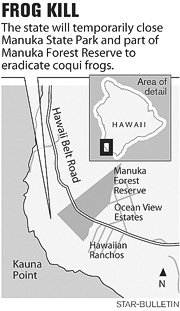 The loop trail area of Manuka Natural Area Reserve and the adjacent Manuka State Park on the Big Island are to be off limits to the public March 6-10.
"We are taking these steps because we believe it is a priority to control coqui in a remote natural area where endangered species are threatened," Department of Land and Natural Resources Chairman Peter Young said.
The reserve, extending from sea level to 5,000 feet, is home to a wide variety of shrub lands, forests, lava marine pools and wet mountain kipuka forests. The area also contains species that "are on the edge of extinction," Young said.
Native to Puerto Rico, coqui frogs are noted for their loud shrieking. Populations of the 2-inch frog have become a big problem on the Big Island and Maui.
The two areas are being closed as a precaution while state crews use a helicopter to spray citric acid, which kills the noisy frogs, Young added.
The areas were also treated in October and November, but another application had to be postponed because of consistent drought in December and January.
"This coming treatment will help to defend the area we have already covered, but there is a great deal of work yet to do," with another treatment later this year when new funds are available, Young said.
In DLNR trials, citric acid has been effective in killing the frogs, but follow-up treatment is needed to keep the frogs from moving in from nearby untreated areas, officials said.
"If the entire area is treated, continuing monitoring and spot treating may successfully eradicate this isolated population," Young said.
The Manuka Natural Area Reserve is the largest of 19 nature reserves on five islands, encompassing more than 109,000 acres.
---
Star-Bulletin reporter Tom Finnegan contributed to this report.