Man's body is found with bites from shark
The 45-year-old diver from California went missing on Thursday
WAILUKU » State officials closed a 3-mile stretch of coastline on South Maui yesterday after the shark-bitten body of a California man was discovered about 400 yards offshore.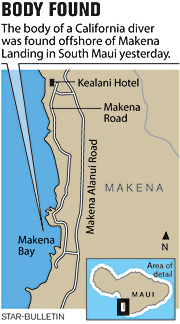 The Maui County coroner's office confirmed that the body belonged to Anthony Moore, a missing 45-year-old diver, according to a Coast Guard spokesman.
Police Lt. Glenn Cuomo said authorities had not determined whether the shark bites caused the death or came after Moore died. Cuomo said the marks on the body were consistent with shark bites.
An autopsy was planned for today.
State Department of Land and Natural Resources officials were expected to determine at about noon today whether to reopen the 3-mile stretch of coastline from Black Sand Beach to the Kea Lani Hotel, including Makena State Park. No sharks were seen in the area, but the coastal waters were closed to the public as a precaution, state officials said.
Moore, of San Jose, Calif., planned to free-dive for a couple of hours in waters off Makena and was expected back at 5 p.m. Thursday, his wife told authorities. She reported him missing at 6:58 p.m., and police and the Coast Guard began searching. The Coast Guard searched a 12-mile span from Polo Beach to Nukuele Point.
Cuomo said Moore's rental car was found in a parking lot at Makena Landing at 7:32 p.m. Thursday.
The body was found by a kayaker at about 8:44 a.m. yesterday in South Maui waters at "Five Graves," a place about a mile offshore that is frequented by snorkelers.
Coast Guard Chief Petty Officer Marsha Delaney said she was told that Moore went diving alone but was an avid athlete and did free diving often.
The last fatal shark attack in Hawaii waters occurred in April 2004 when 57-year-old surfer Willis McInnis was killed about 200 yards off Kahana in West Maui.
---
The Associated Press contributed to this report.