---
FAST FACTS HAWAII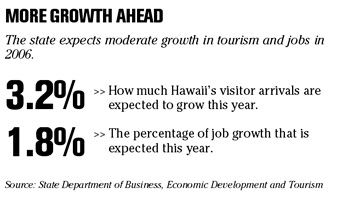 ---
HAWAII
Island Air starts jet charter service
Island Air
is inaugurating a jet charter service today that will be able to take passengers anywhere in the world.
The Bombardier Challenger business jet, which can accommodate up to nine passengers, is equipped with a galley, six leather recliners and a three-place settee that converts to a twin bed. It has one flight attendant.
Travelers will be picked up by a limousine and taken to the aircraft to be boarded for immediate departure.
Island Air also offers 92 daily commercial flights between all islands on its nine 37-seat de Havilland Dash-8 turboprop aircraft. The carrier will add two more Dash-8s to its fleet next month and return one plane in the fall when its lease ends, Island Air Chief Executive Rob Mauracher said yesterday.
In addition, Island Air will take delivery next Saturday of a 78-seat Bombardier Q400 turboprop aircraft, he said. The Q400 will go into service in March and a second one will start flights in June. The company is negotiating for a third Q400, Mauracher said.
Kona Wal-Mart to fill 85 positions
The Wal-Mart store in Kona on the Big Island is seeking to fill about 85 positions and will hold four days of job fairs during the next two weeks.
The retailer is looking for cashiers, sales floor associates, maintenance workers, overnight stockers and overnight temporary help in advance of a remodel of the Kona store.
The job fairs will be held on Thursday and Friday next week and the following week, from 9 a.m. to 4 p.m. The average wage for a regular full-time Wal-Mart associate in Hawaii is $10.58 an hour, the company said.
Economic expansion to continue
Hawaii's economy is expected to continue expanding this year, with growth projected in employment, income and visitor arrivals, according to the latest quarterly economic report from the state
The report forecasts wage and salary jobs increasing by 1.8 percent in 2006, with personal income growing 3.2 percent in real terms and visitor arrivals rising 3.2 percent.
Visitor spending this year is expected to reach $12.4 billion, or about 4.6 percent more than last year, the department said.
Hawaii is coming off a fourth quarter that saw 630,600 people employed in the state, an all-time quarterly employment high.
Anheuser to start new beer in isles
ST. LOUIS » Anheuser-Busch will launch a Chinese import beer in Hawaii and Los Angeles next week, the company announced yesterday.
Anheuser-Busch Cos. Inc. will release its Harbin Lager beer in the two locations on Monday, said Andy Goeler, vice president of imports.
Anheuser-Busch said the beer will be made available throughout the nation later this year.
NATION
Tower Records reported for sale
SACRAMENTO, Calif. » Two years after emerging from bankruptcy protection, Tower Records is reportedly up for sale again.
The West Sacramento-based record store chain has hired the Los Angeles investment banking firm of Houlihan Lokey Howard & Zukin to market the company, according to a report in Billboard magazine.
Tower tried selling itself in 2003 and 2004 but was unable to complete a deal.
The new attempt comes as no surprise. It's always been anticipated that Tower's bondholders, who took control of the company during its bankruptcy case, would eventually want to sell out.
Ted Turner will leave Time Warner's board
NEW YORK » Ted Turner, the mercurial media visionary who founded CNN, said yesterday that he wouldn't seek re-election to the board of
Time Warner Inc.
Turner, who is 67, became a director of Time Warner in 1996 when the media conglomerate bought his cable networks company Turner Broadcasting Systems. He long held a prominent role in guiding Time Warner's affairs, but in recent years complained of being sidelined.
Turner has increasingly turned his time and energy toward philanthropic efforts, which include overseeing an eponymous environmental foundation and his large land holdings. At 1.7 million acres, these make him the largest individual property owner in the United States.
Turner is also chairman of the United Nations Foundation, which he started with a $1 billion pledge to the agency in 1997, and co-chairs the Nuclear Threat Initiative with former U.S. Sen. Sam Nunn of Georgia. He also owns a rapidly expanding restaurant chain called Ted's Montana Grill, which specializes in serving bison meat.
Oregon considering ban on salmon fishing
SAN FRANCISCO » Salmon fishing could be banned outright or severely restricted this summer along 700 miles of coastline from northern Oregon through central California as the number of spawning salmon is expected to miss mandatory conservation minimums, fishing regulators said yesterday.
A total ban on commercial and recreational salmon fishing from Cape Falcon in Oregon to Point Sur in California is one of several options likely to be considered at the March meeting of the Pacific Fisheries Management Council, which advises federal regulators about offshore fishing limits in the Pacific Ocean, said council officer Chuck Tracy.
The council will then present its final recommendations in April to the National Marine Fisheries Service to set limits on this season's harvest.
Biologists are concerned that fewer mature chinook salmon are spawning to replace fish that are dying off.
Alaska Airlines inspecting all 110 of its planes
Alaska Airlines said it's inspecting cabin-pressure systems on its 110 airplanes after problems on six flights since Dec. 26, including one on Thursday.
The process will be completed during the next six to nine days, said Amanda Tobin, a spokeswoman for the Alaska Air Group Inc. unit. The Seattle-based airline's flight schedule won't be affected, she said yesterday. The planes involved were variations of Boeing Co. 737s and an MD-80.
"This is an additional safety precaution," Tobin said. "It's important to further satisfy ourselves and the traveling public that there are no systemic issues."
Yesterday's incident at Alaska Airlines, the 10th-largest U.S. carrier, involved a pressure warning sounding on a Juneau-Anchorage flight in Alaska, Tobin said. The pilot reduced the altitude and completed the flight. In the other incidents, flights were diverted or returned to their departure airport after a pressure problem or a warning indicator went off.
Each incident had different causes and occurred on a different type of plane, Tobin said. The incidents were investigated separately, including interviews with a flight's crew, the company said on an employee Web site. The inspections were reported earlier by the Seattle Times and Aviation Daily.