SEATTLE OR HAWAII?
Lightning, thunder and heavy rains blanket the islands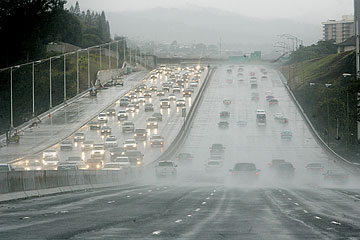 Rain floods roads and cuts power
A flash-flood watch is in effect for Oahu and three other islands
Heavy rain and thunderstorms flooded Oahu roadways, trapping one motorist in a car, and causing power outages and minor flooding in some neighborhoods.
A flash-flood watch remained in effect until noon today for Oahu, Kauai, Molokai and Maui.
The National Weather Service canceled a severe thunderstorm watch at 8 p.m. yesterday, but a flash-flood warning remained in effect until at least 10:30 p.m. yesterday due to a storm over the southern part of Oahu, said Maureen Ballard, weather service lead forecaster.
"We're anticipating things getting better overall," Ballard said last night.
The weather system "that has been prompting thunderstorms has weakened and is continuing to weaken."
Lightning struck a transformer at North King and Palama streets near Tamashiro Market shortly after 8 p.m.
Oahu Civil Defense reported minor flooding at a home in Nanakuli and a home in Kaaawa about 5:30 p.m. due to flash flooding.
One motorist was stranded at 8:07 p.m. inside a car in Mapunapuna as the water rose up to the car doors, the weather service reported.
Alewa Heights resident Brian Lum and his sons Daniel and Matthew were watching television last night when they heard a big slosh about 8:30 followed by a thud. When they went outside, they discovered a large chunk of earth that had come down a slope near their home and knocked down a low retaining wall on Alewa Drive below their home. The heavy rain also brought down boulders and a chain-link fence.
Rain also socked Kauai yesterday.
Despite as much as 18 inches of rain over a 24-hour period on the Garden Isle yesterday, only minor flooding was reported.
According to National Weather Service rain gauges, Mount Waialeale received 18.37 inches of rain in the period from 5 p.m. Monday until 5 p.m. yesterday.
While the more mauka stations reported quite a bit less rain, in the 2- to 6-inch range over the same 24-hour period, swollen rivers from inland rain did cause the closure of Hanalei Bridge.
The bridge, the only gateway to Kauai's north shore, was closed for nearly 18 hours, trapping an estimated 4,500 in their small north shore communities, said Mark Marshall, Kauai Civil Defense administrator.
It reopened about 6 p.m. yesterday, said former business owner and Hanalei resident Michael Ching.
While residents are well-accustomed to the closure, some tourists, some stuck in their cars for most of the day, were a little anxious that they might miss their flights. And numerous businesses had to close early or not open at all due to a shortage of workers able to get to work, Ching said.
The local grocery store, Hanalei Big Save, was open part of the day, although only one cashier was available, Ching said.
But most were able to cope with the closure, "because it's not like they were stuck in a terrible place," Ching joked.
Kauai's Civil Defense was on alert from late Monday night until yesterday afternoon, Marshall said, with flash-flood warnings posted most of the night.
Despite the erroneous call of a dam breaking in Koloa, it was a pretty normal rain event, Marshall said. While six homes did flood in Koloa town, it was due to a dike, and not the Wait Reservoir dam, he added. The waters receded in the afternoon and no one was evacuated.
---
Star-Bulletin photographer Jamm Aquino contributed to this report.