---
A VISIT WITH THE TOOTH FAIRY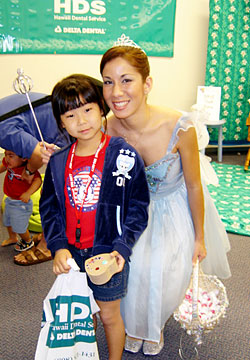 Ilokano ties
The University of Hawaii Ilokano and Philippine Drama and film group presents "Redemption: An Ilokano Novel in English, from noon to 2 p.m. today at the Center for Korean Studies Auditorium.
The performance and reading highlight the novel in progress by Aurelio Agcaoili, editor in chief at the Weekly Inquirer Philippines, a Filipino-American newspaper based in California.
The story is about five daughters and how they deal with the wounds that pave the way to redemption in the presence of a detached mother.
The talk is a part of the centennial celebration of Filipino immigration to Hawaii. Call 956-2226 or 956-8405.
Tee time
Tee off at the "Swing for Education" golf tournament on March 6, to benefit St. John Vianney Education Foundation tuition assistance programs.
All skill levels are welcome to participate. Registration begins at 10 a.m. with a shotgun start at 11:30 a.m. Refreshments will be served on the course and the event culminates with a dinner at 5 p.m.
Admission fee for teams of three is $550. Dinner only is $40. Various sponsorships are also available.
Deadline to sign up is Tuesday. Call 261-4651.
Day of recycling
A community collection of recyclable items will be held Saturday at the Ala Wai Yacht Harbor to benefit the Waikiki Community Center.
The public is invited to drop off scrap metal, appliances, auto parts, beams, bicycles, newspaper, cardboard, beverage containers (plastic, glass, aluminum), old tires and green waste.
Local businesses -- including Hawaii Metal Recycling Co., Refrigerant Recycling, Honolulu Recovery Systems, Hawaiian Earth Products, Unitek Solvent Services and Interstate Battery Systems -- will collect the items, then make donations to the center.
Drop off hours are 8 a.m. to 2 p.m.
Those able to volunteer or drive a van or pick-up truck, call Sonya, 586-8520 or Rene, 306-1876.
---
[ MORSELS ]
Lessons in longevity
Author and health enthusiast Carolyn Choy will share ideas on promoting longevity through diet and exercise Sunday at the Kaneohe Public Library.
Choy, age 93, will host an hour-long free program for seniors at 1 p.m.
Among her topics will be the Chinese herbs used in recipes in her book, "Health Through Chinese Foods," and early morning exercises for seniors, as illustrated in her book, "Do it in Bed: Tips for a Healthier Lifestyle."
The library is at 45-829 Kamehameha Highway. Call 233-5676.
KCC cooking classes
Kapiolani Community College offers these classes in March. Call 734-9211.
Cooking Local: Chef Grant Sato covers "Braised Favorites" on March 4 and "Noodles" on March 11. Classes are 8 a.m. to noon and cost $55 each.
Tex-Mex Fiesta!: Nina Jarrett demonstrates the cuisine of the Southwest, 6 to 9 p.m. March 6. Cost is $48.
Macrobiotic Cuisine: Personal chef Leslie Ashburn, recently certified in macrobiotic cuisine in Japan, teaches "Seeds of Nutrition," about beans and grains, on March 11, and "Eating for Energy" on March 18. Classes run from 8 a.m. to noon and cost $45 each.
Professional Ice Carving: Dale Radomski leads a three-day course on designing and preparing sculptures, 3:30 p.m. to 630 p.m. Mondays beginning March 6. Tools provided. Cost is $210.