---
FAST FACTS HAWAII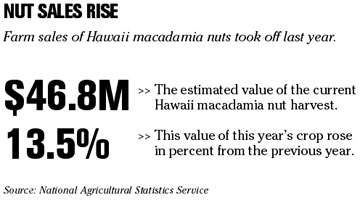 ---
HAWAII
Boyd Gaming CFO to retire in May
Ellis Landau, the longtime chief financial officer of
Boyd Gaming Corp.
, has notified the company he intends to retire on May 31.
Landau, 62, has been the company's CFO since he joined Boyd Gaming in 1990, and has played a role in the company's financial, acquisition, and development strategies, the Las Vegas-based company said.
Boyd Gaming operates Vacations Hawaii, a wholly owned subsidiary in Honolulu that offers daily charter flights to Las Vegas.
---
[HAWAII INC.]
NEW JOBS
»
PacificBasin Communications
has hired
Michelle McGuinness
as Hawaii Home + Remodeling Magazine's advertising director. She previously worked for KGMB9 as an account manager.
» A&B Properties Inc. has hired Diane P. Bevilacqua as project manager-development. She previously worked for sister company Hawaiian Commercial & Sugar Co. on Maui. She has over 27 years of engineering and business experience.
» Island Air has hired Bernadette Worley as sales and marketing manager and James Suehisa as regional sales manager for Maui and the Big Island. Worley has more than 15 years experience in the travel industry. Suehisa has over 30 years experience in the local airline industry.
>> Island Insurance Company Ltd. has appointed Debra Chong product development project manager. She previously served as Central Pacific Bank's vice president and product development manager.
PROMOTIONS
» Bishop Museum has appointed
Tianlong Jiao
anthropology department chairman. He previously served as the department's acting chairman. He has directed or participated in more than 30 archeological excavation projects in China since 1985.
» Alakai Mechanical has promoted Neal Arita to vice president of direct sales and service, and Erinn Orimoto to controller. Arita will be responsible for developing sales to existing and prospective customers for preventive maintenance contracts and air conditioning repair and replacement projects. Orimoto previously worked for Nishihama & Kishida CPAs.
---
NATION
Shotgun Tasers under development
PHOENIX » The nation's largest stun-gun manufacturer is working on a new way to deliver electricity to the human body: through 12-gauge shotgun shells.
Though it's still being developed, Taser International Inc. says the new product will allow police officers and U.S. troops to hit someone from a much greater distance than its current line of Tasers, which Amnesty International has cited in more than 120 deaths.
The eXtended Range Electro-Muscular Projectile, or XREP, will be a shotgun shell designed to combine the blunt-force trauma of a fast-moving baseball with the electrical current of a stun gun.
Google infringed on copyrights
LOS ANGELES » A federal court judge has concluded that an image search service run by
Google Inc.
infringes on the copyrights of adult entertainment company
Perfect 10 Inc.
by displaying small versions of its images in search results.
But U.S. District Court Judge Howard Matz said that based on evidence submitted at a preliminary injunction hearing, Google could not be held responsible when viewers click on the images and are directed to third-party sites that contain full-size images stolen from Perfect 10's Web site.
Matz ordered both sides to craft a narrow preliminary injunction that would respect Perfect 10's copyrights but not curtail Google's broader right to catalog and display online images.
Ex-Dallas Cowboy sues over Vegas deal
LAS VEGAS » A football player-turned-investor has filed a lawsuit against the developers of the planned W Las Vegas Hotel, claiming they squeezed him out of plans to build a $2.5 billion luxury hotel, condominium and casino complex.
In a civil suit filed Feb. 10 in Los Angeles Superior Court, former Dallas Cowboys tight end Brian Roche accuses Edge Group LLC of staging a "land grab" and "interference with contracts and opportunities," that left his company, the Roche Group, out of a deal with W Hotel's parent company, Starwood Hotels & Resorts Worldwide Inc.
In August, New York-based Starwood and Edge Group, a group of private investors, announced plans to build approximately 3,000 hotel and residential units and a 75,000-square-foot casino on 21 acres just east of the Strip.
Server shipments rose last year
SAN JOSE, Calif. » Worldwide server shipments jumped 12.7 percent in 2005 while revenues increased 4.5 percent to $51.7 billion as companies turned to lower-end -- and less expensive -- systems for their computing needs, the research firm
Gartner Inc.
reported.
The numbers, released yesterday, show the continuation of a trend toward servers based on commodity, or "x86," microprocessors from Intel Corp. and Advanced Micro Devices Inc. They often run the freely distributed Linux operating system.
IBM remained the top server vendor in terms of revenue ($16.6 billion), followed by Hewlett-Packard Co. ($14.6 billion), Dell Inc. ($5.4 billion) and Sun Micro-systems Inc. ($4.95 billion).
WORLD
Bankers can be extradited to U.S.
LONDON » Three British bankers may be extradited to the United States to face Enron-related fraud charges, the High Court ruled yesterday in a judgment marking the first test case of controversial laws introduced to speed up the transfer of suspected terrorists.
David Bermingham, Gary Mulgrew and Giles Darby, former executives at Royal Bank of Scotland Group PLC unit Greenwich NatWest, had argued that because most of the alleged offenses took place in Britain any trial should be held here and that their deportation to the United States would contravene European human rights laws.
However, the High Court ruled that it would be "unduly simplistic to treat the case as a domestic English affair" and dismissed the trio's application for a full hearing of the case.