---
FAST FACTS HAWAII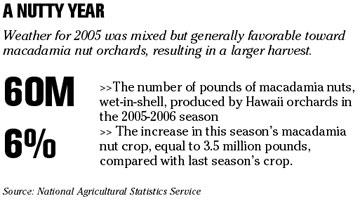 ---
NATION / WORLD
Star Cruises loses less as demand increases
HONG KONG »
Star Cruises Ltd.
, the world's third-biggest cruise operator, posted a smaller loss in the fourth quarter after economic growth boosted demand for holidays on ocean liners.
Net loss was $25.7 million, compared with a year-earlier restated loss of $39.8 million, the company said in an e-mailed statement yesterday. Sales rose 23 percent to $511.7 million.
Star Cruises, which operates 22 ships, is carrying more passengers as rising incomes spur demand for cruise holidays. An estimated 11.2 million people went on cruises last year, an increase of 6.9 percent, according to the Cruise Lines International Association.
The company, controlled by Malaysia's Genting Bhd., operates under its own brand and also Norwegian Cruise Line, NCL America, Orient Lines and Cruise Ferries.
Hong Kong expects budget surplus
HONG KONG » Hong Kong's government may report the first budget surplus in eight years, allowing it to give tax breaks to some wage earners.
Financial Secretary Henry Tang, in his budget speech today, may announce an operating surplus for the 2005-06 financial year, ending deficits three years earlier than scheduled, according to accountants. He will probably say the economy expanded 7.2 percent in 2005, a Bloomberg News survey of 19 economists showed.
Economic growth that's twice the average pace of the previous 10 years is helping Tang and Chief Executive Donald Tsang meet constitutional requirements to balance the budget while keeping a low-tax policy. Proposals to introduce a sales tax and change health-care funding have been delayed amid public opposition.
Dell loses $700M in deal with Philips
ROUND ROCK, Texas »
Dell Inc.
has lost an estimated $700 million service deal with
Royal Philips Electronics NV
after the companies mutually agreed to end the contract, a Dell spokesman said yesterday.
The five-year deal was among the largest in Dell's expanding service business when announced in December 2004, but it ended after the companies decided the contract "doesn't guarantee a successful conclusion," Dell spokesman Bob Kaufman said.
Under the deal, Dell would have supplied computers and management services to the Dutch electronics maker for more than 75,000 people in 60 countries.
Dell, the largest personal computer maker, has looked to its services division to improve sales and growth.
GM plant closes; thousands jobless
OKLAHOMA CITY » Some workers brought cameras to G
eneral Motors Corp.
's Oklahoma plant to take photographs of their work stations and co-workers before the last vehicle rolled off the line yesterday day, photos that will become treasured keepsakes in scrapbooks.
Others just brought their sadness.
"It's a rough day," said GM spokeswoman Nancy Sarpolis in Detroit. "It's hard to see your co-workers go."
After 27 years, the last vehicle produced at the plant, a white Chevrolet Trailblazer EXT, rolled out yesterday evening as GM shut down production in the first of 12 facilities the company plans to close by 2008 as it struggles to match production with market demand.
Detroit-based GM plans to cut 30,000 jobs. The Oklahoma City plant employs 2,400 -- 2,200 hourly and 200 salaried -- but economists said as many as 7,500 jobs could be affected including those at GM suppliers and secondary jobs, like hotel and restaurant workers.
New York-area Macy's workers vote to strike
NEW YORK » The union representing 3,500 workers at four Macy's department stores has voted to authorize a strike if talks with store management fail to resolve a dispute.
Sales associates, tailors, stock clerks, gift wrappers and other workers at the Manhattan store and three others in Queens, the Bronx and White Plains voted over the past week to authorize a walkout, union spokeswoman Carolyn Daly said yesterday. At issue are health care payments and wage increases, she said.
The four New York-area Macy's stores are among more than 850 department stores operated by Federated Department Stores Inc.
A380's will be delivered on time, Airbus says
SINGAPORE »
Airbus
's chief operating officer for customers said yesterday the first delivery of the world's largest commercial jet, the A380, would not be affected by the failure of the jet's wing in a stress test last week.
"It's not a big problem at all in fact. We hope and expect it to be relatively minor," John Leahy said on the sidelines of an Airbus briefing ahead of the Asian Aerospace exhibition.
Seven airlines in the Asia-Pacific region have ordered a total of 49 A380s.The 555-seater is due to enter into service with Singapore Airlines Ltd. by the end of the year. It will overtake Boeing Co.'s 747 as the world's largest commercial jet when it enters service.
Moody's might raise South Korea's rating
SEOUL » South Korea's rating may be raised to the highest since the Asian financial crisis as accelerating economic growth outweighs concerns over North Korea's nuclear arms program,
Moody's Investors Service
's Thomas Byrne said.
South Korea's $737 billion economy, Asia's third-largest, is forecast to expand at the fastest pace in four years this year as consumers increase spending and companies crank up production to meet rising demand.
Earthlink to offer service with DirectTV
ATLANTA »
EarthLink Inc.
said yesterday it will offer DirecTV satellite television service in a bundled option in select markets across the United States.
The Atlanta-based Internet service provider said the offer will begin by the end of the first quarter. It did not say in which markets the option will be available.
The idea is to allow customers to pay for their telephone, Internet and satellite television services on a single monthly bill.