| | |
| --- | --- |
| | Newswatch |
---
To our readers
Tomorrow, the Star-Bulletin will print only an A.M. edition, which will be delivered to all home subscribers in the morning.
---
PHILIPPINES LANDSLIDE RELIEF EFFORT
A fundraiser will be held at the Filipino Community Center from 12:30 to 3:30 p.m. today for victims of Friday's landslide in the Philippines.

Checks are preferred, but cash will be accepted. No in-kind donations will be taken.

Fil-Com Center President Geminiano Arre Jr., said he has received about $200 in donations and $2,200 in pledges.
---
Services held for isle-based Marine
HAMPSTEAD, N.H. » Services were held Friday for a 20-year-old Marine based in Hawaii who died last week in Afghanistan.
Family and friends gathered for Pfc. Matthew Bertolino's funeral service at Hampstead Congregational Church. Bertolino was killed in a truck accident while on patrol near Jalalabad.
Bertolino served with the 1st Battalion, 3rd Regiment, based in Kaneohe Bay.
The Pinkerton Academy graduate leaves behind his parents, Stanley and Joyce, and two older sisters, Kristen and Kimberly.
Kristen Bertolino read from her brother's letters home. Matthew Bertolino wrote that he felt joining the military was the right choice, because he was protecting people.
---
FRESH FACE FOR HISTORIC HOME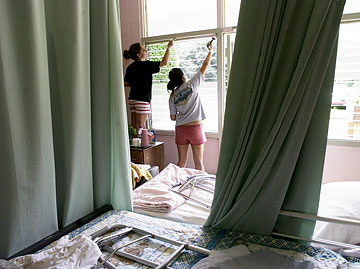 | | |
| --- | --- |
| | Police, Fire, Courts |
---
NEIGHBOR ISLANDS
Victim stable after allegedly set on fire
A 61-year-old Big Island man has been charged with attempted murder after pouring a flammable liquid on a sleeping man and setting him on fire, police said.
Alison Matsuda was charged Friday in connection with the Thursday incident.
The 43-year-old victim was taken to the Hilo Medical Center with first-, second- and third-degree burns to his body. He was last listed in stable condition.
Matsuda is being held in lieu of $50,000 bail.
Kailua-Kona man dies in head-on collision
A 48-year-old Kailua-Kona driver died after his car collided head-on with a delivery truck in Kau Friday afternoon.
Police said alcohol is a likely factor in the crash, which happened near the 57-mile marker on Hawaii Belt Road about 2:58 p.m. when the victim, who was driving a 1986 Nissan two-door sedan westbound, crossed the centerline and hit a 2000 International delivery van.
The driver of the Nissan, Lonni A. Valencia, was taken to Kona Community Hospital, where he was pronounced dead at 8:01 p.m.
The driver of the van, a 41-year-old Kailua-Kona man, was taken to Kau Hospital for minor injuries.
The traffic fatality is the seventh on the Big Island this year, compared to six at the same time in 2005.
Kauai man dies in Kuhio Highway crash
A Kauai man died Friday afternoon after losing control of his pickup truck, which collided head-on with a truck on Kuhio Highway, police said.
The accident happened about 4 p.m. The victim was pronounced dead at the scene.
The driver of the other truck sustained minor injuries.
Waimea family helped after apartment fire
The American Red Cross is helping a family whose ground-floor Waimea apartment suffered a fire yesterday, Big Island firefighters said.
The fire started about 12:38 p.m. and spread through a bedroom and bathroom in the three-bedroom unit. It was under control by 12:48 p.m.
No one was injured. Other residents in the three-story Noelani Apartments helped control the fire with garden hoses until firefighters arrived.
Damage is estimated at more than $10,000 and cause of the fire is under investigation.