| | |
| --- | --- |
| | Island Mele |
---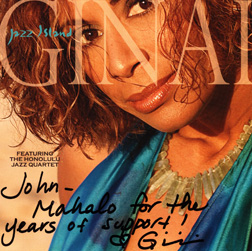 "Jazz Island"
Ginai
(self-release)
This beautiful album will appeal to jazz purists and sophisticated romantics alike. With the Honolulu Jazz Quartet backing her, and Robert Shinoda sitting in on guitar, Ginai has excellent instrumental support throughout.
Shinoda is featured on the bridge of the title song. Latin rhythms suggest that the titular island may be somewhere in the Caribbean, but the lyrics connect it squarely to the local jazz scene.
Ginai and the guys do a fine job with an assortment of pop standards. "Them There Eyes" opens the album on a swinging upbeat mood. A languorous arrangement of "Blue Moon" bathes that pop standard in the sweet afterglow of long-anticipated love. A similarly beautiful arrangement of "Pure Butterfly" belies the darkness of the lyrics. "Take Five," performed with the Jon Hendricks lyrics rather than as the well-known Dave Brubeck instrumental, is also memorable.
Ginai completes this perfect musical portrait by sharing the personal significance of each song in her liner notes.
---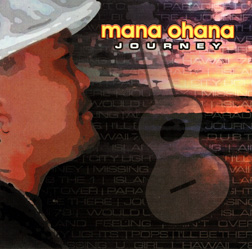 "Journey"
Mana Ohana
(Lyri-Cool Productions)
Mana Ohana's debut album, "Sweet Child of Mine," exemplified Jawaiian music at its worst, filled with vapid remakes, faux-Rasta accents, recycled ideas, an excess of studio guests, and earnest but awkward originals. "Journey," however, sounds like the work of another group entirely. An imaginative rearrangement of "Hawaii 78" leads into an impressive collection of original songs by writer/arranger David "Braddah Yoks" Yokoyama, and he is light years ahead of where he was back in 2000.
He's the lead voice on this album, and he gets support from other musicians, singers and chanters who appear to come from the Lyri-Cool Productions ohana. "Hawaii 78" is followed initially by commercial Jawaiian songs, but Yokoyama then moves into other styles. "Paradise" and "City Lights" are stand-outs for juxtaposing bright lyrical images with ominous electronic pop arrangements. "Missing U Girl," the final stop on this album's "Journey," finds Yokoyama and the Lyri-Cool ohana doing a wistful pop tune with equal success.
---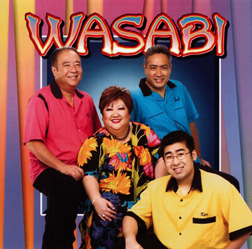 "Wasabi"
Wasabi
(Shaka)
There's a place in local music for groups that play garage band-grade versions of popular oldies from the '50s through the '70s. Whether they should record their arrangements is another matter. Sha Na Na, a national act, contributed nothing in that regard 35 years ago, and Wasabi does no better in 2006. The quartet offers almost no fresh insights into their covers, while consistently falling short of the original artists' work. The one exception, "Pipeline" reworked as basic guitar rock, while not better than what the Chantay's did in 1963, at least shows some creativity.
The group probably can't help it. Singers Robin Luke and Ronnie Diamond aside, Hawaii's pop acts of the '50s and '60s did their best work on instrumentals -- "s'Why Hard" by the Royal Drifters proving the point -- and Wasabi reflects that legacy. Their take on Santana's "Europa" is adequate, but lacks the raw power that Aura, another local band, brought to it back in the '80s.
Wasabi gets weaker when they tackle songs. Paul Anka ("Diana"), Neil Sedaka ("Calendar Girl"), Steve Winwood ("Gimmie Some Lovin' "), even Freddie Garrity of Freddie & the Dreamers ("I'm Telling You Now"), originally sang these songs like they cared. Wasabi, on the other hand, can't seem to feel the emotion. The lead vocalist sounds like he is singing into a bucket. A similar effect worked for Gary Lewis and the Playboys, but not here.
John Berger
, who has covered the local entertainment scene since 1972, writes reviews of recordings produced by Hawaii artists. See the Star-Bulletin's Today section on Fridays for the latest reviews. Reach John Berger at
jberger@starbulletin.com
.