---
FAST FACTS HAWAII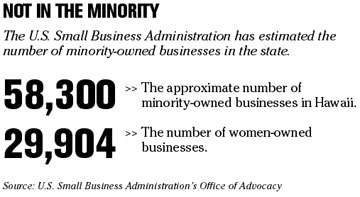 ---
[HAWAII INC.]
PROMOTIONS
»
Hunt Building Co.
has promoted
Matthew Myllykangas
to vice president. He will handle the firm's real estate development as well as the development and management of two properties acquired from the Navy. He most recently served as the company's development manager.
» McNeil Wilson Communications Inc. has promoted Patrick Williams to corporate/public affairs division account supervisor. He previously served as an account executive.
ON THE BOARD
» The American Resort Development Association has appointed
Chad Jensen
as chairman. Jensen is the general manager for Marriott's Ko Olina Beach Club.
» The Kakaako Improvement Association has announced its new board members and officers: Jay Kadowaki, president; Bob Oda, vice president; Susan Utsugi, secretary/treasurer. Board members: Don Bremner, Marlene DeCosta, Jeff Dinsmore, James Frierson, Beverly Harbin, Kendall Hee, Paul Kimura, Greg Meier, Alison Wong and Russell Wong. Sherry Goya is the executive director.
» Hawaiian Electric Co.'s director of technology, Art Seki, has become its representative to the American Council On Renewable Energy's steering committee. HECO is one of 10 utilities in the nation to be represented on this new national committee to promote renewable energy.
NATION
XM director quits over looming 'crisis'
NEW YORK »
XM Satellite Radio Holdings Inc.
's losses soared in the fourth quarter on higher costs for marketing and acquiring subscribers, and a director quit over disagreements about the company's direction, warning of a looming "crisis."
Investors punished the shares of the Washington, D.C.-based company, sending them down $1.27, or 5 percent, to close at $23.98 in very heavy volume yesterday afternoon on the Nasdaq Stock Market. They reached a 52-week low of $22.94 earlier in the day.
Of particular concern to investors was the unexpected departure of Pierce J. Roberts Jr. from XM's board of directors, who said in his resignation letter that he was "troubled" by the company's current path.
Northwest, unions get time to talk
NEW YORK » The bankruptcy judge overseeing
Northwest Airlines Corp.
's financial reorganization efforts yesterday gave the carrier and its unions more time to come up with a consensual agreement over their hotly debated collective bargaining agreements.
Judge Allan Gropper, who is overseeing the case, had until today to come up with a decision regarding the carrier's request to do away with collective bargaining agreements with its employees. He pushed back that decision until the close of business on Feb. 24, allowing the carrier and its unions more time to negotiate.
Northwest, which filed for bankruptcy protection in September, has maintained it needs the cost cuts to help it emerge from bankruptcy protection. It said it needs to cut costs to compete better with low cost carriers and absorb rising fuel costs.
Mortgage rates increase again
The average rate on a 30-year fixed-rate mortgage in the U.S. rose to 6.28 percent this week, the fourth straight increase, according to
Freddie Mac
. Other rates also rose.
The 30-year rate rose from last week's 6.24 percent, and compares with 5.62 percent a year earlier. The one-year adjustable rate rose to 5.36 percent from 5.34 percent, Freddie Mac said. The 15-year fixed rate climbed to 5.91 percent from 5.83 percent.
Amazon plans online music similar to Apple
Amazon.com is preparing to take on Apple Computer in digital music by introducing its own portable music player that would be linked to an online music service, according to several music industry executives involved with negotiations with Amazon.
Unlike Apple, which sells songs for 99 cents each, Amazon will offer a service that charges a monthly or annual fee to customers, who will have the right to fill up their music players with as many songs as they like, the executives said. When they stop paying the fee, the music on the player will be disabled.
Amazon has not told the music industry what the fee would be, but similar subscription services range from $5 to $15 a month.
Apple, which sold 14 million iPods last year, has expanded its lead in digital music. The company increased its market share last year in the United States to 67 percent of digital music players from under 49 percent in 2004, according to the sales and marketing research firm NPD Group.
WORLD
Japan's economy grows 5.5%
Japan's economy grew five times faster than the United States' in the fourth quarter as exports climbed and growth in consumer spending doubled.
The world's second-largest economy expanded at an annual 5.5 percent pace in the three months to Dec. 31, the Cabinet Office said today in Tokyo. Gross domestic product grew a revised 1.4 percent in the third quarter, up from 1 percent.
Japanese consumer confidence is at a 15-year high as companies hire and wages rise, propelling the economy toward its longest postwar expansion.
Chinese firm accuses U.S. company of piracy
SHANGHAI, China » Chinese flash-memory products maker
Netac
says it has filed a lawsuit against U.S. rival
PNY Technologies Inc.
for alleged infringements of one of its patents -- in a rare instance of a Chinese company pursuing piracy charges overseas.
The lawsuit, seeking unspecified "significant financial damages" was filed Feb. 10 in the Eastern District Court in Texas, the Chinese company said in a statement seen today on its Web site.