---
FAST FACTS HAWAII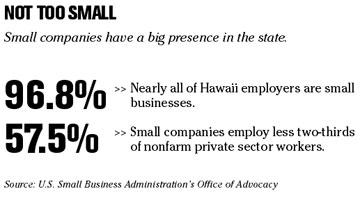 ---
HAWAII
Business professionals renew licenses online
More than 13,400 professionals participated in the state Department of Commerce and Consumer Affairs' online license-renewal program last year, making it the most successful renewal cycle since the program began in 2001, the agency said.
The number of professionals renewing online accounted for more than half of the 25,000 license renewals for activity-desk workers, accountants, barbers and cosmetologists, chiropractors, dentists, hearing aid dealers, naturopaths and speech pathologists, the agency said.
DCCA Director Mark Recktenwald called the renewal statistics a "major breakthrough in the department's efforts to deliver services online."
Verizon Wireless to open store
Verizon Wireless
will hold a grand opening tomorrow for its downtown location in the Executive Centre. The event will offer free ice cream, promotional phone deals and the chance to meet Honolulu Mayor Mufi Hannemann.
Verizon, which has invested more than $77 million in its Hawaii network in the past four years, said the new office represents its commitment to provide customers with increased convenience and a knowledgeable sales staff.
NATION
More consolidation for fund firms
BlackRock Inc.
Chief Executive Laurence Fink, who yesterday engineered the money- management industry's biggest acquisition ever, said more takeovers were inevitable as firms seek to expand globally.
"We're going to have a large-scale consolidation in the investment business," Fink, 53, said in an interview yesterday. "The investment business is a global business today."
New York-based BlackRock, the No. 3 bond manager in the United States, agreed to buy Merrill Lynch & Co.'s fund unit for stock valued at $9.8 billion based on yesterday's closing price. The deal will put Fink atop one of the world's 10 largest fund managers, with control of $1 trillion. Merrill, based in New York, will own 49.8 percent of BlackRock.
Oil prices fall below $58 a barrel
The price of oil fell by almost $2 a barrel yesterday after OPEC warned of weakening energy demand and the U.S. government confirmed what most traders had already assumed: domestic supplies of oil and gasoline are rising.
Crude futures have plunged by more than $4 since the start of the week, settling below $58 a barrel for the first time in nearly two months.
"So far the downtrend is not showing any signs of stopping," said Tom Bentz, an oil broker at BNP Paribas Commodity Futures in New York. Bentz said it was hard to tell how far oil prices might fall, though he threw out $55 as a possible area of support.
Light sweet crude for March delivery declined by $1.92 to $57.65 a barrel on the New York Mercantile Exchange. It was the lowest settlement price for the front-month futures contract since Dec. 19, when oil closed at $57.34, but crude futures are still more than 20 percent higher than a year ago.
Northwest Air's union talks reach key point
MINNEAPOLIS » Union negotiations at
Northwest Airlines
are in a critical phase this week, with a judge expected to rule tomorrow on whether the company can throw out contracts with pilots and flight attendants.
If bankruptcy judge Allan Gropper in New York lets Northwest out of its contracts, the nation's fourth-largest carrier would be free to impose new rules on pilots and flight attendants. Besides pay cuts, Northwest wants to start a subsidiary to handle small-jet flying and wants to hire more nonunion foreign nationals for many of its flights to Asia.
Both groups say they may strike if the carrier is released from its contracts. But the work stoppages won't happen right away. The pilot strike vote runs through Feb. 28, and flight attendants won't finish voting until March 6.
The pilots' union has said talks are likely to continue beyond tomorrow's ruling.
Don Quijote shares fall after it raises stake
Shares of
Don Quijote Co.
fell after it raised its stake in
Origin Tosho Co.
, a takeout lunch operator that it last week failed in a bid to buy out.
Tokyo-based Don Quijote, a discount store chain operator that is buying Hawaii's four Daiei stores, raised its stake in Origin to 46.2 percent from 30.9 percent between Friday and yesterday, after it failed the takeover bid, the company said yesterday in a statement to the exchange. The retailer said it plans to buy more Origin Toshu shares in the market to increase its stake to about 51 percent.
In other news ...
Hewlett-Packard Co.
, the world's biggest printer maker and the No. 2 personal-computer seller, said first-quarter profit rose 30 percent as holiday demand drove sales.