Isle Marine killed in Humvee accident
He was thrown when the vehicle flipped, on patrol in Afghanistan
A 20-year-old Kaneohe Marine died Thursday in an accident after his Humvee rolled over during a combat patrol in eastern Afghanistan, Marine officials said yesterday.
Pfc. Matthew L. Bertolino of Hampstead, N.H., was an assault man with 1st Battalion, 3rd Marine Regiment at Marine Corps Base Hawaii.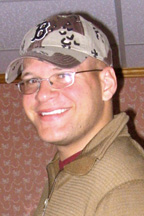 Bertolino is the third serviceman assigned to 1st Battalion killed in Afghanistan in the past two weeks.
Lance Cpl. Billy D. Brixey Jr. died Jan. 27 from injuries he suffered when his convoy was hit by a roadside bomb. Navy Petty Officer John T. Fralish was killed by enemy fire Monday when his patrol came under attack.
Bertolino was a passenger in a vehicle that overturned during a patrol near Jalalabad. He was thrown from the truck and died from his injuries, his mother, Joyce Bertolino, told the Associated Press yesterday.
MCBH spokeswoman 1st. Lt. Pamela Marshall said the convoy was not under attack when Bertolino's vehicle flipped over.
"It was definitely an accident," Marshall said. "It hit something and rolled over."
Bertolino was sitting in the passenger seat. He was the only fatality.
Marshall said she did not know whether any other troops were injured. The accident is under investigation.
Bertolino joined the Marine Corps in January 2005 and reported to Kaneohe six months later.
His mother said he felt compelled to enlist, despite her misgivings.
"He was very proud to become a Marine. He felt a duty to enlist," she said. "It changed him immensely. ... He was just more mature, more confident, more proud."
She said she last saw her son at home over Christmas, when he was given three weeks' leave before his deployment to Afghanistan.
The country's mountainous landscape and small villages reminded him of Italy, his mother said.
Bertolino enlisted for four years, then hoped to train to become a police officer in New Hampshire, his mother said.
She said her son worked as a carpenter before he enlisted and wanted to build a home after his discharge.
In addition to his mother, Bertolino is survived by father Stanley and two older sisters, Kristen and Kimberly.
"He was loved by everyone," said his mother. "He was too young."
---
Star-Bulletin reporter Nelson Daranciang and the Associated Press contributed to this report.