Fortune smiles on HEI's Lau
The American Savings Bank CEO will soon be the 20th female chief at a Fortune 1,000 firm
When Constance Lau takes over the reins of Hawaiian Electric Industries Inc. in three months, she will become one of only about 20 female chief executives at the helm of a Fortune 1,000 company.
It will be another major career step for the 53-year-old Lau, who ranked 11th on U.S. Banker magazine's list of the 25 Most Powerful Women in Banking in the nation in 2004 and 2005.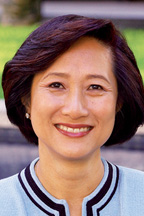 Constance H. Lau
New position: Promoted to president and chief executive of Hawaiian Electric Industries Inc., chairman of utility subsidiary Hawaiian Electric Co. Inc. and chairman of American Savings Bank, all effective May 2. Will be nominated to be elected a director of HEI.

Other current positions: President and CEO of HEI subsidiary American Savings Bank, president of the Hawaii Bankers Association, trustee of Kamehameha Schools, director of Alexander & Baldwin Inc., Punahou School, the Consuelo Zobel Alger Foundation and the Maunalani Foundation.

Previous positions: Senior executive vice president, chief operating officer and director of American Savings Bank; several officer and director positions throughout the HEI companies, including HEI treasurer and financial vice president, and chief financial officer of HEI Power Corp.; treasurer and assistant corporate counsel of Hawaiian Electric Co. Inc.

Age: 53

Education: Undergraduate degree from Yale College, law degree from the University of California Hastings College of the Law and MBA from the Stanford Graduate School of Business.
Lau, president and CEO of HEI subsidiary American Savings Bank, was named yesterday to replace Robert Clarke as president and CEO of the parent company.
Clarke, 63, is retiring from those positions, as well as from his chairman post, at the company's May 2 annual shareholders meeting. Lau will take control at that time and will add the title of chairman of the bank's board. She also will be nominated to be elected a director of HEI.
"To be perfectly honest, I never thought I'd ever be president of a bank, let alone president of a large publicly traded company here in Hawaii," Lau said. "It's a wonderful experience."
She will not be the only CEO in the Lau household, because her husband, Russell, is vice chairman and CEO of Finance Factors Ltd., a Honolulu-based finance company with real estate and insurance operations.
"The (three) kids and I are absolutely thrilled with this honor she's been bestowed," he said. "She's had a great educational background, and she's worked with some of the best people in her career."
Jeffrey Watanabe, 63, a senior partner of his law firm, Watanabe Ing & Komeiji, was named nonexecutive chairman of HEI. Watanabe has been a director with the holding company since 1987. He also is a director of Oahu Publications Inc., publisher of the Honolulu Star-Bulletin and MidWeek.
Clarke said he is retiring to spend more time with his grandchildren, travel and help friends in some small venture capital investments mentoring smaller companies.
He said he will have worked for 40 years come June, and "that seems like a pretty full career." He said he has one grandchild and two on the way, and that he would like to travel to Kenya to see the wildlife because he has never been able to take enough time off to take a trip to Africa.
"This decision was totally up to me and not the board asking me to step down," Clarke said.
Clarke lists as one of his best HEI accomplishments the acquisition of American Savings Bank from a Salt Lake City-based company in 1988. At the time of the purchase, American Savings had $1 billion in assets and $13 million to $14 million in net income. Today, American Savings' assets are approaching $7 billion, and its earnings in 2005 were $65 million.
HEI ended 2005 with net income of $126.7 million on revenue of $2.2 billion. Its dividend of 31 cents a share currently offers a yield of 4.7 percent.
Lau, who became president and CEO of American Savings Bank in June 2001, said she does not plan any changes once she takes over.
Clarke said Watanabe was named chairman instead of Lau to conform with the national shift in corporate governance toward separating the chairman from the CEO position.
"Jeff is a well-respected member of the community and will be of great assistance to the board and Connie in the future," Clarke said.
Given the advantage of hindsight, Clarke admits he would have liked to do some things differently in his career at HEI.
"I had an old boss who said, 'If I knew where I was going to die, I wouldn't go near the place.' It's always good in hindsight. I think the two biggest problems (during his career at HEI) were our international investments, and we owned an insurance company that got smashed by a hurricane."
Lau's husband said there will not be any family rivalry about who has the most prestigious position.
"There's no one-upping in our family," he said. "She can have a public corporation or private corporation; it doesn't make any difference. It's not an issue for us. Connie is a very smart person; you can see by her academic background. We're proud of her no matter what she does, She does what she does, I do what I do and we're happy that way."
Connie Lau echoed that sentiment.
"He's fully supportive," she said. "It's wonderful to have a husband who's also a CEO who understands the demand and responsibilities of a CEO job."
Clarke joined HEI in 1987 as vice president of strategic planning and was promoted to group vice president of diversified companies in 1988. He was elevated to president and CEO in 1991, and became chairman in 1998.
Fortune magazine, which plans to put out in April its annual list of the top 1,000 revenue-producing public American companies, likely will not include Lau on its list, since she does not take over until May. But a spokesman for the magazine said that as of yesterday there were nine female executives listed in the top 500 and another 10 in the next 500.
Lau does not think being a female was a factor in the board's decision to appoint her, but she recognizes her position as a role model.
"I think about it in the sense that I recognize it is a very significant event for women in business because there haven't been that many CEOs," she said. "And to the extent that I can be a role model for young women to think that such opportunities are available to them in their lifetime, I'm very happy about that."
James Bellessa, an analyst in Great Falls, Mont., with D.A. Davidson & Co., said it will be a smooth transition from Clarke to Lau.
"I don't think the sex matters," he said. "Connie is a very adept person capable of taking over the reins of a well-managed company."
Lau said she never considered giving up her position at the bank to focus on her new CEO role.
"That's not something that was asked of me, and the bank is in the midst of a very successful transformation to a full-service community bank," she said. "It's important for me to continue leading that transformation as well as assume the new responsibility at the HEI level."