| | |
| --- | --- |
| | Island Mele |
---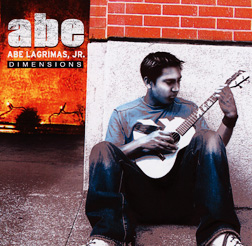 "Dimensions"
Abe Lagrimas Jr.
Pass Out
Ukulele players sometimes err by including too many other musicians on their recording projects. It's always a judgment call, but additional musicians increase the risk that the ukulele will get lost in the mix.
Although the "Dimensions" cover art shows Abe Lagrimas Jr. holding an ukulele, he also plays acoustic guitar, drums, vibraphone, bongos and congas. Thanks to modern multitracking, he is able to use them all, although never all in the same arrangement.
All the songs are originals, and there is a good amount of diversity in them. Heean Ko (piano) and Shawn Conley (bass) are Lagrimas' most frequent sidemen. "Centipedes," a zippy acoustic jazz number, stands out for the way the trio shares the spotlight without obscuring Lagrimas' ukulele. "Headache," arranged to include a big six-man horn section, also swings; Lagrimas' uke trades off the lead spot with the horns, while Ho, Conley and Lagrimas' drum tracks lay down the rhythm.
On "Last Days of Winter," Lagrimas plays the ukulele solo. Two distinct melodies represent winter giving way to spring. It's a fine demonstration of his instrumental technique.
---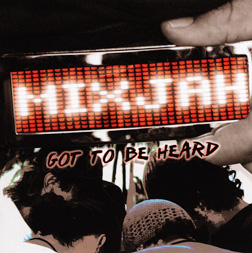 "Got to be Heard"
Mixjah
Mixjah
Mixjah is one of a seemingly infinite number of local bands playing some form of Jamaican-influenced music, but the band makes a good impression with this collection of mainstream reggae originals. The rhythm section provides a solid foundation throughout, the vocalists avoid cliché faux-rasta accents and the lyrics are consistently uplifting.
Several songs convey Rastafarian perspectives on how to live a positive life. Others address the universally popular topic of male/female relationships, but refreshingly without the juvenile macho posturing that Jawaiian acts often indulge in.
Give Mixjah extra credit for not breaking its reggae format by including a lot of incongruous stuff just to show they can play it. A lone ska song suffices as a dramatic change of style and adds a bit of humor. The judicious use of island slang works well, too.
An acoustic "ghost track" that pops up 20 seconds after the end of the last listed song is also a good idea that is done well.
---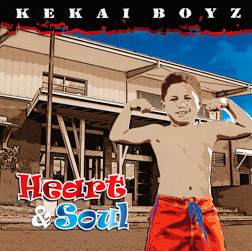 "Heart & Soul"
Kekai Boyz
Fearless Hawaiian Enterprises
The Kekai Boyz's second album is mostly mainstream Jawaiian. A crisp ukulele intro, catchy guitar riffs and stream-of-consciousness lyrics on "Backyard" make that song a noteworthy break with the Jawaiian format. "Sometime Ago," an earnest albeit lyrically awkward requiem for a lost love, is another change of pace. A surprisingly soulful "ghost track" hidden more than two minutes after the last listed song sounds like another group entirely.
Producer Ace Loughmiller does not include composers' credits, but all 13 songs sound like the work of earnest local lyricists-in-training. Loughmiller uses so many guest artists that it is hard to tell what the Boyz can do. Is that one of the Boyz rapping in English and Hawaiian on "Remember Our Name" or Don "King Don 1" Ke'ala Kawa'auhau of Sudden Rush?
Other guests include Shane "Kid Dynomite" Viencent, James McWhinney of Big Mountain, and B.E.T. With so many high-profile guests and solid production values, the Boyz are right in step with the Jawaiian mainstream. "Give You the World" is the group's best Jawaiian number.
Three other songs also stand out. "Check It!," featuring C.Myke, yet another guest, is a cryptic denunciation of someone who committed suicide. It segues into "Jungle of Life," which continues in the same vein. "Graffiti in the Bathroom" is a local rap number that must have seemed like a good idea to someone. It isn't.
John Berger
, who has covered the local entertainment scene since 1972, writes reviews of recordings produced by Hawaii artists. See the Star-Bulletin's Today section on Fridays for the latest reviews. Reach John Berger at
jberger@starbulletin.com
.