The Bloomberg /
Star-Bulletin Index
---
Tough week for index
It was a losing week for most of the companies in the Bloomberg Honolulu Star-Bulletin stock index, with only three stocks posting gains.
The three that did come out ahead for the week were topped by Mera Pharmaceuticals Inc., gaining nearly 6 percent. But that still left Mera at only 1.6 cents a share; it has been in the penny range since October and hasn't been higher than 4 cents in the past year.
Rounding out the gainers for the week were Hawaiian Electric Industries Inc., up 0.88 percent to close at $26.25, and Bank of Hawaii Corp., up 0.74 percent to close at $52.77.
The Bloomberg / Star-Bulletin Index is a price-weighted index designed to measure the performance of Hawaii-based companies. The index was developed with a base value of 100 as of December 31, 1999. A chart of the index which shows the weekly performance of its members is published weekly in the Honolulu Star-Bulletin.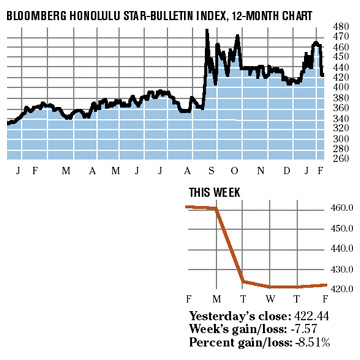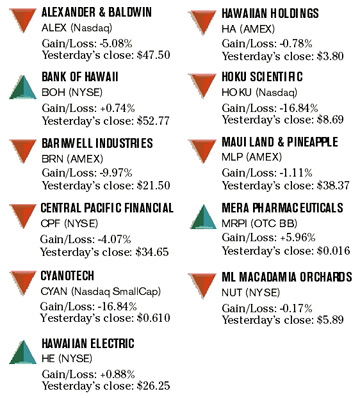 SOURCE: BLOOMBERG NEWS / STAR-BULLETIN GRAPHIC