---
FAST FACTS HAWAII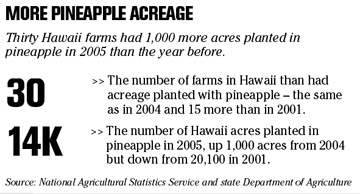 ---
HAWAII
Hawaiian Air traffic ahead of 2005 levels
Hawaiian Airlines
' air traffic rose 9.7 percent last month compared with a year earlier as 486,634 passengers boarded flights.
The carrier, which emerged from bankruptcy protection in June, had 443,784 passengers in January 2005.
The airline's total miles flown by paying passengers rose 9.3 percent last month to 577.9 million. Its seats were 87.5 percent full in January, a gain of 2.5 percentage points from January 2005. Available seat miles, or one seat transported one mile, rose 6.2 percent to 660.2 million.
NATION
Northwest pilots to vote on strike
BLOOMINGTON, Minn. »
Northwest Airlines Corp.
pilots will begin voting Monday on whether to authorize a strike, a union official said yesterday.
Strike ballots will be counted on Feb. 28, following a 15-day voting period, said Capt. Mark McClain, chairman of the NWA chapter of the Air Line Pilots Association.
Northwest has petitioned a bankruptcy court to do away with contracts made with its pilots and flight attendants. The hearings ended last week, but the judge has yet to issue a ruling. If the majority of Northwest pilots authorizes a strike, the union leadership will have the authority to call a strike if the company unilaterally implements terms and conditions on pilots.
Northwest said yesterday it would seek an immediate injunction if the pilots try to strike.
Power plant would reuse CO2
CARSON, Calif. » Subsidiaries of
BP
and
Edison International
said yesterday that they were planning to build a power plant that would run on oil residues, and that 90 percent of the carbon dioxide would be captured and pumped into an oilfield, where it would help push more oil to the surface.
The $1 billion plant would be adjacent to a BP refinery in Carson, Calif., about 20 miles south of Los Angeles, and would be the first of its kind in the country, the companies said. BP is already drawing up engineering plans for a plant in Scotland that would sequester its carbon dioxide in an underground oil-bearing formation; that plant is to run on natural gas.
The companies said they hoped to make a final decision on the plant in 2008 and have it running in 2011. It would qualify for a tax credit as a carbon-free energy source under the 2005 energy bill, company executives said.
Calif. workers' comp changes hit
SACRAMENTO, Calif. » California Gov. Arnold Schwarzenegger's overhaul of the workers' compensation system has saved employers billions of dollars over the last two years, but it also has led to a significant drop in benefits paid to disabled workers, according to a new report.
The analysis from the state Commission on Health and Safety and Workers' Compensation found that the regulations adopted in 2004 have reduced the average cash award given to permanently disabled workers by 50 percent.
Critics of the governor's reforms said the study's findings are proof the system does not treat injured workers fairly. Administration officials said the study is premature and potentially flawed, in part because it based its findings on a relatively small number of claims.