---
FAST FACTS HAWAII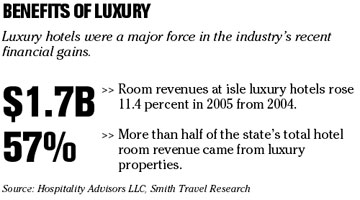 ---
HAWAII
State tax collection increases 12.2%
The state's tax haul increased 12.2 percent in the first seven months of the fiscal year to $2.5 billion, driven by a 13.5 percent jump in general excise tax collections, according to the state Department of Taxation.
The state's hotel room tax collections increased 9.3 percent to $20.9 million while corporate taxes more than doubled to $66.5 million.
Individual tax collections totaled nearly $900 million during the period, up 6.9 percent from a year earlier.
NATION
Oakland taxes fast-food trash
OAKLAND, Calif. » Fed up with burger wrappers, french fry containers and paper cups, Oakland officials have decided to force fast-food restaurants, convenience stores and other businesses to help pay for cleaning up street trash.
Under a tax approved Tuesday night by the City Council, businesses will be assessed between $230 and $3,815 annually, depending on their size. More than three-quarters of the affected businesses would pay only the minimum fee, which amounts to 63 cents a day.
"I don't think that's too much to ask so neighbors don't have to keep picking up trash from their doorways," said Councilwoman Jane Brunner, who proposed the measure.
Suit challenges accounting law
An anti-tax group and a Nevada accounting firm sued to shut down the board set up to monitor compliance under the Sarbanes-Oxley Act, claiming part of the corporate-governance law is unconstitutional.
The Free Enterprise Fund, a Washington-based policy research group that advocates small government, and Henderson, Nev.- based Beckstead & Watts LLP filed the suit in federal court yesterday in Washington. The suit claims the Public Company Accounting Oversight Board is unconstitutional because it is a government entity that isn't accountable to elected officials.
The Sarbanes-Oxley law was signed by President George Bush in 2002 after the collapse of Enron Corp. triggered a government crackdown on corporate crime.
Kraft says it can speed cheese
WASHINGTON » In Italy, it takes at least a year to cure Parmigiano Reggiano, the original Parmesan cheese.
The U.S. standard is 10 months, but Kraft Foods Inc., seller of the green shaker can that brought Parmesan to the masses, says it can speed the process and wants a six-month standard.
"We have found excellent consumer acceptance of the new product," Kraft counsel Sheryl Marcouiller wrote in a letter to the Food and Drug Administration.
The idea grates on the Italians and on smaller U.S. companies.
Cheese cured in six months "is not Parmesan," said Paul Bauer of Wisconsin's Antigo Cheese Co. "Parmesan is cheese that develops its flavor over time."
Yahoo helped jail man, activist group says
BEIJING » Internet firm
Yahoo Inc.
provided Chinese authorities with information used to jail one of its users for eight years, an activist group said today -- the second time Yahoo was accused of helping jail a Chinese user.
Paris-based Reporters Without Borders said Yahoo's Hong Kong unit provided information about Li Zhi, a man from southwestern China who was sentenced to prison in 2003 for subversion after posting comments online criticizing official corruption.
Mary Osako, a spokeswoman for Sunnyvale, Calif.-based Yahoo, said the company didn't know of the case and couldn't comment on whether the group's account was accurate.