---
FAST FACTS HAWAII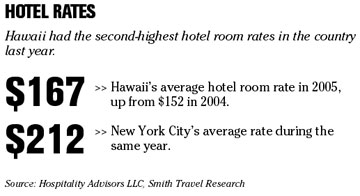 ---
HAWAII
Pettit named partner in Case law firm
Ted Pettit, a Honolulu corporate lawyer known for bankruptcy, business reorganization and real estate work, has become a named partner in one of the city's oldest law firms. Case Bigelow & Lombardi, founded in 1888, will change its name to
Case Lombardi & Pettit
to reflect the change.
Pettit has been a director of the firm since 1998 and is chairman of its bankruptcy practice group.
[HAWAII INC.]
PROMOTIONS
» The Hawaii Visitors and Convention Bureau has promoted
Jaci Murakami
to knowledge bank manager. She will be responsible for developing and overseeing the bureau's library of travel marketing materials promoting Hawaii that are provided to the media, travel writers, Web sites and other outlets of public outreach. She previously served as the bureau's membership services manager.
» Contract Furnishers of Hawaii Inc. has promoted Bruce C. Shewalter to Office Pavilion's sales and marketing vice president. He will be responsible for managing and expanding the company's presence in Hawaii and throughout the Pacific Rim. He most recently served as the company's operations vice president.
» Maryl Construction Inc. has appointed Lawrence "Link" Vaughn project manager for the company's Beach Houses at Kukio. He began his career with the company in 2004 as a project engineer.
» Starwood Hotels & Resorts has appointed Scott Brooks as general manager of the Sheraton Keauhou Bay Resort. He has more than 17 years experience in the hospitality industry. He most recently served as the Westin Santa Clara's general manager.
» Continental Airlines has named Robert Fuhrmann its Maui general manager. He will be responsible for overseeing the company's airport services operation at Kahului Airport. He has been with the company since 2000.
» First Hawaiian Bank has announced several senior-level promotions: Bob Harrison has been promoted to chief risk officer. He will oversee both credit risk and operational risk. Steve Williams has been promoted to Kapiolani Banking Center manager. He also will continue to supervise all business activity in Maui County. Linda Cornejo has been promoted to chief credit officer. She has worked in credit administration since 1992. Brandt Farias has been promoted to the senior management committee and will assume responsibility for communications and public relations, replacing Gerry Keir, who plans to retire.
---
NATION
Cisco shares rise on higher sales
Cisco Systems Inc.
, the world's biggest maker of networking equipment, said second-quarter profit fell on stock-option expenses. The shares rose 4.5 percent after Chief Executive John Chambers said orders are picking up.
Net income dropped 1.8 percent to $1.38 billion, or 22 cents a share, from $1.4 billion, or 21 cents, a year earlier, San Jose, Calif.-based Cisco said in a statement yesterday. Sales rose 9.3 percent to $6.63 billion. Profit without the expenses was 26 cents, exceeding analysts' 25-cent estimate.
Ford offering severance incentives
DETROIT »
Ford Motor Co.
is offering buyouts of $100,000 each to workers who lose their jobs to plant closures if they agree to give up all benefits except their pensions.
The severance option is among five being proposed to workers as Ford moves ahead with its plan to close 14 plants by 2012, a move that will affect roughly 30,000 employees.
So far, the company is offering the deals to workers from idled plants in Edison, N.J., and Lorain, Ohio, Ford spokeswoman Marcey Evans said yesterday. She said the company expects to start offering them soon to workers at the St. Louis factory scheduled to close by the end of next month.
The company hopes to offer them to workers at all idled plants, but they must first be approved by the United Auto Workers in each location, Evans said.
JPMorgan to sell Chase Insurance
CHICAGO »
JPMorgan Chase & Co.
said late yesterday it has agreed to sell its life insurance and annuity underwriting business to
Protective Life Corp.
for about $1.2 billion in cash.
Chase Insurance posted operating earnings of $79 million on revenue of $644 million last year. It has about 1.2 million life insurance and annuity policies in-force and statutory reserves of around $8.7 billion.
The sale of Elgin-based Chase Insurance to Protective Life is subject to regulatory approval, but the two companies said they expect to close the deal in the third quarter of this year. The sale is not expected to affect JPMorgan Chase's earnings.
WORLD
Bank of China to do IPO by May
SHANGHAI, China »
Bank of China
, the country's No. 2 lender, will likely launch an $8 billion initial public offering in Hong Kong by May, and also plans to list in Shanghai, reports said today.
Earlier reports had suggesting the bank's listing in Hong Kong would come before the end of March. However, regulators may be delaying the IPO while they decide how to structure the share sale to allow for a listing on the Shanghai Stock Exchange, reports in the state-run China Securities Journal and Hong Kong newspapers said.
The bank's spokesman in Beijing, Wang Zhaowen, would not comment on the timing of the widely anticipated listing, the second by one of China's major state-owned banks.
Toyota to expand Canada plant's output
TOKYO »
Toyota Motor Corp.
, whose solid growth could soon put it ahead of
General Motors
as the world's largest automaker, said today it will increase output capacity at a new assembly plant it is building in Canada.
Annual production capacity at Toyota's planned factory in Woodstock, Ontario, will be raised to 150,000 units, from an initial target of 100,000 units, the company said in a statement. The plant, now under construction, is scheduled to come online in 2008.
Total investment in the Woodstock facility, Toyota's second plant in Canada, will now amount to about $950 million with a total employment of 2,000 people, the company said. The factory will make the RAV4 sport utility vehicle.
Japan's bank lending ceases declining
Japan's bank lending stopped falling for the first time in eight years in January, adding to signs the deflation that's been plaguing the world's second-largest economy is coming to an end.
Outstanding loans were unchanged from the year earlier, the first time the value hasn't dropped since December 1997, the Bank of Japan said in Tokyo today. Loans dropped by more than a fifth since the central bank started tracking the figure in 1991.