PLIGHT TOUCHES GOOD SAMARITAN
Aid comes for evicted woman
A local firm offers help to Josephine Wong, who lived in public housing
Out of a home and out of hope yesterday morning after being evicted from public housing, Josephine Wong saw both restored by the end of the day by a good Samaritan.
Touched by her plight, local publisher and tourist television broadcaster Network Media swooped in with a long-term pledge to help Wong, a lupus sufferer whose eviction for nonpayment of rent was spotlighted yesterday in the Star-Bulletin.
Company representatives said they secured temporary accommodations in one of Network Media's hotel partners last night and that they would help Wong and her 12-year-old daughter find a rental, pay their rent for a year or more and even try to find Wong a job.
"Right now, I'm not crying anymore. I feel so much better now," Wong said last night.
Wong was one of many public-housing residents who have been evicted under a new policy by the state housing agency, the Housing and Community Development Corporation of Hawaii, which expedites evictions of those who cannot pay rent.
Wong, who is frail and gets around only slowly on swollen feet, said her welfare barely covers her medication, much less her $315 rent at Kuhio Park Terrace.
Network Media's offer was one of three to come in to the Star-Bulletin yesterday.
Company President Peter Gellatly said staff met yesterday morning and agreed to act.
"We sat down and discussed how grateful we are for the blessings we have. We're just very, very lucky, and the best thing to do is to share that (with the Wongs)," Gellatly said.
"We called to tell her to stop worrying, save your tears for something else."
Previously, HCDCH allowed those targeted for eviction to remain in their units pending court appeals. But HCDCH, which faces a huge backlog in public-housing demand, now turns them out while the appeal process is still under way.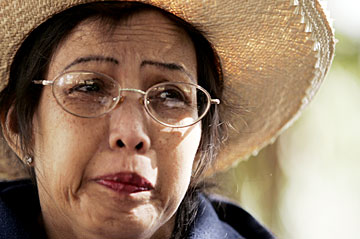 JAMM AQUINO /
JAQUINO@STARBULLETIN.COM
"Right now, I'm not
crying anymore.
I feel so much better now."
Josephine Wong
Evicted from public housing for nonpayment of rent
Island Tenants on the Rise, an advocacy group for public-housing tenants, held a news conference yesterday calling the new process unconstitutional.
Members said many public-housing tenants are unable, either due to poor health, language skills or other factors, to challenge their evictions.
"They are evicting the poor and the sick. This is only going to worsen the homeless (problem)," said Lusia Wieckowicz, a member of the advocacy group.
Group members planned to sleep out overnight last night at Ala Moana Beach Park, frequented daily by the homeless, in support of Wong and another KPT evictee.
HCDCH officials defended the agency yesterday in a press release.
"We offer tenants every opportunity to remain in housing. We just ask that they pay their rent on time and abide by the rental agreement, just like any other landlord would," HCDCH Executive Director Stephanie Aveiro said.
Larry Bush, a regional spokesman for the department of Housing and Urban Development, the federal agency that provides HCDCH with much of its funding, also backed the new procedure.
HCDCH's new approach brings it in line with official HUD policy, eliminating extra steps that turned the eviction appeals process in Hawaii into a protracted affair, Bush said.
"It reaches a point where the person has to be involved in meeting the requirements of a lease. I'm sure there is a long list of those who are eligible and who obey the rules," he said.
But Gellatly said the facts of Wong's case speak for themselves.
"We are doing an absolutely pathetic job of taking care of our brothers and sisters," he said.