Pittsburgh players look forward to Sunday's Pro Bowl victory lap
DETROIT » For someone like Pittsburgh offensive lineman Alan Faneca, watching the New England Patriots' Pro Bowlers arrive in Hawaii was pretty tiring.
With their 21-10 victory over the Seattle Seahawks in Super Bowl XL, Faneca and the Steelers made sure that this year's annual all-star contest will be a little sweeter.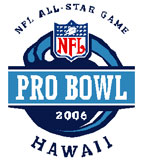 PRO BOWL
AFC vs. NFC
When: Sunday
Where: Aloha Stadium
Kickoff: 1 p.m. Hawaii time
TV: ESPN
Radio: KKEA 1420-AM
"This will be my fifth year" in the Pro Bowl, Faneca said after securing a victory cigar from teammate Willie Williams during the Steelers' locker-room celebration Sunday. "To see those guys come back every year, with the championship, with that smile, and to see everybody come and greet them -- to be that guy, now, means a lot.
"To be over there victorious, instead of coming off a loss and all that stuff, man, it's awesome."
Faneca will be joined in Honolulu by four of his teammates: center Jeff Hartings, defensive lineman Casey Hampton, linebacker Joey Porter and safety Troy Polamalu.
Hartings, who made it to his first Pro Bowl last year, said he too was envious of the Patriots, who arrived in Hawaii last year celebrating their third title in four years.
"It's probably going to be a little tougher now with all the attention, but that's OK," Hartings said through an ear-to-ear grin. "It's a battle between the spirit and the flesh. Now, it's going to be a battle between the spirit and the flesh to not hold my head too high."
The two offensive linemen were keys to the Steelers' victory Sunday, opening up holes as Pittsburgh rushed for 181 yards.
Seattle, which boasted the league's highest-scoring offense this season, is sending seven players -- six from offense -- to the Pro Bowl.
While the vaunted Seattle offense generated 396 total yards Sunday, the Seahawks only put 10 points on the board. They were penalized seven times for 70 yards, including an offensive pass-interference penalty on wide receiver Darrell Jackson that nullified a touchdown in the first quarter. And while Josh Brown connected on a 47-yard field goal to put the Seahawks up 3-0 early, he missed two other attempts.
While the Pro Bowlers from the Super Bowl champions get to talk about the trip to Hawaii in gushing terms, the same usually isn't true in the losers' locker room.
When asked if having a Pro Bowl-caliber season was any consolation after the loss, offensive lineman Steve Hutchinson simply replied, "No. We lost the Super Bowl."
Teammate Lofa Tatupu, the only Seattle defender going to Honolulu, was more demonstrative.
"I'd rather have a Super Bowl victory than a Pro Bowl," said the linebacker and son of former Punahou star Mosi Tatupu. "I think anybody who knows that it's a team sport and knows what this is all about, knows that you'd rather have that than a Pro Bowl.
"I'd rather never go to the Pro Bowl than (not) have one Super Bowl."
Other Seahawks selected to play in this Sunday's game at Aloha Stadium include offensive linemen Walter Jones and Robbie Tobeck, quarterback Matt Hasselbeck, running back and NFL MVP Shaun Alexander and fullback Mack Strong.