---
FAST FACTS HAWAII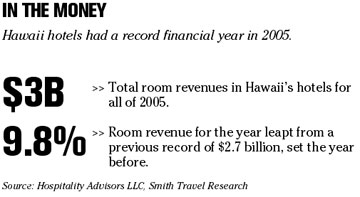 ---
HAWAII
Costco finalizes deal for Kauai land
Paving the way for the long-awaited arrival of one of the nation's largest retailers on Kauai,
Grove Farm Co.
said yesterday that it had finalized the sale of about 15 acres to
Costco Wholesale Corp.
Improvements of the Kukui Grove site are expected to begin almost immediately, executives said. The warehouse store and self-service gasoline station are projected to open as soon as August.
Originally slated to open in December 2005, the project was delayed after construction bids came in about 30 percent higher than Costco had initially anticipated, the company said at the time.
The company has projected hiring 100 full-time and 100 part-time employees for the Kauai location, which will be the sixth Costco store in the state.
LavaNet partners with Ikano
Honolulu-based Internet provider
LavaNet Inc.
has entered a partnership with
Ikano Communications
, a "private label" ISP that anonymously provides Internet services for some branded 1,500 ISPs in the United States.
Under the agreement, LavaNet will supply its networks to Ikano's Hawaii customers. These include HGEA.net, an Internet service provider operated by the Hawaii Government Employees Association.
Matt Freeman, LavaNet's business development manager, said the deal will significantly add to LavaNet's base of high-speed and dial-up Internet customers.
George Naspo, Ikano's chief executive, said that Ikano selected LavaNet to provide the service because "they maintain the highest standards and they have an excellent reputation in the local market."
NATION
Kerkorian aide joins GM's board
DETROIT » An aide to billionaire investor Kirk Kerkorian was elected yesterday to
General Motors Corp.
's board of directors, where he is expected to call for tough measures to return the company to profitability, including halving GM's dividend, cutting executive pay and selling the Saab brand.
Jerome York was elected during a board meeting, and his tenure begins today. He will serve on the board's public policy and investment funds committees.
York is a consultant to Tracinda Corp., Kerkorian's private equity firm. Tracinda owns 9.9 percent of GM's common stock and is GM's third-largest shareholder.
GM didn't announce any changes to its dividend yesterday. GM last cut its dividend in 1992, when the company lost a record $23.5 billion, partly as a result of accounting changes. GM has been paying a quarterly dividend of 50 cents per share since March 1997.
Google will package e-mail, messaging
SAN FRANCISCO » Online search engine leader
Google Inc.
is wedding its instant messaging and e-mail services in the same Web browser, hoping the convenience will lure users from the larger communications networks operated by its chief rivals.
The new chat feature to be unveiled today will provide users of Google's Gmail service with a list of contacts drawn from past e-mail exchanges and then signal who's available for online conversations.
Automatic status reports about the online availability of friends, family and co-workers have been a hallmark of instant messaging services for years.
Google hopes to make it even simpler to connect with an online contact by allowing users to initiate an electronic conversation within the same Web browser showing an e-mailbox, bypassing the need to switch to a separate instant messaging application.
The new chat feature will begin to show up in some Gmail accounts today and should reach all users within the next few weeks, said Salar Kamangar, Google's vice president of product management.
Final 'Star Wars' boosts Hasbro
Hasbro Inc.
, the world's second-biggest toymaker, said fourth-quarter profit rose 15 percent, driven by sales of "Star Wars" action figures.
Net income increased to $94.3 million, or 48 cents a share, from $81.9 million, or 44 cents, a year earlier, beating analysts' estimates. Sales rose 1.2 percent to $1.07 billion, the Pawtucket, R.I.-based company said yesterday.
Action figures and light sabers from the final "Star Wars" film boosted sales for the U.S. toys division by 16 percent in the quarter, bringing in almost $500 million last year. Hasbro's games unit had a 13 percent decline in sales, the fifth drop in six quarters, raising concerns about future sales as "Star Wars" interest fades.
In other words ...
»
Toyota
reported a 34 percent jump in third-quarter profit today as the Japanese automaker saw solid sales growth in North America and Asia.