SUPERBOWL XL
Kimo never doubted team
DETROIT » It took Steelers defensive lineman Kimo von Oelhoffen 12 seasons to make it to the Super Bowl.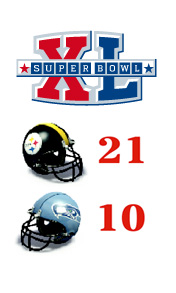 It took considerably less time for last night's 21-10 Super Bowl victory over Seattle to sink in.
"It's sunk in already," the Molokai native said in the postgame interview room minutes after the game. "When you're around the guys that I'm around, I expected this the whole time.
"This is not a surprise to me."
Although von Oelhoffen had a relatively quiet night -- he recorded just two tackles and was never really a factor in pressuring Seattle quarterback Matt Hasselbeck -- that was to be expected.
The 6-foot-4 299-pounder was going up against two Pro Bowlers on the left side of the Seahawks' offensive line: tackle Walter Jones and guard Steve Hutchinson.
"Those two guys are the best that I've seen in years," said von Oelhoffen, who spent six seasons with the Cincinnati Bengals before signing with the Steelers as an unrestricted free agent in 2000.
"There were some good battles today," he added. "In our career, I would have to say you want to play in the best game which there ever is to play -- which is this one -- and you want to play against the best players.
"That's the true test of a football player -- and it went pretty dang good!"
The respect for von Oelhoffen was mutual.
"He's a good player, he's one of the strongest guys in the league," Hutchinson said. "He's a hell of a player. I have a lot of respect for him.
"He's been tough every time we've played him. We played him a couple of years ago. He was tough then. He's tough now."
Von Oelhoffen would rather deflect the credit to his teammates and Steelers defensive coordinator Dick LeBeau.
"I'm more proud of the guys on this team," he said.
"This team worked harder than any I've seen in my life, and I've been in the NFL for a long time.
"I'm proud of these guys and they deserve it -- they're the best in the world."
Although the Seahawks entered the game as the highest-scoring team in the league, the Steelers defense held them to just 10 points.
Regular-season MVP Shawn Alexander gained 95 yards on 20 carries, but the Steelers' defense kept him out of the end zone.
"The bottom line is, Dick let us play football," von Oelhoffen said. "It wasn't nothing fancy. It wasn't nothing to trick them or overload.
"He trusted us to play our defense. He trusted us to play the base defense that he played all day, and guys stepped up."
Now von Oelhoffen has to get fitted for a championship ring.
Not bad for the Molokai native who never played high school football and spent one year at the University of Hawaii and then entered Walla Walla (Wash.) Junior College before completing his college career at Boise State.
How does it feel?
"It's like no other."