Super-size experience
An NFL mom learns quickly that the Super Bowl is not just a game
The big XL. A hoolaulea of grand proportions. Super Bowl 40. Calling it XL, for extra large, couldn't have been more fitting.
It was an exuberant spectacle of audacious proportions, designed by the largest marketing conglomerate on the planet: the National Football League. The Super Bowl, the most anticipated sporting and entertainment event of any year, is where powerful executives mix with celebrities, beautiful people, proud NFL families and the loyal fans.
The host city, Detroit, once one of America's leading manufacturing cities, is now a place of boarded-up mansions and empty commercial space, worn down by hard winters, hard work and hard living. But the 1 million Detroiters hung out a huge "Open for Business" sign for the spectacle of the NFL.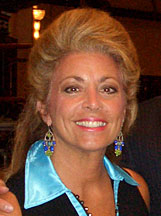 Angela Curley is the mother of Travis LaBoy, defensive end for the Tennessee Titans and a former University of Hawaii Warrior. Curley is the Titans' team mom.
As the parent of a second-year player and member of the Professional Football Players Mothers Association, I had an exclusive pass to many insider events that would normally be out of my budget range, as well as VIP access to other special events.
Armed with kukui nut leis, macadamia nut chocolates and Kona coffee, I arrived well prepared to reward any kindness from strangers who could help me embrace this super-experience.
First on my itinerary, on Friday night, is the NFL Commissioner's Ball (one of the less expensive events, at just $1,500 a ticket). This event is held in the Henry Ford Museum, full of antique cars, fire engines, buses, trolleys and airplanes. Bright lights and NFL celebrities abound, but who do I run in to as I am parking? Local boy Engle Garcia, who is on assignment from the Aloha Stadium parking office. That's right, he is training for the Pro Bowl.
Along with several other NFL moms, we stroll the facility to visit the 30 serving tables loaded with seafood, Italian dishes, carving stations, an ice cream buffet and even a tailgate party, complete with typical stadium fare. The dessert cake area has tiered serving platters 5 feet high.
The Broadway cast of "Stomp" is performing, as are Boyz II Men. Other venues within the complex are featuring jazz, rock, hip-hop and, of course, Motown. Guests are lavishly dressed in ball gowns, jewels and tuxes, most arriving in limos and town cars. You pick up phone conversations as guests call family or friends to report such tidbits as, "You will never guess who I just shook hands with – Emmit Smith!"
Saturday, my schedule takes me to Gladys Bettis' Detroit home for the Professional Football Players Mothers Association charity event, held every year in the hosting city. This year, we each donated two or more pairs of shoes to the Federation of Youth Services of Detroit.
As a regional coordinator for the moms group, Gladys (mother of Steelers running back Jerome Bettis) has been busy all year planning for this day. It is a mother's wildest dream to have her son come home for his last game as a professional player – and to have that game be the Super Bowl.
Gladys shares with us that she had attended every one of Jerome's games since college (armed with his special asthma inhaler) and had personally walked him from the team hotel to the team bus for every game of his 13-year career. Since the team's hotel in Detroit is a secret, she is to be picked up on Sunday morning and taken to her son, so that they can adhere to the ritual that has preceded so many victories.
The Bettis house is crowded with camera crews and media. Displayed in the family room is a large Hawaiian warrior helmet that Gladys brought back from a Pro Bowl trip. She says it is one of her favorite trip mementos.
Next up is the NFL Dads' event, a Motown Celebrity Roller Skating Party. The snow is falling in white puffs as big as cotton as we car-pool our way to Lincoln Park. There we are met by 40 fathers and a crowd of families, fans and skaters. Each of us has our 15 seconds of fame as we are introduced. In an unexpected turn, we are kept signing autographs for several hours.
The talented Lincoln Skaters entertain us with a rousing roller-skate hip-hop routine right from the movie "Bounce." Kids in Detroit skate the way kids in Hawaii surf. It's just natural.
I'm supposed to be headed to the night's Eight Mile High Club Playboy party, but I'm not sure where to go, so I employ those Hawaiian treats and win the red-carpet treatment. I'm whisked to the Detroit Airport for the party, held in an old hangar.
This decadent event carries a ticket price of $4,000 to $8,000. The venue is heavily guarded – inside is an abundance of scantily clad drop-dead gorgeous models and Playboy bunnies. Of the 2,500-plus in attendance, I would guess that the ratio of men to women is 3-to-1.
This Super Saturday Night event features an auction to raise money for the Kanye West Foundation and Athletes Helping Kids.
The music makes conversation challenging but the people-watching is great. My favorite spot is the sushi bar, flowing with unlimited choices. Again, food and bar stations are everywhere. The most stunning sights are all the sultry bed and lounge settings, with pretty women slithering all around.
An hour is all I need for the experience, but the inability to fetch a cab keeps me at the party until 2 a.m. By then my feet are killing me.
Sunday is here, and I must say I have been super-sized. Yes, the highlight of my trip arrives as I join the other NFL mothers at the Second Ebenezer Church.
The sanctuary brims with harmonious voices praising God, praising blessings and praising Super Sunday – 600 voices all singing proudly and loudly. The joy consumes every cell in my being.
The sermon by Pastor Edger Vann is perfect, titled "Lord Super Size Me," delivered from 1 Chronicles 4:9 and 10. The pastor speaks of doing away with boundaries and self-limitations.
Donovan McNabb's father also addresses the congregation, sharing the way his faith and trust have carried him and his family through the turbulence and sometimes intoxication of being a professional athlete and celebrity.
Tonight is the Super Bowl, and many families will go to the game. The rest of us will go to the Greek Casino to watch from a special suite held for NFL families. Afterward comes the post-game players' party.
With all this excitement yet to come, I realize that this Sunday morning in church has been the most important venue of my trip. The whole gospel experience is overwhelming. It will stay with me forever.