---
FAST FACTS HAWAII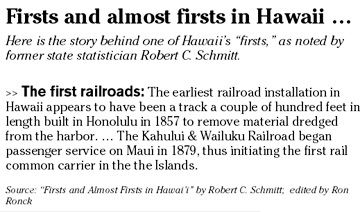 ---
NATION
What to do if your airline bumps you
Their finances generally remain in a collective tailspin, but U.S. carriers aren't hurting for passengers these days -- their jets are crammed.
As a result, you could be "bumped" from a flight, especially on heavily traveled routes. This can lead to several goodies, and some travelers actively seek the bumps as a means to free travel, upgrades, meals, et al.
So let's assume you have a leisure trip to some popular destination planned, and the gate agents start seeking volunteers to help them deal with an oversold flight. What do you need to know before relinquishing your seat to Sin City or sunny Florida? The latest issue of TravelSmart newsletter offers some queries to pose:
» Are you offering me a ticket or just a discount voucher for future travel?
» Is there an advance-booking restriction on this future ticket?
» Is my rebooked seat on your next flight guaranteed?
» Where does my checked luggage go right now?
» Will you pay for a hotel, or lunch, or a phone call (or all three) while I wait?
» Can I use your elite members' lounge while I wait?
And one more tip: Screaming at an underpaid, harried airline gate agent is never a good way to improve your deal.
Workers like 'wellness' programs
If you're like most workers, insurance coverage rates right near the top of job-related concerns. And for many, personal coverage or coverage for a family member even tops salary among the considerations.
A new survey suggests the emerging field of "wellness" is gaining traction among workers as a necessary tool for the health insurance realm.
More than three-fourths (82 percent) of those who are offered health education tools utilize them, while two-thirds (68 percent) whose employers offer wellness seminars attend, according to an annual survey of more than 1,200 workers by Principal Financial Group Inc., based in Des Moines, Iowa.
And as workplace wellness programs evolve, employees say they respond: Eighty-one percent said they participate in blood pressure checks at work, 73 percent had their cholesterol screened and 72 percent said they had done online health screenings.
Ooh, baby, I love your credit history
Are we compatible? Just as a sense of humor is almost an automatic mandatory as a must-have attribute for most of us, finances play a role. More than three-quarters in a telephone poll of 1,022 people said they'd advise a friend to learn if the object of their affection has a steady job, and 76 percent said they'd even counsel on learning about their credit history.
"How you handle your money sends strong signals to others, especially significant others," said Andy Jolls, vice president of myFICO, the online credit score service offered by Minneapolis-based credit rating company Fair Isaac Corp.
Women found credit history more crucial than men. Nearly 90 percent of women said a steady job was important, and 84 percent cited credit history as important qualities to consider before entering into a romantic relationship.
For men? Laughs and lips: 85 percent said a sense of humor was paramount and 42 percent rated kissing ability as keen to assessing a potential mate's long-term suitability.
"Opposites may attract, but I wouldn't put my money on a relationship of financial opposites," said Suze Orman, a finance writer and host of her own cable television program.