Missing man found alive in ravine
An 84-year-old man was found cold and confused but safe yesterday after an evening stroll with his dog turned into an overnight ordeal down a ravine near his Wahiawa Heights home.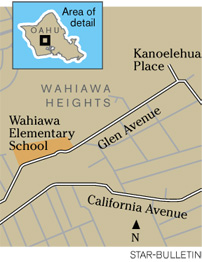 "I'm so thankful," Hiroko Olsen said yesterday morning after fire rescue workers loaded her husband, John, into a metal basket and pulled him 100 feet up the steep slope to a waiting ambulance. "I'm going to the hospital now."
John Olsen was found at 9:15 a.m. yesterday, sitting on a trail in the gulch, dehydrated and disoriented, with a sore leg. But he could not shed light on what had happened because he suffers from Alzheimer's disease.
"He answered to Papa Olsen," said Jeff Barbieto, a fire rescue worker, "but he didn't really answer our questions."
Olsen's family had reported him missing at 7 p.m. Thursday after he failed to return from a walk with his dog, Sparky, near their home on Glen Avenue, mauka of Wahiawa Elementary School. The dog was found that evening, still wearing its leash, on Kanoelehua Place, where the thin, white-haired man was loaded into an ambulance yesterday.
This neatly trimmed neighborhood, whose trees are heavy with tangerines, is backed by a steep ravine covered with tangled foliage, which impeded search efforts.
Police and fire rescue workers and a Fire Department helicopter combed the area until midnight Thursday and resumed at first light yesterday, according to Phil Camero, missing-persons investigator. Annie, a bloodhound with the police Specialized Services Division's canine unit, brought rescue workers to the right area to find Olsen.
"He had some bumps and bruises," Camero said. "Whether or not he wandered to that general spot, we don't know. He did fall but not from a high spot."
Neighbors said they were worried, especially since the temperature plunged last night. Olsen was wearing slacks and boots, topped with just a short-sleeved shirt.
"It was so cold last night," said neighbor Rachel Jamias, who learned of Olsen's disappearance during her own evening stroll Thursday. "I had my sweats and a jacket, and an umbrella. I'm so glad they found him."