---
FAST FACTS HAWAII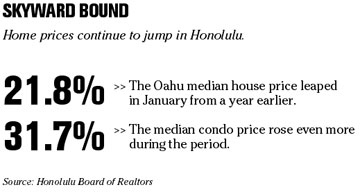 ---
[HAWAII INC.]
NEW JOBS
»
Marriott International
has appointed
Dylah Hughes
national accounts director for the Midwest and the South, overseeing 13 states. She has 13 years of hospitality industry experience.
» Island Insurance Co. has appointed Jeff Fabry vice president and chief information officer. He will be responsible for the development and management of long-range corporate technology strategies. He has more than 20 years of information technology experience in the insurance industry.
PROMOTIONS
»
Goodsill Anderson Quinn & Stifel LLP
has appointed
Gary M. Slovin
managing partner. He will be responsible for the daily operations and long-term strategic planning for the law firm.
NATION
Northwest wants to hire foreign flight attendants
NEW YORK » N
orthwest Airlines
wants to replace 30 percent of flight attendants on its international flights with non-U.S. flight attendants, roughly 800 people, to cut costs so that it can emerge from bankruptcy, a company executive testified in a New York bankruptcy court yesterday.
Northwest, which filed for Chapter 11 bankruptcy protection in September, seeks to save $1.4 billion in wage and benefit costs. Thursday was the seventh day of hearings devoted to the airline's request to toss out collective bargaining agreements with the unions.
The company official testified that the foreign flight attendants would not be part of the U.S.-based flight attendants union, the Professional Flight Attendants Association, and the overall move would save Northwest $20.2 million.
Insurance execs charged with fraud
WASHINGTON » The government charged three former executives at
Berkshire Hathaway
's General Re insurance unit and a former
American International Group
executive with conspiring in an audacious fraud to burnish AIG's finances for Wall Street.
The executives put together a sham reinsurance transaction that allowed AIG to fraudulently report about $500 million in loss reserves "to mislead AIG's shareholders, stock market analysts and the investing public," the Justice Department said in charges made public yesterday. The alleged conspiracy -- using phony contracts and a secret side deal -- was designed to make it appear AIG's loss reserves were growing to pump up the price of AIG stock, prosecutors said.
United Air's new stock drops 10%
CHICAGO »
United Airlines
' new stock fell 10 percent from its initial valuation yesterday but the value remained more than double what the carrier had forecast, marking a successful debut on the Nasdaq Stock Market.
On the company's first full day out of bankruptcy since December 2002, its new shares declined $4.11 to a close of $35.89 from the $40 price established in preliminary trading earlier this week. Volume was fairly heavy, with nearly 3.7 million shares traded.
GM awards billions in IT contracts
DETROIT »
General Motors Corp.
awarded billions of dollars in information technology contracts to
Electronic Data Systems Corp.
,
IBM Corp.
and other companies yesterday in what EDS described as the largest commercial contract bidding process in the history of the tech industry.
GM said it plans to spend approximately $15 billion on information technology over the next five years. About half that amount was awarded Thursday in five-year contracts, for everything from vehicle design systems to manufacturing support to global supply chain management.
GM's current 10-year contract with EDS expires in June, so GM began a rebidding process two years ago. GM spun off EDS in 1996, and the company has held about two-thirds of GM's business.