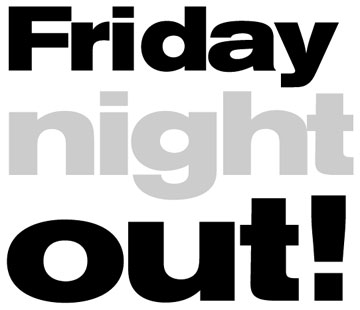 Fashionable souls aim to dress up downtown's art and music scene
IF YOU'RE headed to the monthly First Friday downtown gallery walk for the first time tomorrow and don't know what to wear, the dress code is denim, denim and more denim with a mix of casual and dressy details. Pair jackets or jeans with cool little tops and vintage-washed T-shirts that ward off the heat of wall-to-wall bodies at places like The ARTS at Marks Garage and the Louis Pohl Gallery.
FIRST FRIDAY
Gallery walk: 5 to 9 p.m. tomorrow
Place: Nuuanu Avenue galleries
Admission: Free
Note: For schedule of events, see our Weekend magazine
In this anything-goes arena encompassing art galleries, bars and boutiques, you're welcome to show up come-as-you-are casual or add your own wearable artistry to the overall vibe of the city's growing arts scene.
This would be the week to make the effort in conjunction with The Hygienic Dress League's examination of fashion's extremes at The ARTS at Marks Garage. (Story here.)
The D.I.Y. ethic is in full force at Urban Nomad at 1023 Smith St., where owner Freida Hulse offers designer resale and vintage apparel along with her own original designs.
"It's about time! This has been way overdue," Hulse says when talking about the night life that's emerged in the area over the past two years.
Although she was born and raised in Hawaii, Hulse left in the late 1970s for New York City, where she said the scene was "amazing."
"It was the beginning of punk, disco and, in the early '80s, hip-hop. Everything was exploding. Graffiti art and the East Village art scene all came in. I saw Jean-Michel Basquiat's tag everywhere in SoHo, and I'd see Keith Haring on the subway with his spray cans. It was very organic, very creative."
Her sense of style grew out of a street-glam aesthetic that provided entry to such iconic clubs -- inspired by the rise of Andy Warhol's Factory in the 1960s -- as Area, Mudd Club and Studio 54, which started the exclusionary era of the red velvet rope.
"You couldn't get into clubs unless you had a look," Hulse said. "If you looked good, you got in. You got noticed. People talked to you. If not, you had to wait in line with the rest of the crowd paying $20 to get in. That was a lot of money at the time. I never paid to get in."
One of her favorite outfits -- all made to be worn just once -- was a lime green top and skirt with a caterpillarlike headdress.
There was a lot of creativity and experimentation going on, she said, and when designer Betsy Johnson was in town last year, the two reminisced about a fashion show Johnson presented in which the models, including Hulse, wore roller skates. Never mind that half of them had never been on skates before and most ended up collapsed on the floor.
Honolulu's downtown scene has a similar organic momentum, although she says, "What's happening here is a small microcosm of what happened in New York.
"There's still an afraidness to stand out. I think that's the Asian thing," said Hulse, who is of Japanese descent.
Most recently, a well-meaning shopper asked her, "Why don't you make clothes that people want to wear?"
"I got mad because I can't. I want to do what I believe in."
Although she says only a small segment of the population is attuned to work like hers -- an eclectic and breezy sort of haute bohemia, deconstructing designer classic and street-wise elements to come up with highly visual, attention-getting assemblages -- she said she still has hope the rest of Honolulu will grow out of its closed clothes mind-set.
"There are people who are trying to change things, but what's missing is the catalyst that can bring everyone together in the way that Andy Warhol and Studio 54 could bring artists, musicians, fashion designers, celebrities and club kids together. Here, everyone's in their own little niche, and it's so one-dimensional."
A lack of money should not be a deterrent to looking good, because she said designer finds can be found at thrift stores.
"The musicians need to start dressing. The artists need to start dressing," she said. "Some of the chicest people in New York were artists. Basquiat was very chic. Even if he was wearing a T-shirt, he'd have an Armani jacket over it.
"I see pockets of that happening at Next Door, where they're bringing in great musicians, and you know, it's great, great! I just wish the visuals could match the music."