---
FAST FACTS HAWAII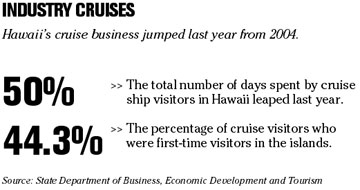 ---
HAWAII
Hyatt's owner seeks Chapter 11 help
Azabu Buildings Co.
, the owner of the Hyatt Regency Waikiki, filed for Chapter 11 bankruptcy protection yesterday in Honolulu.
The company said it took the action because of debts resulting from troubled real estate transactions in Japan related to the "bubble economy" of the early 1990s. It declined to reveal the amount of debt.
In November, five Azabu Buildings creditors sought to force the company into bankruptcy, and discussions were held to determine if the move could be avoided, the company said. An agreement could not be reached.
The Japanese company's other major asset is a subsidiary, Azabu USA, which owns the King's Village shopping center, located near the Hyatt. Operations at the hotel and the shopping center will not be affected by the filing, the company said.
NATION
Google's fall wipes out $9 billion
SAN FRANCISCO »
Google Inc.
's market value dropped by more than $9 billion yesterday as investors bailed out of the Internet's leading search engine after an earnings letdown reminded them about the perils of owning stock in a company that refuses to provide financial guidance.
The Mountain View, Calif.-based company's stock price plunged by as much as 10 percent before rebounding slightly as Wall Street digested a series of analyst reports that continued to predict a bright future for Google. The shares closed on the Nasdaq Stock Market at $401.78, a decline of $30.88, or 7.1 percent.
The stock price is 15 percent below its record high of $475.11 reached just three weeks ago but the shares remain a golden investment for those who bought at $85 in an August 2004 initial public offering.
Carriers fight airport security fees
Northwest Airlines Corp.
,
Delta Air Lines Inc.
and four other U.S. carriers are joining
Southwest Airlines Co.
in contesting a U.S. government plan to collect fees to pay for airport security, saying they're being overcharged.
The airlines object to efforts by the Transportation Security Administration to collect $103.7 million in fees from 2005 and raise the levies by more than a third this year. Airlines in 2005 already paid $324 million under the fee in question, the Air Transport Association trade group has said.
Starbucks' profits jump 20 percent
SEATTLE >>
Starbucks Corp.
said yesterday that its first fiscal quarter earnings rose 20 percent over last year, driven by strong holiday sales of eggnog lattes and other coffee drinks.
The world's largest specialty coffee retailer boosted its earnings targets for the year, saying it expects earnings will be 68 cents to 70 cents a share -- 5 cents more than previously forecast.
Starbucks shares surged nearly 6 percent, or $1.82, in late-session trading, after falling 34 cents, or 1.1 percent, to close at $31.36 yesterday on the Nasdaq Stock Market. The company, whose stock has traded between $22.29 and $32.46 over the past 52 weeks, released its latest earnings after the markets closed.
JetBlue loses money for first time since IPO
JetBlue Airways Corp.
lost money for the first time since the discount airline's public offering in April 2002 as fuel costs surged and the company expanded too quickly. The shares tumbled 14 percent.
The fourth-quarter loss of $42.4 million, or 25 cents a share, was wider than analysts expected. New York-based JetBlue earned $1.53 million, or 1 cent, in the same period last year. The shares fell $1.86 to $11.18 in Nasdaq Stock Market trading, the largest one-day decline since December 2003.
Chief Executive David Neeleman, who used luxury features including leather seats and personal televisions to lure customers when the airline started flying in 2000, said JetBlue will raise fares in 2006. He predicted a loss this quarter and for the whole year, primarily because of higher fuel costs.
Burger King will offer shares to the public
MIAMI »
Burger King
's parent company said yesterday it plans to sell shares to the public for the first time in the fast-food chain's 52-year history, as it tries to more effectively compete with
McDonald's
and
Wendy's
.
"We believe the transparency and stability in ownership offered by being a public company will benefit our employees and franchisees for years to come," Chairman and CEO Greg Brenneman said in a statement.
Burger King was long the second-largest hamburger chain behind No. 1 McDonald's, but it fell into a tie for No. 2 with Wendy's in 2004, according to research firm Technomic Inc.
Burger King was started in 1954 with one restaurant in Miami.