| | |
| --- | --- |
| | Newswatch |
---
Fire, break-in shuts Health Department
The state Department of Health building will be closed to the public today for cleanup work following a break-in and fire last night.
No records were damaged, but the front lobby area where vital records are processed must be cleaned up, officials said. Employees will be permitted in through alternate doors.
Fire officials said the fire at Kinau Hale, at the corner of Punchbowl and South Beretania streets, was intentionally set. Firefighters discovered the front glass doors were shattered and evidence that a flammable liquid had been dispensed inside and outside the entry area, said fire Capt. Emmit Kane.
The fire, which started before 6:30 p.m., caused an estimated $10,000 to $12,000 in damage, Kane said. Firefighters brought the blaze under control in minutes. Police and Department of Public Safety officials are investigating.
Woman missing in Hilo river identified
HILO » A Big Island woman
missing in the Wailuku River area of Hilo
and feared drowned was identified by police yesterday as Jan C. Callahan, 29, of Hilo.
Callahan was a recent arrival from Utah, said Maj. Paul Ferreira. Fire officials had noted in their earliest report that the cause of the accident was "not familiar with hazardous river conditions."
Callahan was last seen Sunday afternoon after going down a natural water slide carved into the bed of the river.
No trace of her was found in the shallow waters above the roughly 100-foot Peepee Falls, leading authorities to fear that she was washed over the falls into deeper, more turbulent pools below. The search is to resume today.
CAR HITS HYDRANT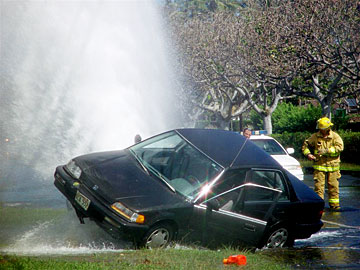 | | |
| --- | --- |
| | Police, Fire, Courts |
---
NORTH SHORE
HPD officer in good condition after being hit by car
A Honolulu police officer was listed in good condition after being struck by a car while directing traffic in Kahuku early yesterday.
The 15-year veteran officer was one of two officers who responded to a motor vehicle collision that happened before 1:30 a.m. on Kamehameha Highway.
While directing traffic around the accident scene, the officer was struck by a car driven by a 59-year-old Waianae woman who was heading south on the highway, police said.
The officer ended up on the hood of the woman's car and hit the windshield, police said. He was treated at the scene by paramedics and taken in stable condition to the Queen's Medical Center. Police said the officer's condition had later improved.
Waialua boy arrested in knife-threat case
Police arrested a 15-year-old boy Monday after he allegedly threatened his older brother with a large hunting knife.
Police said the incident took place at the brothers' Waialua home at 7:30 p.m. Saturday. The suspect had accused his brother, 26, of taking his money and threatened to kill him with a knife, police said.
The suspect fled before police arrived but he was found Monday and arrested for investigation of first-degree terroristic threatening.
NEIGHBOR ISLANDS
Hiker killed by rock was Hana man, 25
Haleakala National Park officials on Maui identified the 25-year-old man who was killed Saturday when a boulder rolled over him as Matthew Boatitti, who recently moved to Hana.
Police said Boatitti was climbing on the boulder at about 2:46 p.m. near Lelekea Bay in the park.
The boulder was believed to weigh between 1,000 pounds and 2,500 pounds and measured at least 4 feet in diameter.