---
FAST FACTS HAWAII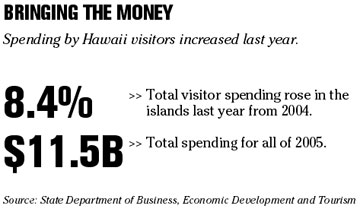 ---
HAWAII
Kauai beach resort has deal to be sold
Kauai Beachfront Hotel LLC
has entered an agreement to sell Kauai's Aloha Beach Resort for an undisclosed amount, according to letters sent to state and county agencies.
The transaction was expected to close in January but has been postponed, the property's general manager, Ron Kikumoto, wrote in letters to Kauai Mayor Bryan Baptiste and Nelson Befitel, director of the state Department of Labor and Industrial Relations. In an interview, Kikumoto said the proposed buyer is the Anderson Group, which is conducting due diligence on the property.
The buyer intends to offer employment to all of the workers employed at the hotel, Kikumoto said.
Pearl City Wal-Mart officially opens
The Pearl City
Wal-Mart
, the eighth Hawaii store for the discount big-box company, held its grand opening yesterday, bringing 620 new jobs to the area.
The 147,979-square-foot store, located at 1131 Kuala St., will be open 24 hours a day, seven days a week.
It has the largest lawn and garden supply department of any Hawaii Wal-Mart store, the company said. Other departments include family apparel, health and beauty aids, household needs, electronics, toys, fabrics and crafts, jewelry and shoes.
State needs new tech executive
The state's High Technology Development Corp. has begun a search for an executive director to replace Philip Bossert, who plans to leave the post to join a local technology firm.
Qualifications include experience with economic development, five years experience in management and administration and the ability to conduct business in Asia. The position pays an annual salary of $100,000 or more.
The agency is limiting the search to Hawaii as required by state law, said Brian Goldstein, HTDC's chairman. However, Goldstein said the agency would consider people from Hawaii now living on the mainland. The agency hopes to hire the new executive director by the end of March, he said.
[HAWAII INC.]
PROMOTIONS
»
McNeil Wilson Communications
has promoted
Danielle Douglass
to assistant account executive of its corporate/public affairs division. She has been with the company since September 2004.
» Central Pacific Bank has announced the following promotions: Heather J. Piper has been promoted to senior vice president and commercial banking division senior manager; Wendilee L. Adkins, vice president and manager of training and organizational development; Patrick M. Elisary, vice president and special credits officer; Julie M. Ihara, vice president and direct marketing manager; Stacey L. Rocha, vice president and staffing manager; Joann M.K. Shigeta, assistant vice president and executive assistant to the bank's CEO.
» HTH Corp. has promoted Robert "Mick" Minicola to regional vice president of operations for its hotels. He will be responsible for overseeing the daily operations of the three properties, while ensuring high service standards, managing revenue streams for properties, maintaining guest satisfaction and handling labor negotiations. He has over 24 years of multi- property hotel management experience.
---
NATION
Fed continues raising rates
WASHINGTON » The Federal Reserve, in the last major piece of business for retiring chairman Alan Greenspan, pushed borrowing costs to the highest point in nearly five years yesterday and hinted that another rate increase was possible.
Shortly after the Fed's rate announcement, the Senate -- showing broad bipartisan support -- approved on a voice vote Ben Bernanke's nomination to be the 14th chairman of the central bank. Bernanke, 52, will be sworn in as Fed chief this morning in a private ceremony at the Fed's marble headquarters.
That will make the historic changing of the guard at the Fed complete. Greenspan, 79, ends an 18 1/2-year run, making him the second-longest serving chairman of the central bank. He turns over to Bernanke an economy that is in good shape but faces challenges.
Hilton's profit rises on rates, hotel sales
Hilton Hotels Corp.
, the third-biggest U.S. hotel company, said fourth-quarter profit rose 62 percent, as the company charged higher room rates and sold six hotels.
Net income increased to $105 million, or 26 cents a share, from $65 million, or 16 cents, a year earlier. Sales rose 2.8 percent to $1.08 billion, the Beverly Hills, Calif.-based company said.
Hilton raised room rates an average 9.7 percent at owned hotels as leisure and business travel surged. It also had a one-time net gain of 6 cents a share from selling hotels. Hilton agreed to buy the lodging business of U.K.-based Hilton Group Plc for $5.71 billion last month to reunite the businesses for the first time in more than 40 years and expand outside the United States.
United Air leaves bankruptcy today
United Airlines will exit three years of bankruptcy today with 35 new international routes, a fleet that's about a fifth smaller, and one-third fewer workers.
The changes are designed to revive profits and make UAL Corp.'s United more competitive with lower-cost rivals even as jet-fuel prices have more than doubled since the company sought Chapter 11 protection in December 2002.