---
FAST FACTS HAWAII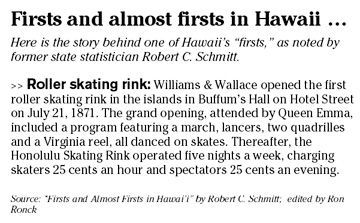 ---
NATION
Companies should set up 'emotional bank account'
No matter how functional, caring, effective and successful your company is -- and many people would hardly describe theirs in such manner -- there will come a day when you're disappointed.
That's why many organizations would be well served establishing an "emotional bank account" with workers for when that miserable rainy day arrives, suggests Quint Studer, a coaching expert and CEO of Studer Group, based in Gulf Breeze, Fla.
"You put in enough 'deposits' so that when the inevitable 'withdrawals' are made -- let's say you forget to say thank you or you have to institute pay cuts -- there's enough goodwill in the account to salvage those relationships," said Studer, author of "Hardwiring Excellence: Purpose, Worthwhile Work, Making a Difference." A few tips:
» Diagnose satisfaction, then act. Many organizations assess employees' complaints, satisfaction, problems. Not as many actually address the findings.
» Harvest best practices. Few departments are uniform. One may have traits or practices that ought to be expanded across the entire company.
» Make the rounds. Just as doctors see patients in hospital, a VP or department manager ought to spend time each day or week checking on the status of workers. This is where you can discover problems and fix them, and show employees that you care, Studer advises.
Using the phone is so last century
If it seems like we never talk anymore at work, it's because we probably don't. At least for work purposes, according to a query of business executives who say their communications is almost strictly confined to e-mail these days.
The telephone is a distant third when it comes to how we communicate at work, with only 13 percent citing it as the method used most often. Just five years ago, the phone was used the most by 48 percent of executives. E-mail was the prime means for only 27 percent.
But e-mail has now taken over the world, or at least office communications. Nearly three-fourths of the executives, 71 percent, said it was current most-favored form of communication. In-person talks was cited by 14 percent, followed by the phone.
The results are from a poll released last month by OfficeTeam, a Menlo Park, Calif.-based temporary staffing firm.
However, the company has a caveat for our Internet-ruled communications: The message should match the medium.
With the phone, people can "share ideas and feedback with the benefit of vocal inflections, which reduces the potential for confusion or miscommunication," said Diane Domeyer, Office Team's executive director.
Most wealthy weren't always
"To the manner born..." isn't a common heritage for America's affluent, according to a survey of 500 families with at least $5 million in liquid assets. The vast majority -- 92 percent -- said they generated their fortunes over the past 20 years.
The survey responses found that the common notion of the wealthy as self-indulgent may be misguided,
The study was conducted by Worth magazine editors and the Harrison Group, a research consulting firm based in Waterbury, Conn.
"We were impressed by a number of findings, including how the new wealthy elite travel a well-defined wealth maturation cycle during which they must learn how to live with abundance and navigate the management of their assets," said Jim Taylor, Harrison Group's vice chairman.