Man arrested in death of Kauai woman, 27
The Eleele mother of two was found dead in her car Wednesday
ELEELE, Kauai » Kauai police have arrested a 34-year-old man in the death of an Eleele mother of two small children.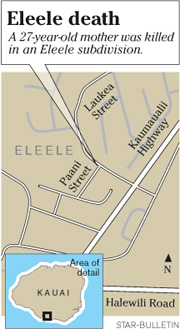 Sandra Galas, 27, was found dead in her small four-door sedan at about 9:30 p.m. Wednesday near Laulea and Paani streets in the lower Eleele subdivision, police said.
Police sources said they believe she was killed earlier that day.
Police would not say how she died, but Kaui Tanaka, an administrative aide in the mayor's office, released a statement saying "preliminary autopsy results have confirmed that foul play is a factor in the death."
Galas' two children, ages 3 and 5, are being looked after by grandparents, police said.
According to the Kauai police arrest log, a Lawai man who knew the victim was arrested Thursday for suspicion of second-degree murder.
Kauai police are continuing their investigation and ask that anyone with information, especially those residing near the Laulea/Paani Junction or Leipapa Place, call Detectives Sam Sheldon or Marvin Rivera at 241-1687 or 241-1688.