The Bloomberg /
Star-Bulletin Index
---
Cyanotech bounces
Cyanotech Corp.
, the worst-performing local stock last year, rose 9.1 percent this week to lead the way in the Bloomberg Honolulu Star-Bulletin index. The producer of nutritional products from microalgae closed yesterday at 70 cents. Last year, Cyanotech's stock tumbled 54.9 percent.
Mera Pharmaceuticals Inc., which is in the same industry as Cyanotech, had the second-best gain as it rose 6.7 percent to 1.6 cents.
Hoku Scientific Inc., a developer of fuel-cell technology, brought up the rear with a decline of 8.1 percent to $9.12.
The Bloomberg / Star-Bulletin Index is a price-weighted index designed to measure the performance of Hawaii-based companies. The index was developed with a base value of 100 as of December 31, 1999. A chart of the index which shows the weekly performance of its members is published weekly in the Honolulu Star-Bulletin.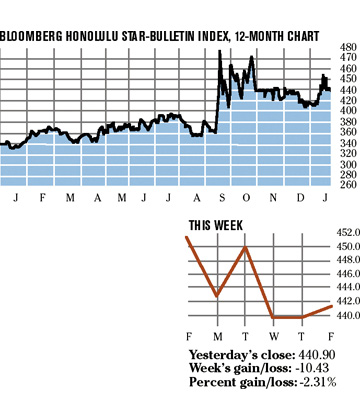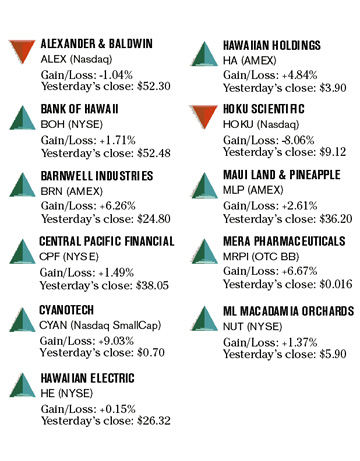 SOURCE: BLOOMBERG NEWS / STAR-BULLETIN GRAPHIC