---
FAST FACTS HAWAII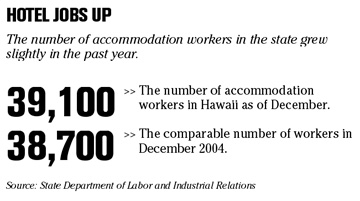 ---
NATION
United Air posts operating loss
CHICAGO » Poised to leave bankruptcy despite continuing losses, United Airlines reported a fourth-quarter operating loss of $182 million yesterday that showed significant improvement after a three-year restructuring but still ran its money-losing streak to 5 1/2 years.
The nation's No. 2 airline and its parent UAL Corp. plan to emerge from Chapter 11 on Wednesday.
The net loss was a record $16.9 billion for the fourth quarter and $21.2 billion for the year, virtually all noncash reorganization expenses. Most of those on-paper losses will be reversed within weeks, however, reflecting unsecured claims that will be settled for a fraction of the charges upon exit from bankruptcy.
The company is expected to disclose a multibillion-dollar gain when it reports first-quarter results, formally accounting for the overturning of many of those losses.
CEO Glenn Tilton cited cost reductions, strengthened revenue and the improved operating showing as evidence United is ready to come out of bankruptcy, adding that the company "can do better."
Gannett's earnings decrease 9%
McLEAN, Va. »
Gannett Co.
, the nation's largest newspaper publisher and owner of the Honolulu Advertiser, reported a 9 percent drop in fourth-quarter earnings yesterday, due to expenses from its swap of newspapers in Detroit and the absence of election-year advertising.
The publisher of USA Today and 90 other daily newspapers in the U.S. reported earnings of $343 million, or $1.44 per share, in the quarter ending Dec. 25, compared to earnings of $378 million, or $1.47 a share, in the fourth quarter of 2004.
Still, the earnings beat the consensus estimate of $1.41 a share by Wall Street analysts surveyed by Thomson Financial. The company had advised analysts to expect earnings in the range of $1.40 to $1.44 a share.
Judge deals setback to Calpine
SAN FRANCISCO » A federal judge yesterday detoured bankrupt power generator
Calpine Corp.
's attempt to break eight long-term electricity contracts, ruling the company will have to persuade government regulators that backing out of the agreements won't hurt the public interest.
The 19-page decision by U.S. District Judge Richard Casey in New York represents a setback for Calpine and its creditors, who had both hoped the company would be able to wiggle out of the power contracts with an order from bankruptcy court.
But Casey sided with a group led by California Attorney General Bill Lockyer, who spearheaded the resistance to a request made by San Jose-based Calpine shortly after it filed for Chapter 11 bankruptcy protection last month.
Lockyer and the other parties opposing Calpine argued the issue should be decided by the Federal Energy Regulatory Commission, or FERC, the agency the oversees the nation's power market.
By turning the matter over to FERC, "an issue of great public interest will be heard in a branch accountable to the electorate in a forum that specializes in considering the public interest," Casey wrote.
Halliburton says it will offer shares in its KBR unit
HOUSTON »
Halliburton
, the nation's largest military- and energy-services company, said yesterday that it was moving forward with a plan to sell shares in its KBR unit even amid criticism of its contracts in Iraq.
Shares in Halliburton rose $3.78, to close at $78.93, after the company said it would sell a minority stake in KBR and after reporting a stronger-than-expected profit for the fourth quarter. The company reported a profit of $1.1 billion on sales of $5.8 billion, including $1.3 billion the government paid for work in Iraq. Halliburton had a profit of $2.4 billion for 2005, compared with a $1 billion loss in 2004.
The move to issue shares in KBR comes as Halliburton has come under scrutiny for receiving a $1.4-billion noncompetitive contract to restore Iraq's oil infrastructure after the removal of Saddam Hussein's government in 2003. Congressional critics say the company received the contract because of Vice President Dick Cheney, who was chief executive of Halliburton from 1995 to 2000.
WORLD
Cut in OPEC's oil output is unlikely
With oil prices still in record territory, OPEC is unlikely to alter its policy of pumping at full capacity when it meets in Vienna next week, rejecting for now suggestions by Iran and Venezuela that it must cut its output to keep prices from dropping.
Given the geopolitical tensions that have jerked oil markets in recent weeks, members of the Organization of the Petroleum Exporting Countries have taken pains to assure the world that they will keep ample supplies on the market.
Still, some analysts said that OPEC might defer a decision to cut production until sometime in the second quarter, a time when demand typically slows, to keep prices above $55 a barrel. Since the beginning of the year, the biggest concern for global oil supplies has been the standoff between the Western powers and OPEC's second-largest producer, Iran, over its nuclear program.