| | |
| --- | --- |
| | Newswatch |
---
GREAT DAY FOR KNIGHTS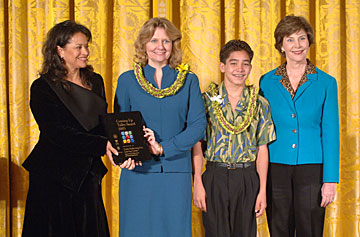 City advised to recoup Waimea Valley costs
City Councilman Romy Cachola is proposing that the city sell the conservation and public access easements it must obtain as part of a court-mediated settlement that aims to prevent development of Waimea Valley.
"We can sell it to OHA (Office of Hawaiian Affairs)," Cachola said.
OHA will receive title to the property as part of the deal.
Cachola's comments came as the Council gave the first of two needed approvals yesterday for the $14 million offer to settle a 2001 condemnation lawsuit brought by the city to acquire the property. A final vote is scheduled for Feb. 15.
The city paid $5.1 million for the property after it filed the condemnation lawsuit. As part of the settlement, OHA, the U.S. Army through the Trust for Public Lands, the state Department of Land and Natural Resources and the National Audubon Society will each contribute toward the remaining $9 million.
Cachola, who voted to approve the settlement, said he is not thrilled with what the city got in the deal. And he said the city will have to pay an additional $3.5 million in interest for the money it used in the deal.
Disabled access policy is urged at city parks
After using sign language to communicate with each other, Justin "Pono" Tokioka of Kauai and his father, James, thanked the City Council yesterday for helping people who are disabled.
The Council then approved a resolution urging the city Parks and Recreation Department to establish a policy that requires sports organizations and leagues that use city parks to adopt rules making sure that disabled participants are given reasonable accommodations.
The 10-year-old Kauai boy, who has a hearing disability, was the subject of a complaint filed by the National Association of the Deaf with the U.S. Department of Justice against PONY Baseball/Softball Inc.
The complaint said that baseball officials discriminated against Tokioka by not allowing him to have an interpreter during a state tournament held in Hilo last year.
A similar resolution has already been approved by neighbor island councils. Pono's father is Kauai Councilman James Tokioka.
Law changed to allow facility named for Fasi
The City Council approved a bill that would allow city parks and other facilities to be named -- at least until July 31 -- for living former mayors and Council members.
The bill is aimed at allowing Mayor Mufi Hannemann's administration to name a city facility after former Mayor Frank Fasi. Current law allows for city facilities to be named only for individuals who are dead.
Because some Council members had said previously they were uncomfortable with former Council members also being included, Zoning Chairwoman Barbara Marshall said yesterday the bill was changed to allow the administration to follow through with naming a facility for Fasi as part of Honolulu's centennial celebration. Then the provision automatically expires July 31.
TAKING NOTICE
» Aloha Shriners divan (court of officers): Bruce A. Holmberg, potentate; Terrence M. Derby Sr., chief rabban; Dennis D. Urbanski, assistant rabban; Karvel Rose, high priest and prophet; Pete Larson, oriental guide; Dr. Carl Scheer, recorder; and Gary Liggitt, treasurer.
» Hawaii Pest Control Association: President Alvin Fukuyama, president of State Termite Control Inc.; First Vice President Rodney Ono of Hilo Termite & Pest Control; Second Vice President Terrance Manago of Integrated Pest Management; Third Vice President Jerry Edlao of Accu-Pest & Termite Control (Maui); Secretary Cliff Nakamura of Orkin Pest Control; Treasurer David Jones of Horizon Pest Management (Big Island); directors James Tamura of STD International, Ainsley Ahlo of Structural Pest Control, James Eschle of JLE Inc.; Mike Miske of Kama'aina Termite & Pest Control, Jason Sahara of Oahu Termite and Pest Control Inc., John Montalbo of Aloha Termite & Pest Control, Don Bache of Terminix Commercial, Dave Lau of Ecolab Pest Elimination and Wes Otani of Terminix Regional; and Hawaii directors Rodney Ono of Hilo Termite & Pest Control and David Jones of Horizon Pest Management; Maui directors Vince Mozina of Bug Man Termite & Pest Control and Mark Redeker of Mid Pac Pest Control; and Kauai directors Russell Furusho of Kauai Termite Fumigation Inc. and Gary Smith of Mokihana Pest Control; Immediate Past President Bob Koide of Environ Control Inc.; and associate directors Kurt Nosal of Univar USA, Roman Dycus of Dow AgroSciences and Jesse Apao of Business Insurance Services Inc.
| | |
| --- | --- |
| | Police, Fire, Courts |
---
HONOLULU
Police chase ends with crash and driver's arrest
Police arrested a 33-year-old man after he almost struck an officer with a sport utility vehicle and then allegedly led police on a chase from Chinatown to the Ala Moana area and then back to Kalihi early yesterday.
Officers said they had a warrant for the suspect's arrest when they found him and another man sleeping inside the blue SUV at 12:11 a.m. in a Kekaulike Street parking lot. The officers said that while looking through the window, they saw a glass pipe in plain view on the SUV center console.
Police said officers knocked on the vehicle door and window and announced that they were police officers, when the driver woke up and started up the SUV. He then allegedly tried to escape from the parking lot, drove into a parked car and then allegedly drove toward one of the officers.
Police said the officer dived out of the way while the suspect escaped heading toward Waikiki in the Ewa-bound lanes of Nimitz Highway. Police gave chase and lost sight of the suspect along Ala Moana Boulevard.
A short time later, an officer patrolling Makaloa Street spotted the suspect and began pursuit, police said.
The suspect then headed Ewa on South Beretania Street and collided with another vehicle near the junction of North King, Beretania and Liliha streets. The chase ended when the SUV struck a telephone pole and a fire hydrant, police said.
Police arrested the suspect for investigation of first-degree attempted murder.
WEST OAHU
Ewa Beach man dies after crash into tree
A 26-year-old Ewa Beach man died yesterday morning in a one-car crash in Mililani.
Police said the man was driving a red 2002 two-door Acura northbound on Lanikuhana Avenue in the left lane at about 4:59 a.m. yesterday.
The driver crossed onto the grass median and crashed into a tree, coming to final rest in the left lane, police said.
The man was taken to Wahiawa General Hospital in extremely critical condition with head and chest injuries, police said.
Police said the man, who was not wearing a seat belt, died at 5:52 a.m.
NEIGHBOR ISLANDS
Crash kills employee at botanical gardens
KALAHEO, Kauai » A National Tropical Botanical Gardens employee was killed yesterday when the truck he was driving hit a large boulder.
Edward Robinson, 75, of Kekaha was driving a Dodge pickup truck owned by the botanical gardens at about 6:30 a.m. yesterday when the truck, on a steep portion of the gardens' service road, apparently slid and hit the boulder, county officials said.
The truck continued to slide until it was stopped by the guardrail, officials added.
Elizabeth Kali, another botanical gardens employee, was a passenger at the time of the crash and sustained head injuries. Medics transported her to Wilcox Hospital, but her condition was unknown.
According to police, the inclement weather might have been a contributing factor in the accident.
Robinson is the first traffic fatality on Kauai this year.
NORTH SHORE
Police seek 2 burglars caught on camera
Two burglars were caught on camera earlier this month while breaking into a North Shore beach house.
The surveillance photos released by Honolulu police show the intruders on the Kahuku property between midnight and 3 a.m. while the residents were sleeping. Police said the burglars removed personal items, including the keys to a rental vehicle which was then stolen.
The two were caught on camera walking toward the house and walking toward the rental vehicle, in which the first individual drove away. The second drove off in the vehicle they used to get to the scene.
One suspect is described as in his mid-20s to 30s, with a fair complexion, and was seen wearing a blue sweatshirt with the word "GAP" on the front, a blue T-shirt and blue shorts.
The second suspect is described as also in his mid-20s to 30s, has a darker complexion and was seen wearing a blue jacket with a blue shirt which had a white iron cross on it.
Anyone with information on this case is asked to call CrimeStoppers at 955-8300.
WAIKIKI
Two brothers suffer stab wounds in fight
Two brothers were stabbed Tuesday night after they got into a fight with two men in Waikiki, police said.
The fight happened near Kuhio and Kaiulani avenues at about 9:35 p.m. when an 18-year-old Kalihi man allegedly injured the victims with a knife.
The second man, 24, with no local address, also allegedly threatened the victims while holding a knife.
The brothers, ages 15 and 20, were taken to a hospital, where the younger brother was initially listed in critical condition but has since been upgraded to serious. A condition report on the older brother was not available.
Police later arrested the younger suspect for investigation of second-degree attempted murder and the older suspect for investigation of first-degree terroristic threatening.