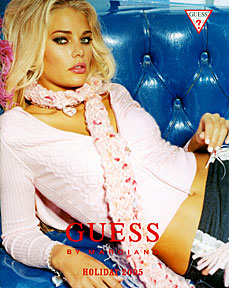 GUESS
Maui girl lands Guess spot, thanks to Jet Set
Move over, Paris Hilton, there's a new Guess model in town, and she's Maui's Tori Praver.
That Praver could make the leap from surfing at home to a national advertising campaign beginning Feb. 1 can be credited to Cindy Kauanui's eye for image building as the owner of Jet Set, a California-based modeling and talent agency focusing on a natural, healthy look. Kauanui's set to return to her local roots by opening a satellite office in Waikiki March 9.
It'll be a triumphant homecoming for Kauanui, a single mom who fled Kauai with nothing more than the clothes on her back and her three sons, then ages 14, 9 and 6, after Hurricane Iniki struck in September 1992.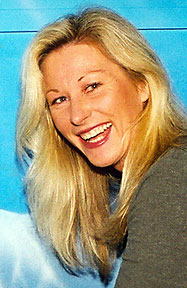 Cindy Kauanui:
The former Kauai resident owns Jet Set model and talent agency.
"We weren't sure what was going to happen. We had no electricity, no water, and the schools were going to be out for three months. I thought that was too long, and I thought if I went to California, I could get my boys into school.
"Hawaiian Airlines was offering free flights to people who had to get off the island, and we could go pretty much anywhere the airline flew so I headed for L.A.," she said. "We had no shoes. We were real dirty, but on the plane they had puppeteers, balloons. Hawaiian was a real lifesaver."
Once in L.A., she rented a car and tried to get re-established, but things she took for granted at home, like renting an apartment and getting a job, were difficult.
"They couldn't call for references, so we went to a lot of churches, Red Cross."
Eventually, she gave up and headed to live with her sister in San Diego.
"I was in the entertainment biz, so I thought I needed to be in the hub of L.A. I didn't think there was anything going on in San Diego, but once I was there, it was like a breath of fresh air. It felt more like Hawaii, like home," she said by phone from La Jolla, Calif.
On Kauai, Kauanui had been a partner in the production company Showlites. She had been helping with the Kauai filming of "Jurassic Park," which wrapped its shooting just before Iniki struck.
In San Diego, Kauanui automatically started doing what came natural to her, simultaneously surfing and scouting.
"I started finding a lot of great models in San Diego. I found a great kid, Axel, from Argentina, at Denny's. He didn't understand anything about the fashion business at the time, but I sent photographs of him to Bruce Webber, who was shooting a Versace campaign, and he used him. So (Axel's) first job was working with Claudia Schiffer and Christy Turlington.
"I've found a lot of models who went on to be big stars. Everything started to grow, and slowly I worked my way back."
Jet Set models have since graced magazine, television and billboard campaigns for companies such as Ralph Lauren, Roxy, Abercrombie & Fitch and Tommy Hilfiger. The company also represents surfers Kalani Robb and Andy Irons, and former Miss Teen Hawaii USA Sonya Balmores, who recently finished filming 20 episodes of a surf-oriented teen series, "Beyond the Beach," for the N cable network.
KAUANUI SAID she noticed 18-year-old Praver turning up in photos sent to her by Maui photographers. "I wasn't sure if she was really from Maui, and they didn't know whether she lived there or was a tourist."
But when Praver's photo turned up in Outside magazine in a Hawaii girls feature that included another Jet Set client, Sanoe Lake, Kauanui called the photo director there to get her contact information.
"I talked to her and she seemed interested, so I flew out to Maui, met her family and took a lot of Polaroids and sent them to Paul Marciano, the owner of Guess, and he just loved her.
"He's not one to jump into a contract with a girl. He likes to see how they test, so they took photographs of her in all the new clothes coming up.
"When I drove up to L.A., there were all these poster boards of Tory throughout their offices, beautiful pictures, and I just went, 'Whoa!' He wanted her to start right away. She has an exclusive contract to be the Guess girl for at least a year, and I think she's going to be the biggest Guess girl ever."
The company is well known for advertising campaigns featuring kittenish and/or buxom blondes: Claudia Schiffer at best, and Hilton and Anna Nicole Smith at their most sleazy/sensational. In light of the high artifice and scandalous shenanigans of former Guess girls Hilton and Smith, Kauanui said Praver brings to the youth clothing line "something fresh, natural and beautiful.
"She's also Jet Set's ideal brand model. She's not voluptuous; she's got a sporty body."
Kauanui said she began promoting the first surf models and promoting the Pacific Coast Highway-Hawaii look because she didn't like the anorexic waif model trend of the early 1990s.
"That runway image was not real to the average woman, and I started hearing about kids with eating disorders and it bothered me. And because I'm a surfer, I think of them as being healthy, strong and toned."
She also wants to dispel the notion that individuals need to pay their way to success, from buying expensive photo packages to entering beauty contests.
"I hear from so many people. It's kind of crazy. They think they have to spend a lot of money to get into this industry, but (Praver) didn't have to do anything. She went straight from Polaroids to celebrity."
---