---
FAST FACTS HAWAII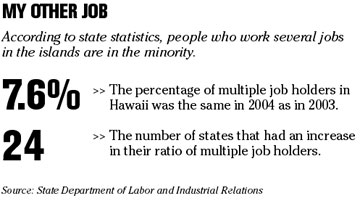 ---
HAWAII
Hawaii a top market for hotel investment
Hawaii's increased hotel occupancy and average daily room rates have made the state one of
Ernst & Young LLP
's top picks for lodging investment in 2006, a year of expected expansion.
In its 2006 Lodging Report, released yesterday, Ernst & Young said it expected to see continued high levels of debt and equity capital flowing into the lodging sector and contributing to the development of new hotels.
In the report, Hawaii, along with Chicago, New York City, the District of Columbia, San Francisco, Los Angeles, Dallas, Boston, Miami and Phoenix, were identified as the most attractive cities for investment this year.
In 2006, Hawaii's occupancy is expected to grow by 0.8 percentage points to 81.9 percent, the Ernst & Young report said. Average daily room rates are expected to increase 9.7 percent from $165 a night to $181, the report said.
Hawaii's strong residential real estate and demand for tourism is expected to fuel further hotel reinvestment, especially conversions of older properties into timeshare or condominiums.
Ko Olina to outsource security
Concern about greater liability in the face of rapid expansion has prompted the Community Association at West Oahu's Ko Olina Resort to have a private vendor take over security.
The resort's Aloha Team, which handles security in all public areas of Ko Olina including the beaches, has been given notice that the community association is seeking a private contractor to take over their supervision, said Sweetie Nelson, spokeswoman for Ko Olina Resort.
The move is part of the association's continued trend toward privatization, Nelson said. The resort already has privatized its maintenance and landscaping departments. All 68 of the nonunion employees who were given notice by the association are expected to be rehired by the private contractor, Nelson said.
NATION
Bubble or not, market is cooling
Sales of existing homes fell in December for the third consecutive month, a trade group reported yesterday, even as the housing market registered a fifth consecutive year of increased sales.
The data appear to suggest that the era of rapidly increasing sales may be coming to a close. Sales in December fell 5.7 percent, to an annual pace of 6.6 million homes, after a 1.3 percent dip in November and a 2.7 percent drop in October. It was the lowest level of sales since March 2004.
Did Boston Scientific really win?
INDIANAPOLIS » Boston Scientific got what it wanted out of its bidding war with
Johnson & Johnson
for medical device maker
Guidant Corp.
-- a chance at a key foothold in the lucrative cardiac device market.
But the deal comes with a price that goes beyond its $27.2 billion offer, which Guidant announced it had accepted yesterday: liability from product recalls that could reach $2 billion, an increased debt load that could delay earnings gains and a $705 million breakup fee to the jilted J&J.
AOL wins award against spammer
America Online
, the largest U.S. Internet access provider, won a $5.6 million award against a Minnesota man who sent billions of spam e-mails over the service in 2003 and whose case helped spawn anti-spamming legislation.
Christopher William Smith, 25, was ordered to pay $5.3 million, or $25,000 for every day he sent out spam e-mails, plus $287,059 for America Online's legal fees, U.S. District Judge Claude Hilton in Alexandria, Va., ruled yesterday.
Smith, who dropped out of high school in 1998 and lived in a $1.1 million house until he was arrested, was the "poster child" that pushed Congress into passing the 2003 Can-Spam law, designed to cut down on unwanted e-mails that clog Internet in- boxes and slow down the services.
In other news ...
>>
Fast Retailing Co.
, which operates Uniqlo apparel outlets, will sell a new line of casual clothing at stores operated by
Daiei Inc.
, Japan's third-largest retailer. Fast Retailing, based in southwestern Japan, will open outlets in Daiei stores next year.