---
THEATER TALK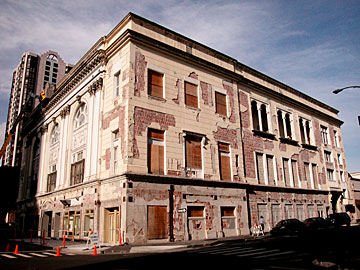 Get healthy, Thai style
The Thai Association of Hawaii celebrates its first anniversary with a free health and wellness fair, Sunday at McCoy Pavilion at Ala Moana Beach Park.
Dr. Amra Malila of Thailand, will speak on "A Good Mind plus a Good Body Equals Good Health" at 9 a.m., followed by "Dealing with the Terminally Ill" at 10:30 a.m.
The talks will be followed by presentations on Thai cooking, massage, boxing and other elements of physical training and diet. Food, entertainment and cultural demonstrations such as vegetable and fruit carving will also be part of the event.
Arrangements may be made for Thai-only speakers.
Call Ichaya Danapong, 949-9707, e-mail idanapong@gmail.com; or Paul Fox, 528-2733, e-mail photo1fire@hawaii.rr.com.
Screenwriting skills
Margaret South, co-founder of All Girl Productions, presents a six-week workshop, "Screenwriting: The Art of Story," beginning Tuesday, through the University of Hawaii's Outreach College.
South produced the films "Beaches," "For the Boys" and "Man of the House" and co-wrote, with actress Bette Midler, "A View from a Broad." She has developed scripts for Disney, Fox and Tri-Star Studios.
South and Midler, along with Bonnie Bruckheimer, formed All Girl Productions. Among the writers and directors she's worked with are Garry Marshall, Becky Johnston, Jack Rosenthal, Marshall Brickman, Mark Rydell and Paul Rudnick.
The classes will cover topics including character development, story structure and turning points, as well as covering story issues faced by the novelist, screenwriter, studio, actors and director.
Classes run from 7 to 9 p.m. Tuesdays, Jan. 31 to March 7 at the UH-Manoa's Yukiyoshi Room in Krauss Hall. Cost is $180. Call 956-8400 or visit www.outreach.hawaii.edu.
Drama for kids
Honolulu Theatre for Youth's drama programs will be held at Kaimuki District Park and Pearl City District Park starting in February.
The program, for children in kindergarten to sixth grade, teaches drama through story-building, creative movement and improvisation. Hands-on activities teach personal and interpersonal skills, teamwork and how to take risks.
Sessions are held on Saturdays, Feb. 4 to March 18, from 1:35 to 2:35 p.m. for kindergarten and first graders; 2:45 to 3:45 p.m. for second and third-graders; 3:55 to 4:55 p.m. for fourth-, fifth- and sixth-graders.
Tuition is $100. Call 839-9885.
Free film screening
The film "Bangkok for Sale" will be presented in a free screening at 6:30 p.m. tomorrow at the Korean Studies Building, University of Hawaii-Manoa.
The film tells of the ill-fated relationship of Som and Bank, a prostitute and a drug dealer, who try to make a life together despite the crime that surrounds them.
Call 956-2688.
[ MORSELS ]
Enter the imu
Satisfy your luau cravings and do a good deed for Kailua Elementary School fourth-graders at the same time.
The school is hosting an imu on Feb. 10. Buy a space in it for $15 and your tray of pork, laulau or even a whole turkey can spend the night inside, emerging the next day as steamed luau food.
Funds raised will go toward a fourth grade Hawaiian studies excursion.
Food must be packed in a large foil baking tray, thawed, seasoned and well wrapped in foil. Drop-off is 3 to 4:30 p.m. near the Kailua Elementary parking lot. Pick-up is 8 to 9:30 a.m. Feb. 11.
Deadline to reserve a space is Feb. 3. Make checks to Kailua Elementary School and mail to the school, 315 Kuulei Road, Kailua 96734. Write IMU on the lower left of the envelope.
Enclose a self-addressed, stamped, return envelope along with payment so your confirmation ticket can be mailed to you. Include a telephone number.
Call Todd Hendricks, 728-7389, or Daniel Haiola, 428-1888.
Wolf at Wolf
Chef Wolf Levine of Tiki's Grill & Bar will host a free cooking demonstration at 10 a.m. Saturday at the Sub-Zero/Wolf showroom.
Levine will show how to make Chilled Hangar Steak with Tuna/Caper Sauce and Tiki's Pan-Seared Ahi. The demonstration will be broadcast live on Jo McGarry's "Tabletalk" on KHVH radio.
No reservations needed. The showroom is at 938 Piikoi St.